You have learned the basics of swimming from freestyle to stroke and to proper swimming posture. And now it's time to take things to the next level. One of such ways to improve your swimming techniques is by mastering the flip turn movement. You do not have to do the touch and turn before you change your direction and learning the flip turn is a means to avoid that.
If you are a veteran swimmer, you might want to improve your skill or check if you are doing it right. In this article, I will be putting you through on how to do a flip turn in swimming correctly. Even if you are a beginner, this manual can help you perfect your flip turn movement.
What Is a Flip Turn?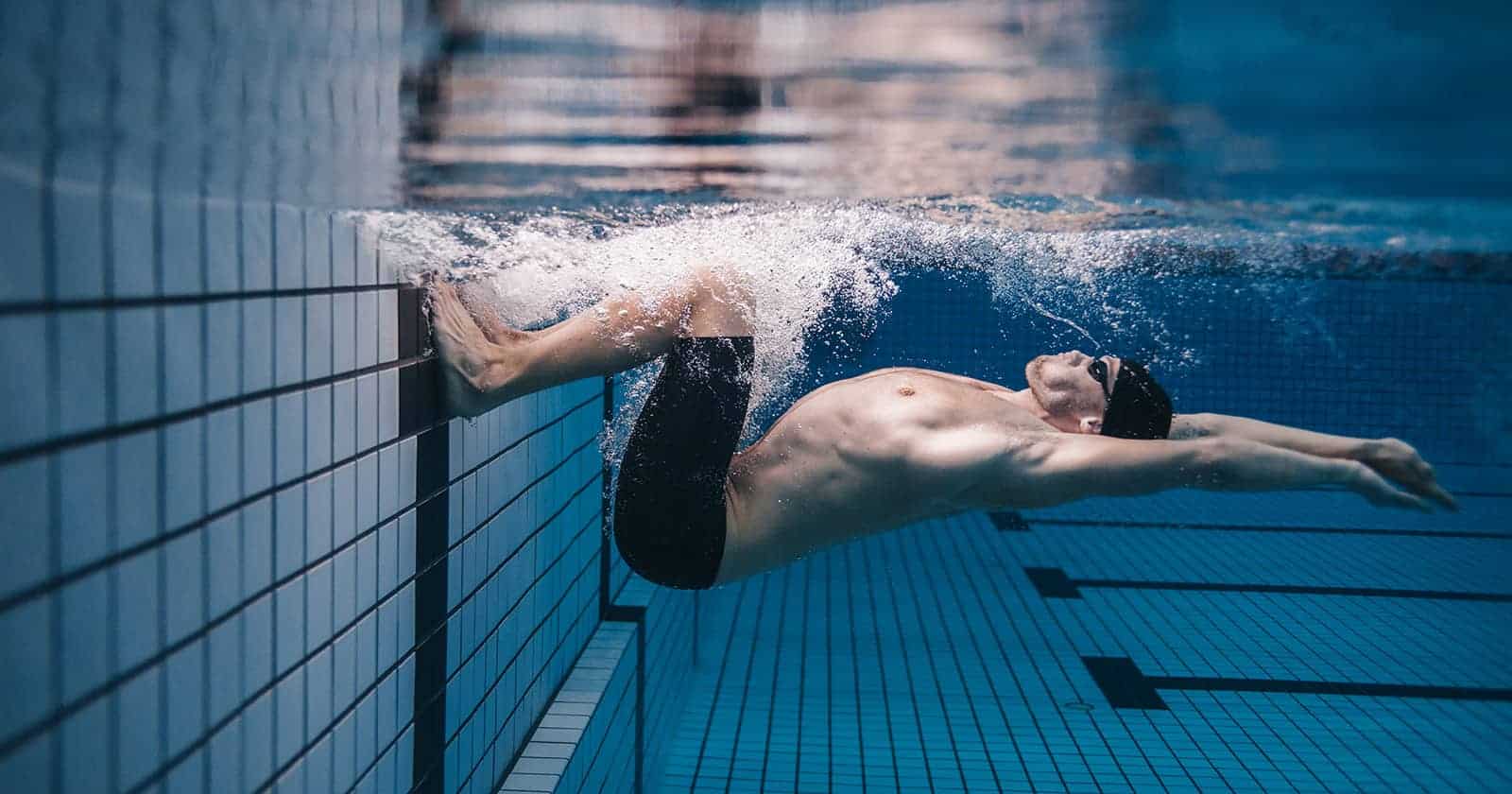 If you are a beginner, you must be wondering what a flip turn is. Have you ever swum the full length of a pool and you had to slow down as you approached the wall? It is an annoying thing to crash into the wall of the pool and you do not want to do that. Hence, it is quite normal if you decide. to slow down, touch the wall and then turn back.
However, with the flip turn, you can effortlessly avoid all these mini-movements and improve your speed. In a simple definition, the flip turn (also called tumble turn) is a simple maneuver technique that is done at the end of the pool to help make quick turns and reduce speed loss.
Yes, it can help improve your speed as it won't make sense to touch the wall and turn during a competition. In backstroke or freestyle swimming, it is called flip turn but it is entirely different in breaststroke and it is called the open turn.
Benefits of Doing Flip Turn
If you are serious about getting competitive in swimming, the flip turn movement is one way to get started. Doing the flip turn comes with its advantages and I will really encourage you to take it seriously. Here are some of the reasons why you should know how to do a flip turn correctly.
To Retain Your Speed
This is one of the most reasons why flip turns remain relevant till today. Doing the flip turn is a quick way to escape corners or move faster from the walls after completing a lap. Since you do not have to slow down as you approach the walls.
Once you make the somersault or open turn, you can easily retain your speed by pushing hard against the walls with your legs. This will give you a head start over other swimmers if you do it right.
For Safety Reasons
As a beginner, it is quite possible to bump into walls especially if you are racing (training) against a timer. If you do the flip turn correctly, you can make a turn without bumping into the walls. This is not to say that the flip turn is risk-free. Hence, I will be discussing how to do the flip turn correctly in the next section.
Increased Lung Capacity
The flip turn is quite simple and it also makes use of your basic knowledge of swimming. Just like you hold your breath during strokes, you will be needing that too. Flip turn requires a little effort and you also need to suspend breathing. The result of this is increased lung capacity and expanded rib cage.
For Fun and Motivation
The extra motivation it gives is another added advantage. When you have mastered the flip turn, you do not have to stop and turn. Since you do not spend time on the walls, you enjoy your rhythm and maintain the momentum.
How to Flip Turn the Right Way?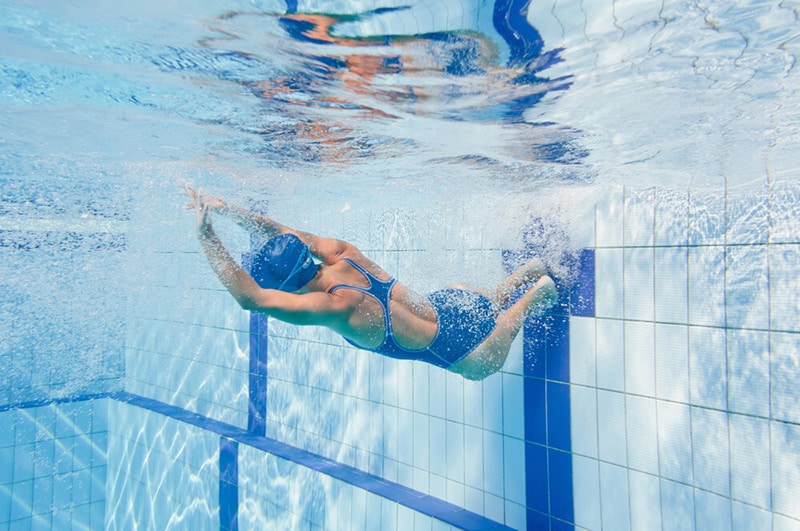 Now, I will be teaching you how to do the flip turn in the right way. Of course, you cannot perfect the skill in one day, hence, regular practicing is important. To help you get it right, I will be making this manual as simple as possible. Let's get started.
Maintain Your Speed
This may sound surprising but this is right. Most swimmers tend to slow down to avoid crashing into the wall. When approaching the walls, do not attempt to slow down but be a little cautious. Instead, maintain your speed because you will be needing it to perform the flip and after the flip.
If possible, attempt to increase your speed. By swimming at a high speed, you will be able to generate enough force to help you make a fast flip. This will also help you create enough blast to propel you in the return lap.
When to Flip Turn
Knowing when to flip turn is critical but this is the most difficult part for many amateur swimmers. If you do not flip at the right time, you may hit the wall or not touch the wall enough. However, it is pretty simple to determine when it is time. It takes one stroke to position yourself for a proper flip turn.
One of the ways to know when it is time is by aiming at the Big T. The Big T is the marking in the pool that signals the end of the pool. Most times they can be found on the floor of the pool or the walls. However, the bottom-placed T is what we need and they are mostly two feet away from the wall.
As soon as you reach above the bottom-placed T, it is time to take a flip. In cases when there are no big Ts, which is rare, you can take a flip as soon as the wall is about two strokes from you. However, this requires practice.
Handling Your Breath
Depending on your stroke, you must have a way to breathe while swimming. Most professional swimming instructors will advise you not to breathe when taking the flip. Well, this is right. You need your positioning to help you perform the flip correctly.
Trying to breathe during the flip which changes your movement since you need to raise your head above the water. In a nutshell, you need to hold your breath during the entire flip. In case, you feel water entering your nose, you can exhale or make bubbles. Also do not panic as it is even a way to improve your breathing control.
Positioning Your Head and Arms
Bad chin positioning is one of the main reasons behind the bad, sloppy or unsuccessful flip turn attempt. If you pick your head up to see where you are, you'll slow your pace down and lower the power you'll receive from the turn. Also, your body will over-rotate if your chin is high, so you'll end up going upwards instead of straight forward after the turn.
The trick is to extend your arms out once your feet hit the wall of the pool. This is the final step that will have you rocket forward. Don't wait for your feet to settle on the wall, the moment you feel them touching the wall move your hands straight above your head and you'll see an enormous difference in speed.
Curling Into a Ball (Somersaulting)
Bad positioning of your head and arms will lead to an unsuccessful or terrible flip turn. As you approach the big T, take your last powerful stroke to create more force. Now, do not attempt to breathe. You should have gathered enough breath prior to reaching the big T.
Now, instead of reaching out for breath, flow with your last stroke to make a somersault. This is you do by tucking your head in and bringing your arms to your sides. Initiate the flip by kicking your legs till you eventually flip over.
As you flip over, tuck your knees. Keep the knees tight to your chest such that you are curled up like a ball. This will flip over faster. You also need those feet planted well to get the force to keep you going. During this process, you can breathe out hard to prevent water from entering your nose.
Planting Your Feet on the Wall
Now you have successfully made the flip turn, it is time to get going. You should unfold your legs and place your feet on the wall. At this stage, your toes are pointing upwards. Position your knees to a 90-degree just as you about to launch your next lap. During this process, it is best to still hold your breath. This will help you concentrate and give you a good head start.
Launching the Next Lap
Now it is time to launch the next lap. With your feet planted on the wall, propel yourself by pushing hard off the wall. As you do that, rotate your body so that your belly is facing the floor of the pool. To achieve a higher momentum, stretch your arms and hold them like an arrowhead (just like you are diving into a pool). This will help facilitate better hydrodynamics and, ultimately, increase your speed.
To keep your speed high, you can kick your legs in two ways depending on which seems convenient to you. You can perform the dolphin kick or scissors (flutter) kick. Once you start to slow down, then it is time to take your first stroke. Begin with the arm nearest to the bottom. Do not attempt to raise your head but swim about 12 feet before you resurface to take your breath.
See Also: 7 Best Swim Lap Counters
FAQs
It's just a slim line between getting it right or wrong. The difference is getting the right knowledge. Do you have any questions? Here are some of the frequently asked questions on flip turn in swimming.
When to Flip-Turn?
Knowing when to flip turn is important. You can flip turn when you are directly above the big T. You can also do that when you are about two strokes to the wall of the pool.
Is Flip Turn Breaststroke?
No. The flip turn is just a part of freestyle swimming, but it may also be applied in the breaststroke to make a quick turn to the next lap.
Can You Do a Flip Turn in Butterfly?
No. Flip turns are only allowed during backstroke and freestyle races. For butterfly strokes, open turns are used.
Conclusion
Flip turns are the best way to maintain your speed. To get it right, you should understand this article and practice slowly. With regular practice, you can improve your technique. Keep swimming!
Do you have any comments or questions? Kindly use the comment box below. Also, you can share this article with friends and family to help them improve their swimming techniques.