The benefits of baby swimming are strong reasons to start engaging your little one's body in the water. Naturally, babies have the reflexes to swim with their arms and legs in swimming gestures and face-down to remain buoyant.
Babies are said to have swimming ability in the first six months of life but lose the skill afterward. Those little movements also play a crucial role. Interestingly, some babies delight in being in the water and may even hold their breath.
Introducing a baby to swimming for the first time can be intimidating for parents. However, the advantages are many. This article discusses the essential benefits of baby swimming and some safety tips to adhere to during each session.
>> Also Read: 8 Health Benefits of Swimming – Why You Should Start Swimming Today
The 5 Benefits of Baby Swimming
The idea of baby swimming can be scary, but the benefits are many and reasonable. Baby Swimming is one of the best ways to keep your baby healthy and happy.
Baby swimming can help to develop water literacy. If you are still reluctant to commence swimming sessions for your baby, perhaps the following reasons can convince you.
1. To Keep Your Baby Safe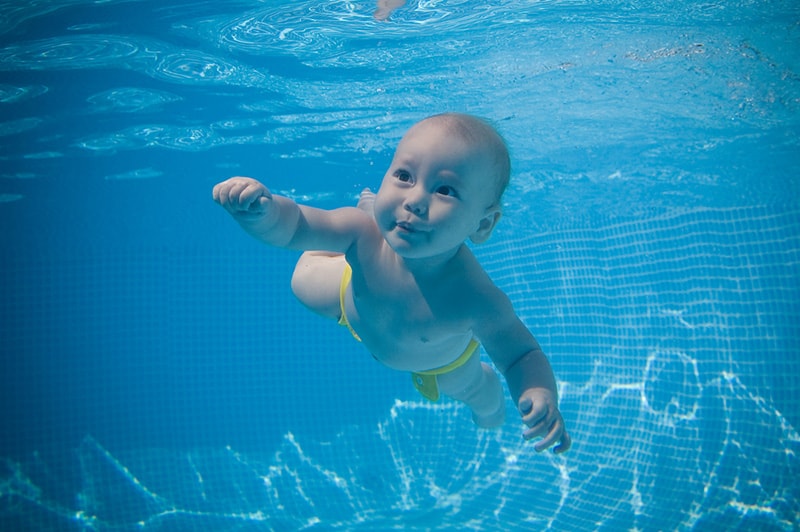 According to Healthychildren.org, drowning is one of the significant causes of death among children. It is said that most cases of drowning are attributed to home swimming pools and water tubs.
While there may not be strong evidence, increasing swim time for babies and toddlers is believed to minimize the chances of drowning. Even young babies can learn how to swim, starting from floating on their backs.
Introducing babies through swim lessons can eliminate their fear as they grow and make them more confident in and around the water. Nevertheless, parents must assist and monitor their babies while swimming or around the water.
2. Swimming May Foster Confidence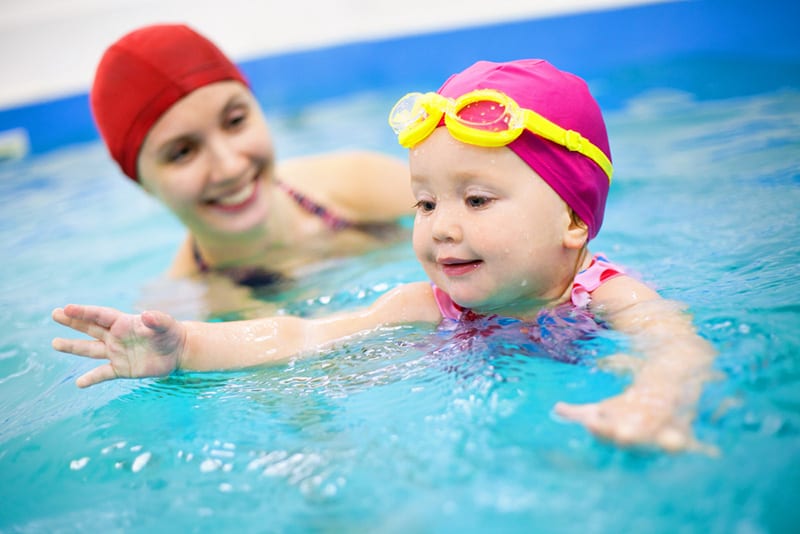 Swimming classes for babies and toddlers are different from adults as they may incorporate songs, water play, and more. The children can interact while teaching themselves how to adapt to various situations and developing self-esteem.
Babies with more swim time tend to have higher self-control, increased focus, and better coordination. They are more likely to express confidence in seemingly stressful or nervous situations.
3. Improves Sleeping Patterns and Appetite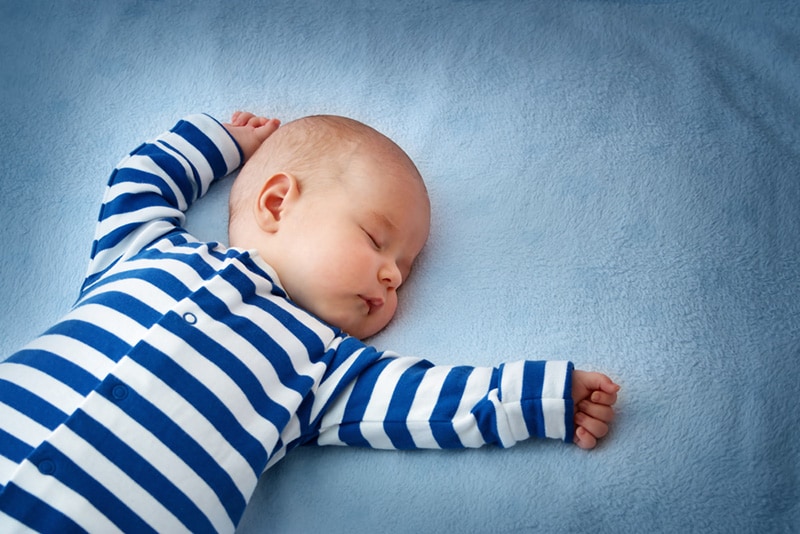 Adults can testify that swimming takes much energy hence the need to factor in what to eat before and after swim practice. The case is no different in babies, especially when it is a new environment and they have to "survive."
Swimming is an intense exercise; they have to expend energy and work hard to stay afloat and warm. After the swimming session, they will likely resort to sleeping for recovery.
You may need to modify the sleeping time for days where swimming is scheduled. Simultaneously, babies may feel hungrier after the physical exertion and calorie-burning. Ensure you replenish the lost calories to their satisfaction.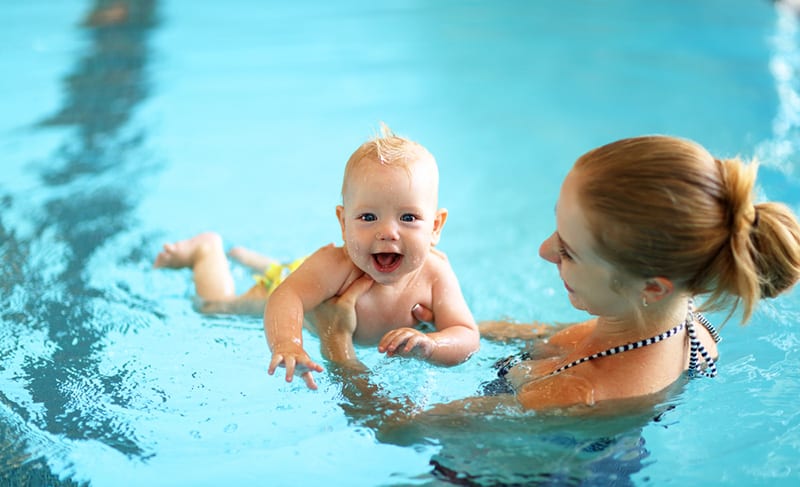 Quality time with your baby creates a strong bond between you and the baby. It is an opportunity to unite with your baby. Having fun after busy days lets a baby grow fonder of a parent.
Holding and skin contact with your baby in the pool allows you to feel each other's heart pulse and smell, stimulating a soothing, relaxing feel. Swimming helps improve the baby's spatial awareness, personality, and reading development.
Swimming is a great activity to improve a baby's balance and coordination as they are forced into heightened awareness. It allows them to move more independently, even when they start crawling or walking.
Furthermore, the activity involves the coordinated movement of both sides of the body (cross-lateral movement. Therefore, it helps them develop fine motor skills and cognitive function, especially when aiming for balls in the pool.
5. Physical Benefits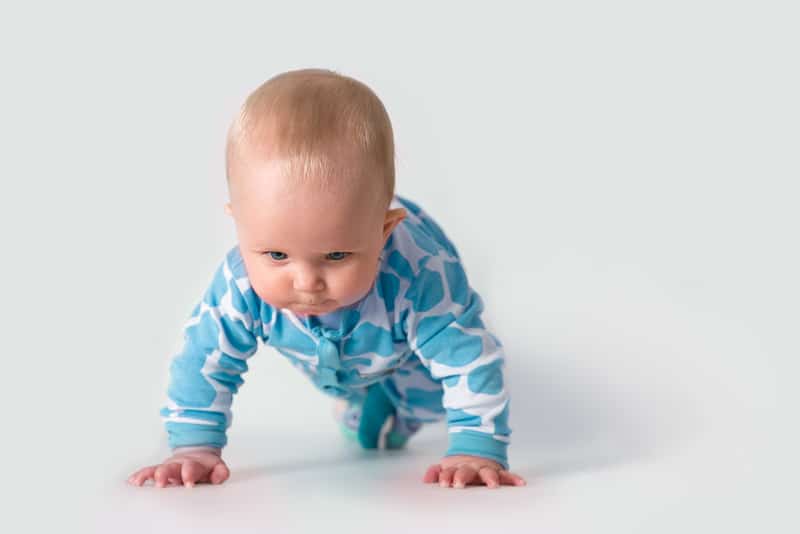 If you want your baby to be the next Michael Phelps or even better, you might have to start swimming training as soon as possible. Swimming is a wholesome activity, i.e., it always engages the brain and entire body.
Gestures like kicking, bouncing, and splashing while swimming can abet balance and boost the baby's vestibular system. Owing to the physical nature of swimming, introducing babies to swimming builds up their lungs, heart, and muscles of the arms, neck, and leg.
Baby swimming enhances the development of muscles needed to hold up their head and other body parts. It can improve the baby's cardiovascular health and ensure proper joint movement. Also, the baby's coordination is not left out.
10 Safety Tips Concerning Baby Swimming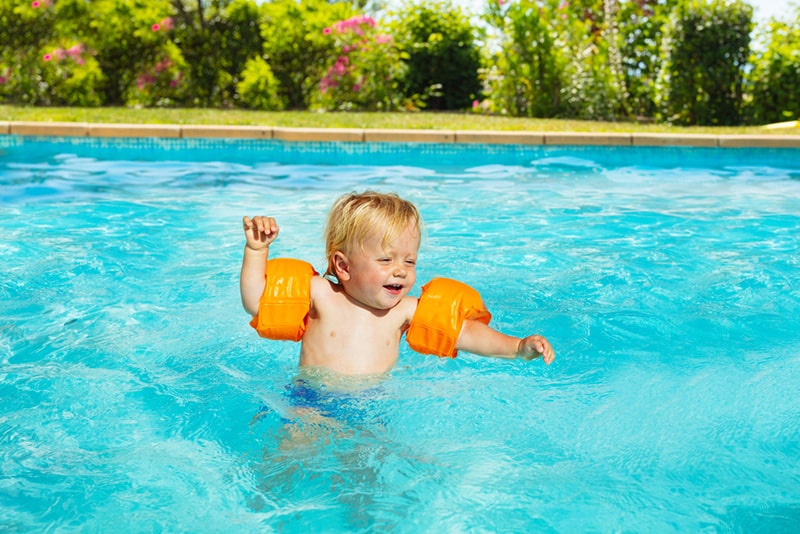 Children should be closely monitored anytime they are around or in the pool. Babies, especially those below four years, are likely to drown even in a one-inch depth pool. They should be guided and supported by parents or guidance during swimming.
Never lose sight of your baby, as it is essential to eliminate or reduce the risk of drowning. Some items and actions should also be taken before baby swimming. Here are a few tips to be conscious of before and during baby swimming.
Get all your swimming accessories before visiting the pool. Items like swimming goggles for eye protection, swim vests or life jackets, and swim caps are essential. Do not forget to bring a towel along.
Wear a life jacket before entering the water. For extra safety, use more floating pool accessories such as pool noodles to support the baby while in the pool.
Parents, guardians, and caregivers should strictly follow rules and regulations in or around the pool location.
Parents, guardians, and caregivers should always watch after their baby. Pay attention to every action, movement, and expression your baby makes.
Shallow pools should be given preference.
Avoid distractions that will keep your sight away from your baby. No chit-chatting, handling of smart devices, drinking, or smoking at the pool area.
The presence of a lifeguard, coach, or experienced swimmer can increase child safety.
The pool water temperature for babies should be around 30°C and 32°C.
Due to a baby's level of immunity, parents are advised to keep their babies from a pool that contains chlorine until they are above six months.
Inform a professional health worker before taking the baby to the pool for health reasons.
Six Signs of Drowning You Must Know
While introducing babies to swimming at an early age, there is a higher tendency of drowning if they are not adequately monitored or supported. The following are signs that indicate drowning.
The mouth is seen at the water level, and the head is below the water.
The mouth is opened while the head is tilted backward.
Breathing becomes difficult or too slow to meet the body's needs.
Struggling to swim.
Eyes are closed, or face is expressionless.
Inactivity.
Conclusion
The benefits of baby swimming are realistic as they are immersed in an entirely different environment. In normal circumstances, you should not wait too long before getting your baby into the pool. Healthy babies are every parent's delight; swimming provides an opportunity.
Ensure you get all the essential items and observe safety measures during baby swimming. At no point in time do not lose sight of your child. If you must attend to other activities, exit your baby from the pool to a safe place.
Now you are aware of the benefits of baby swimming and other critical information related to it, especially safety. You can help other parents learn more about baby swimming. Please click on any of the social media buttons on the page to share with them.
Do you have any comments or questions regarding baby swimming? Please get in touch with me via the comment section on this page.