Freestyle swimming technique is not just about speed, it's about grace, power, and endurance. It's about understanding the water, your body, and how they interact.
In this article, we'll dive deep into the world of freestyle swimming, exploring the intricacies of this popular swimming style and how you can master it.
>> See also: History of Freestyle Swimming: An Unmissable Deep Dive
Perfecting Your Pose: Body Position in Freestyle Swimming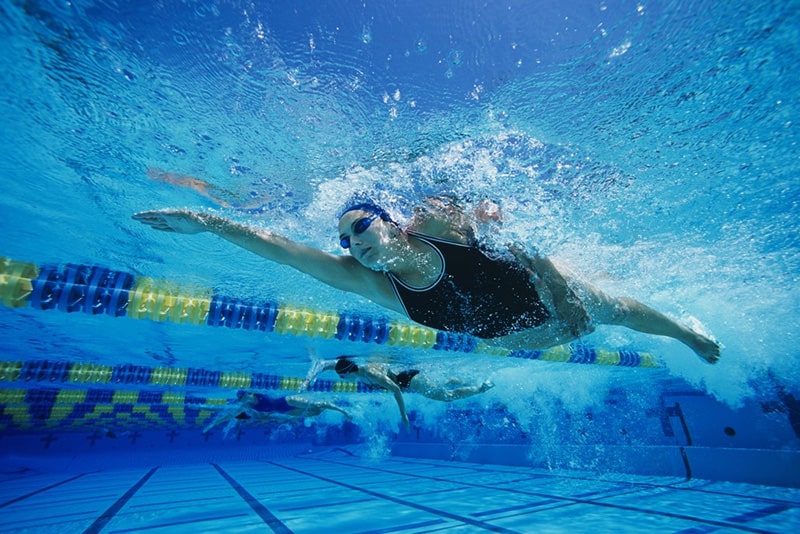 Imagine you're a sleek ship cutting through the waves. In freestyle swimming, your body is that ship, and a streamlined body position is your secret to efficient, powerful swimming. Let's see how we can perfect that pose.
1. Streamlined Body Position: The Secret to Efficient Swimming
Aim to maintain a body posture as flat as a pancake and as straight as an arrow. The name of the game is reducing drag.
How? Keep your head in line with your body. Picture an invisible line connecting the top of your head to your tailbone, and make it your goal to keep this line as straight as possible.
Remember, lifting your head may seem natural, but it's a no-go! It makes your hips and legs sink, upping the resistance and cranking up the difficulty level.
Speaking of hips and legs, they should be rolling along with your body, mimicking the natural rhythm of your strokes.
But here's the trick – don't roll more than 45 degrees. Picture a clock; you want to rock between 10 and 2, not spin all the way around!
2. Head, Hip, and Body Alignment: Getting It Right
I can't stress enough the importance of a neutral head position. You might be tempted to look forward and check out where you're going, but resist!
It's like looking at the horizon when you're driving, it will cause your legs and hips to sink, and that's the swimming equivalent of a flat tire. Instead, trust your gut (and pool lanes) to keep you on track.
Now, about those hips. Keep them kissing the surface of the water by pressing down your chest just a smidge. Think of it like a seesaw; when the chest goes down, the hips come up. Easy, right?
When it comes to your body, let it rotate with each stroke, but remember our rule of 30 degrees. Picture yourself between two panes of glass, you want to rotate, but not crash into either pane.
3. Common Body Position Blunders and How to Avoid Them
There are some common slip-ups swimmers make, but fret not, I'm here to help you dodge them. One major boo-boo is lifting your head to breathe.
This drops your hips and legs, throwing off your balance. It's like trying to drive with your car tilted to one side – not a smooth ride.
Instead, let your body roll to the side, enough to let your mouth peek out of the water for a breath.
Another mistake is swimming as flat as a pancake, without rotating your body with each stroke. This is like trying to paddle a boat with one oar – inefficient and tiring.
And finally, the hand position. Your hands should enter the water like they're diving in, fingers first, palm angled slightly out.
Then, extend it further underwater, not above it. Imagine reaching for something just beyond your grasp under the water.
There you have it! A good start to perfecting your pose in freestyle swimming.
The Power of the Catch in Freestyle Swimming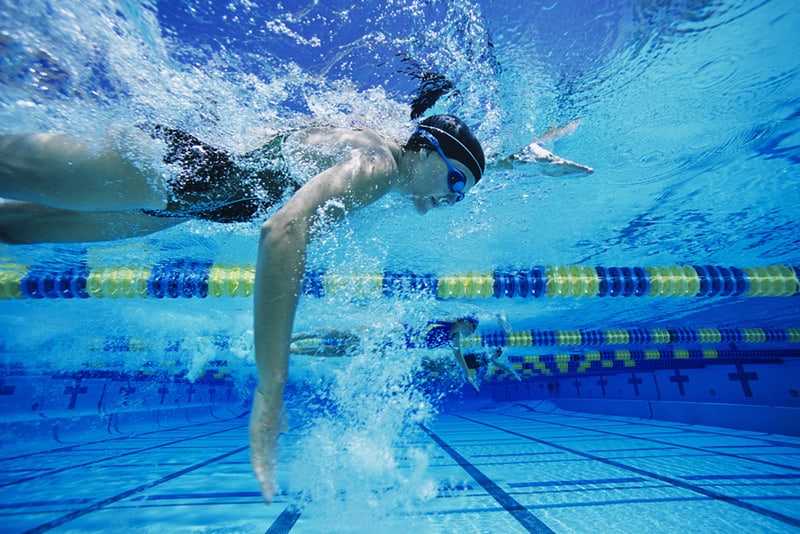 Ever wondered what's the first step to powerful swimming? It's all about the catch, folks!
This moment is when your hand and forearm pull against the water, creating the thrust that propels you forward.
Think of it as a magician setting up for an impressive trick, one false move, and poof! The magic is gone.
Similarly, a weak catch can drain the power from your strokes, leaving you with less speed and efficiency. So, let's get that catch right!
1. The Catch: Your First Step to Powerful Swimming
When executing the catch, imagine your fingers are like the tines of a slightly spread fork, pushing against the water. The movement isn't just down, but outwards as well.
It's a bit like miming the act of opening a jar underwater, pushing against the resistance of the water to drive yourself forward.
2. Fingertips and Hand Positioning: Small Details, Big Impact
Never underestimate the power of details. The positioning of your fingertips and hand is like setting the GPS for your swim; a tiny change can significantly impact your course.
When you enter the water, dive in with your fingers first, as if they're leading the rest of your body.
Keep your palm tilted at a 45-degree angle, as though showing off a new ring on your index and middle finger, which should be the first to meet the water.
Aim to place your hand about 15 inches above your head, with your wrist looking down on your fingers and your elbow hovering above.
Think of a puppet string pulling your elbow upwards. The key is to make as little splash as possible, like a perfect Olympic diver!
Once your hand has gracefully entered the water, give it another 4-inch push.
3. Early Vertical Forearm (EVF): What It Is and Why It Matters
Remember how I mentioned a magician's trick in swimming? Well, the Early Vertical Forearm (EVF) is one such technique that brings a touch of magic to your strokes.
Picture your arm as a crane. At the beginning of the stroke, the elbow is held high in the water, like a crane's top.
Then, you bend it, bringing it outward, positioning your forearm vertically, much like a crane's hook.
This motion transforms your forearm and palm into a highly efficient paddle, driving you through the water with ease.
>> Check out my article on How to Improve Early Vertical Forearm here.
4. Catch Mistakes You're Probably Making and How to Fix Them
Like every magic trick, there are common pitfalls to avoid. One blunder is to let your hand enter the water just above your head.
This disrupts the flow of your stroke, akin to trying to dance with two left feet. Instead, glide your arm into the water following the momentum of your hand's entry.
Another misstep is to bend your hands upwards at the end of the arm recovery, like you're waving hello to the pool floor.
This pushes water forward, acting like a brake to your swimming speed. Remember, we're here to swim, not stop!
Getting the catch right can feel tricky, but with practice and attention to detail, you'll be swimming with increased speed and efficiency in no time. So, get out there and make a splash!
Spin It Right: Rotation in Freestyle Swimming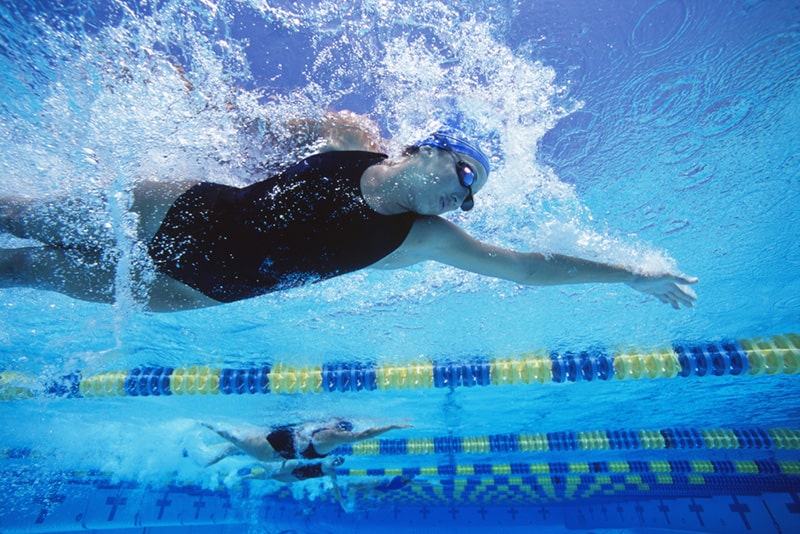 Rotation in freestyle swimming is like the secret ingredient in a perfect recipe. It adds flavor and finesse to your swimming technique, making it more balanced and powerful. So let's dive into the twist and twirl of freestyle swimming, and get you spinning just right!
1. The Role of Body Rotation in Smooth Swimming
Imagine your body as a rolling pin, smoothly spinning from side to side, just about 30 degrees off the water surface. This body rotation is the secret to smooth freestyle swimming.
It works wonders, letting you tap into your back muscles' power, providing an extra punch to your arm strokes.
Plus, it keeps you balanced, maintaining a horizontal body position, which prevents your legs from turning into anchors.
2. Hip and Shoulder Rotation: The Key to Powerful Strokes
The twist in the tale of powerful strokes? Hip and shoulder rotation! It's like a well-choreographed dance, with your body moving in line with your arm strokes.
This rotation not only adds power to your strokes but also cuts through water like a knife, minimizing drag.
Remember, your hips are the stars of this dance, leading the rotation, not your shoulders.
Just imagine your shoulder as a shy dancer, tucking close to your cheek during the rotation to avoid stealing the show and causing drag.
And what about breathing, you ask? Well, as you rotate, your body naturally rises to the surface, making it easier to inhale.
3. Rotation Errors and How to Correct Them
Even the best dancers can trip up sometimes. Over-rotating is a common mistake that can knock you off balance, like spinning too fast in a dance-off.
Stick to a modest 30-degree tilt in either direction to keep things balanced.
Sometimes swimmers lift their heads while rotating to breathe, causing their hips and legs to drop like a clumsy dance partner.
Over-rotation or under-rotation, like being out of step in a dance, can lead to inefficient strokes and increased drag.
To correct these errors, think of your hips as the lead dancer, guiding your body rotation.
Keep your head and neck relaxed as if they're just along for the ride, and maintain a consistent rhythm between your arm strokes and body rotation, like a well-choreographed routine.
Mastering body rotation can be the key to unlocking a more powerful, efficient, and smoother freestyle swim. So, get ready to spin it right, and watch your freestyle swimming transform!
Breathe Easy: Mastering Breathing in Freestyle Swimming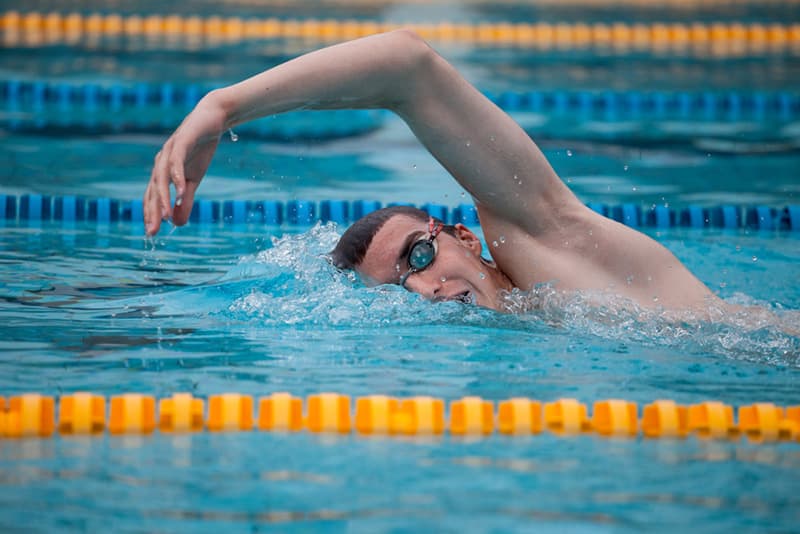 Breathing is something we do every day, every minute, without even thinking about it. But when it comes to freestyle swimming, breathing becomes an art and a science. It's about syncing your breaths with your strokes, timing it just right, and making each breath count.
Let's delve into the world of breathing in freestyle swimming and learn how to make it as natural as, well, breathing!
1. The Art and Science of Breathing in Freestyle Swimming
In freestyle swimming, your face spends more time in the water than out of it, but that doesn't mean you hold your breath.
On the contrary, you exhale continuously, like slowly letting air out of a balloon.
This way, by the time you roll your head to the side to breathe in, your lungs are nearly empty and ready for a fresh gulp of air.
This continuous exhale not only keeps you relaxed but also sets the rhythm for your breathing and strokes.
>> Read on: 6 Quick-Result Breathing Exercises for Swimmers
2. Head Position and Rotation: Breathing Without Breaking Stride
When it's time to inhale, you might feel the urge to lift your head forward, but resist! Doing so is like a bad dance move, causing your hips and legs to drop out of rhythm.
Instead, think of it as a smooth roll to the side, turning your head just enough for your mouth to break the surface.
Ideally, it's like you're giving the water a cheeky wink, with one eye above and one eye below the surface. But remember, like any dance step, it takes time and practice to perfect.
3. Breathing Mistakes That Could Be Slowing You Down
Now, let's talk about common breathing bloopers. Looking forward instead of down, for instance, might seem like a good idea, but it's a swimming faux pas.
It causes your hips and legs to sink, forcing you to kick harder to stay afloat. This can tire you out quickly and make you breathless.
Plus, craning your neck forward could lead to real pain in the neck in the long run.
Mastering the art and science of breathing in freestyle swimming can make all the difference in your performance and enjoyment of the sport.
Remember, it's all about staying relaxed, maintaining rhythm, and perfecting that roll to the side. So take a deep breath, dive in, and start breathing your way to a better freestyle swim!
Kick It up a Notch: Kicking In Freestyle Swimming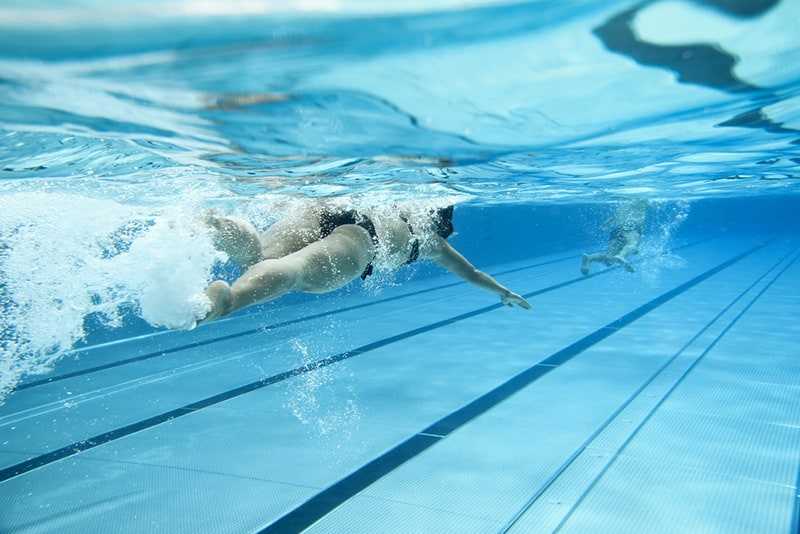 If you thought freestyle swimming was all about arm strokes, it's time to kick that notion away!
While it's true that kicking contributes only about 10-15% of the power in your stroke, it plays a critical role in balancing your body and supporting your strokes.
Moreover, how you kick can significantly impact your swimming speed and efficiency. So let's dive in and explore the world of kicking in freestyle swimming.
1. The Kick: More Than Just Propulsion
When it comes to kicking in freestyle swimming, it's not just about propelling yourself forward.
Kicking also helps to stabilize your body and harmonizes with your arm strokes to maintain a streamlined body position.
Depending on your swimming goals, you can adopt a two-beat kick, which is ideal for long-distance swimming as it conserves energy.
This means you kick once with each leg for a total of two kicks per stroke cycle.
If you're aiming for speed and short races, the six-beat kick, which involves three kicks per leg per stroke cycle, gives you more propulsion and speed.
2. Leg and Foot Positioning: The Right Way to Kick
The way you position your legs and feet while kicking can make a sea of difference to your swimming technique.
Keep your hips near the water surface, and aim for a series of quick, narrow-range kicks.
It's like you're playing an invisible, underwater piano with your feet – your legs should neither kick out of the water nor drop below your body line.
The real power comes from kicking from the hips and thighs, not the knees – doing the latter leads to a 'bicycle kick' which can cause more drag.
And remember to point your toes while kicking, like a ballet dancer! This reduces drag and makes your kick more efficient.
Your toes should face inward, almost as if your big toes are trying to touch with each kick.
>> Read more: 4 Drills for a Faster Freestyle Kick
3. Common Kicking Mistakes and How to Kick Them Out
There are a few kicking faux pas to watch out for in freestyle swimming. Kicking from your knees, also known as the bicycle kick, creates more drag and slows you down.
Also, keep your legs from kicking out of the water or dropping too low, as it can disrupt your streamlined body position. And always remember to point your toes to reduce drag.
Mastering the art of kicking in freestyle swimming is more than just a leg-up in your technique; it's a holistic approach to harmonize your body movements, reduce drag, and enhance your swimming efficiency.
So get set to make a splash and kick your freestyle swimming up a notch!
The Sound of Silence: Silent Swimming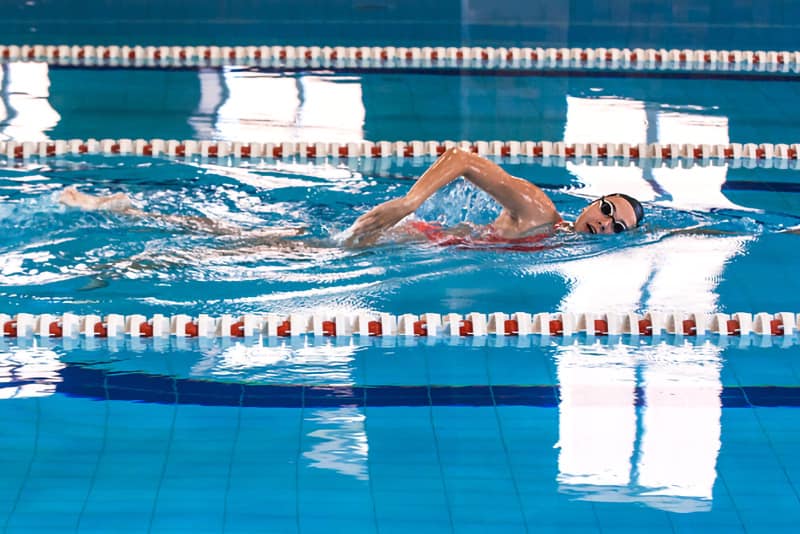 Silent swimming is the virtuoso skill of freestyle swimming. The key to achieving this proficiency is minimizing the splash and noise created by the swimmer's movements.
It's the art of being as quiet as a whisper in the water while still maintaining powerful strokes and efficient propulsion.
To master silent swimming, a swimmer needs to harmonize different techniques and elements of freestyle swimming. Let's explore this subtle yet highly rewarding skill.
1. Silent Swimming: The Ultimate Swimming Skill
The tranquility of silent swimming is more than just a serene experience; it's an advanced skill that signifies efficiency and control.
The less splash and noise you make, the smoother and more efficient your swimming technique.
This requires a holistic approach, harmonizing each aspect of freestyle swimming to create a quiet symphony of motion in the water.
2. How to Master the Art of Silent Swimming
Mastering silent swimming involves understanding and integrating several swimming techniques:
Maintain a neutral head position: Keep your head aligned with your body, focusing your gaze on the bottom of the pool. This balance prevents your hips and legs from sinking and negates the need for excessive kicking, which often causes noise and splash.
Press your buoy: Maintain a horizontal body position by pressing your chest down slightly. This keeps your hips and legs closer to the water surface and reduces splashing.
Roll and breathe: Instead of lifting your head to breathe (which can cause splashing), roll to the side and simultaneously turn your head just enough to allow your mouth to clear the water for inhaling.
Exhale in the water: Continuously exhale while your face is submerged. This prepares you to inhale immediately when your mouth clears the water during the roll and reduces disturbances in the water.
High-elbow position: Keep your elbow high and forearm vertical during the pull phase of the stroke. This efficient technique reduces turbulence in the water.
Avoid over-reaching: Over-reaching with your recovering arm can create unwanted turbulence. Keep your movements controlled and smooth.
Two-beat kick for long distances: This relaxed kick style conserves energy and minimizes splashing. You kick once with each leg during the entire stroke cycle.
Don't push water forward: When extending your arm forward underwater during the recovery phase, keep your hand flat and parallel to the water surface. Pushing water forward creates noise and additional drag.
Subtle flutter kick: Although kicking contributes only 10-15% of the power in your stroke, it's essential to do it correctly. A subtle flutter kick just below the water surface minimizes noise and splash.
Body rotation: Correct body rotation, about 30 degrees from the surface on each side, is vital for reducing drag and creating a smooth, silent swim.
Silent swimming is the embodiment of skill, control, and efficiency in freestyle swimming. As with any technique, practice and persistence are key to mastering it. So dive in and experience the sound of silence in the water!
Arm Yourself: Freestyle Swimming Arm Action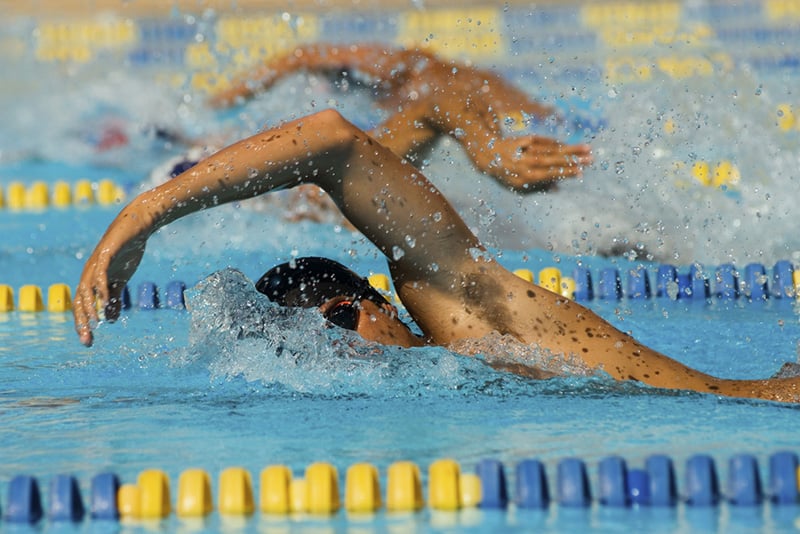 The role of arm action in freestyle swimming is a vital component of your stroke, essentially serving as the engine propelling you forward through the water.

It's the choreographed movement of your arm stroke, performed in a windmill arc motion, that gives you the speed, power, and control to glide effortlessly across the pool.

The full arc of the arm stroke consists of five stages: entry, downsweep, insweep, backsweep, and release. Let's delve into the finer details of the arm action in freestyle swimming.
1. The Role of Arm Action in Propelling You Forward
Arm action is paramount in freestyle swimming, primarily driving you forward. Each stage of the arm stroke has a specific role in maintaining the momentum:
Entry: The arm enters the water, setting the stage for the subsequent pull.
Downsweep: The arm begins to pull against the water, acting as a lever.
Insweep and Backsweep: These are the propulsive phases of the stroke. During the insweep, the hand displaces as much water as possible, pushing the body forward. The backsweep is the most rapid phase and can be the most powerful at propelling the swimmer forward.
Release: The hand is launched forward in line with the shoulder out of the water, providing support for the other arm performing the underwater pull.
2. Arm Pull and Recovery: The Complete Cycle
The full cycle of arm action in freestyle swimming involves the coordinated movement of both arms.

During the release phase, the fingers should hang loosely above the water, and the hand should swing wider than the arm.

This motion prepares the arm for re-entry into the water, marking the beginning of a new stroke cycle.
3. Arm Action Errors That Could Be Costing You Speed
Many common mistakes in arm action could slow you down and affect your overall technique:
Incorrect Entry: Entering the water just above the head can slow you down and disrupt your stroke technique.
Smacking the Water: This creates turbulence and additional drag, affecting your speed and efficiency.
Incorrect Hand Position: Bending the hands upwards in the water at the end of the arm recovery (also known as "Putting on the Brakes") pushes water forward, slowing you down.
Over-rotation During Breathing: This can cause loss of balance and disrupt your stroke rhythm.
Mastering the arm action in freestyle swimming requires an understanding of the role of each phase of the stroke.

It's a harmony of coordinated movements, where each stage of the arm stroke seamlessly flows into the next, creating a continuous, powerful, and efficient stroke.
Sync or Swim: Freestyle Swimming Technique Timing & Coordination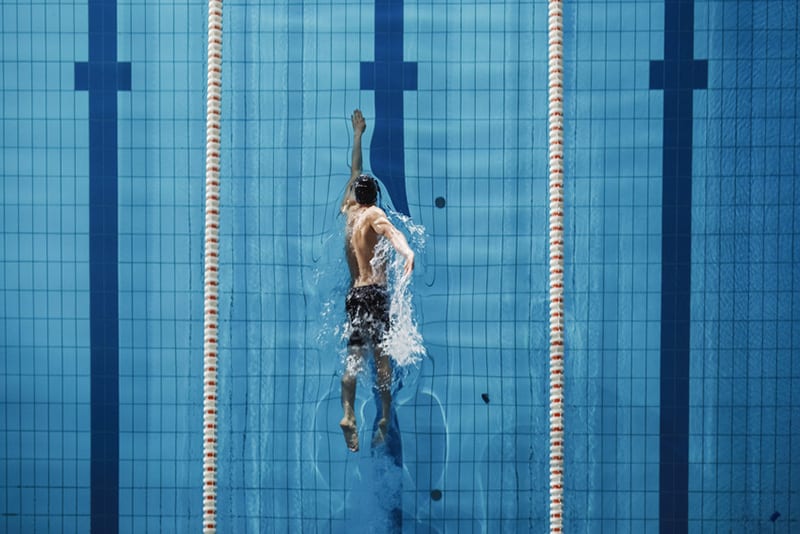 Swimming is not just about strength or speed, it's about rhythm. Freestyle swimming, in particular, involves precise timing and coordination of alternating arm strokes, leg kicks, breathing, and body rotation.

These coordinated movements create the fluid windmill arc motions of the freestyle stroke that propel a swimmer through the water.

The body must maintain a balance between these elements, ensuring each phase of the arm stroke syncs with the corresponding leg kick and rotation of the body.
1. Timing and Coordination: The Rhythm of the Swim
The rhythm of freestyle swimming involves various components working together harmoniously:
Arm Stroke: The alternating arms create a windmill arc motion, each undergoing five stages – entry, downsweep, insweep, backsweep, and release.
Breathing: The head stays submerged underwater, with the swimmer turning to the side to breathe during the recovery phase of the arm stroke.
Leg Kicks: A two-beat or six-beat flutter kick syncs with the arm strokes, providing stability and slight propulsion.
Body Rotation: As the arms stroke, the body rotates around its axis, moving about 30 degrees from the surface on both sides. This rotation aligns with each arm stroke, helping to increase reach and minimize drag.
2. Leg Kicks per Arm Cycle: Finding Your Perfect Balance
Despite accounting for only 10-15% of the power in your stroke, leg kicks play a vital role in maintaining balance and rhythm in freestyle swimming. The type of kick depends on the swimming distance and swimmer's preference:
Two-beat kick: Ideal for long-distance and middle-distance swimmers, it involves one kick per arm stroke cycle.
Six-beat kick: Common among sprinters and faster swimmers, it requires three kicks per arm stroke cycle.
Regardless of the chosen kick style, the range of motion should be narrow, ensuring the legs don't break the water surface or drop below the body line, which can cause drag and hinder efficiency.
3. Timing Mistakes and How to Get Back in Sync
Several common mistakes can disrupt your swimming rhythm:
Incorrect Head Position: Lifting your head forward before turning to the side to breathe can cause your hips and legs to drop, affecting your balance.
Hand Position During Recovery: Bending your hands upwards at the end of the arm recovery can push water forward, slowing you down.
Over-rotation During Breathing: Over-rotating can disrupt your balance and negatively impact your stroke rhythm.
Mastering the timing and coordination in freestyle swimming takes practice, patience, and mindful awareness of each movement's role in your overall stroke.

Syncing the movements properly will not only improve your swimming efficiency and speed but will also make your swimming feel more effortless and enjoyable.
Practice Makes Perfect: Honing Your Freestyle Stroke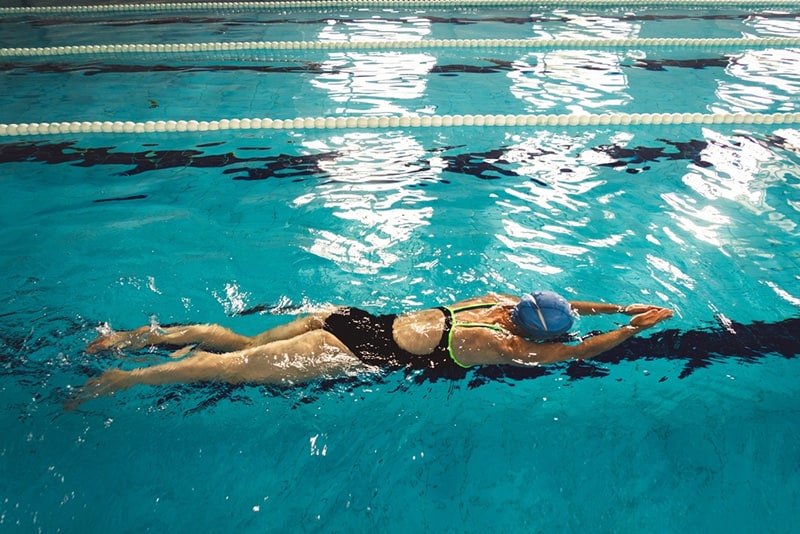 Swimming is a skill, and like any skill, it requires regular practice to master, especially when it comes to freestyle swimming. Through consistent practice, you can develop your freestyle technique, enabling you to swim at moderate or fast paces without exhaustion.

It can also help maintain balance, ensuring the body stays horizontal and the legs don't sink. A combination of targeted exercises, drills, and tech tools can further hone your freestyle stroke.
1. The Importance of Regular Practice in Mastering Freestyle Swimming
Freestyle swimming demands coordinated action across your body – the arms, legs, torso, and even your breathing must sync in rhythm.

This complex interplay of movements requires regular practice to become second nature.

Through repetition, swimmers can maintain a good balance, activate the correct muscle groups, improve efficiency, and avoid common mistakes that can lead to fatigue or injury.
2. Drills and Exercises to Take Your Freestyle to the Next Level
Practice is essential, but how you practice matters as well. Here are a few drills and exercises to improve your freestyle technique:
Neutral Head Position: Always keep your head in line with your body, looking directly at the bottom of the pool.
Press Your Buoy: Keep your body balanced horizontally by pushing your chest down slightly.
Proper Breathing Technique: Roll to the side for breath, turning your head further to let your mouth leave the water without lifting your head.
Swim on Your Sides: Alternate rolling your body from side to side over each stroke cycle.
Exhale in the Water: Exhale continuously underwater, so your lungs are almost empty when you turn to inhale.
High-Elbow Position: Keep your elbow high at the beginning of each arm stroke, bending it outward so your forearm moves into a vertical position.
Two-Beat Kick: For long-distance swimming, kick once with each leg during the stroke cycle for a total of two kicks.
Avoid Pushing Water Forward: When extending your arm forward underwater during recovery, keep your hand flat and parallel to the water surface, palm facing down.
>> Read on: 12 Freestyle Drills for a Faster Freestyle
3. Tech Tools and Apps to Aid Your Swimming Journey
Incorporating tech tools and swimming aids into your practice can provide additional benefits:
Hand Paddles: These tools can help focus on your hand's entry and exit from the water, improving stroke efficiency.
Mid-length Flippers: Flippers can enhance your kick technique and improve ankle flexibility.
Goggles: Good quality goggles ensure clear underwater vision, helping you stay oriented, maintain balance, and avoid collision with walls or other swimmers.
Remember, the key to perfecting your freestyle stroke lies in consistent, focused practice.

Coupled with the right drills, exercises, and tech tools, you can gradually improve your technique, speed, and endurance, making your time in the water more enjoyable and productive.
FAQs
In this section, we will address some of the most common questions that swimmers often have about freestyle swimming.
Why Do My Legs Sink When I Swim Freestyle?
Your legs might sink in freestyle swimming due to several reasons. Commonly, it's due to looking forward or lifting your head, which can cause an imbalance in your body position and lead your hips and legs to drop.

An improper kicking technique or lack of core strength can also cause this issue. It's essential to maintain a neutral head position and engage your core while swimming to help keep your legs afloat.
How Can I Improve My Breathing Technique in Freestyle Swimming?
Improving your breathing technique involves several steps.

First, you should exhale continuously while your face is in the water, so your lungs are almost empty when you turn to breathe. This allows you to quickly inhale when your mouth is above water.

Secondly, avoid lifting your head forward to breathe; instead, turn your head to the side as you rotate your body.

Practice maintaining one eye above and one below the water surface when you breathe.
What Is the Ideal Head Position in Freestyle Swimming?
The ideal head position in freestyle swimming is neutral, in line with your spine. You should be looking straight down towards the bottom of the pool, not forward.

This position helps maintain body balance, keep your body horizontal, and prevent your legs from sinking.
How Can I Make My Freestyle Stroke More Efficient?
Making your freestyle stroke more efficient involves perfecting various elements like body rotation, arm action, kicking technique, and breathing.

It's important to synchronize your body rotation with your arm strokes and maintain a streamlined body position to reduce drag.

Ensure your arm action follows the correct phases – entry, downsweep, insweep, backsweep, and release – to maximize propulsion.

Also, adapt your kick to your swimming speed and distance.
How Often Should I Practice Freestyle Swimming to See Improvement?
The frequency of practice can vary depending on your current skill level, goals, and availability.

However, as a general rule, swimming three to four times a week for at least 30 minutes to an hour can help you see noticeable improvements.

Remember, consistency is key. Regular practice helps you develop muscle memory and improve your technique over time.
The Bottom Line
Mastering the freestyle stroke is a journey that combines technique, timing, practice, and understanding the science behind each movement. Every detail, from the arm stroke to the body rotation, contributes to your overall speed and efficiency in the water.

Remember, no matter where you're at in your swimming journey, it's never too late to refine your technique or learn something new.

I hope you found this guide helpful and informative. Please feel free to share your thoughts, questions, or personal experiences in the comment section below. Your input can make this guide richer for everyone.

If you found this information valuable, don't forget to share this article with your swimming buddies or those looking to improve their freestyle technique.

Keep swimming, and remember that every stroke brings you closer to your goals!