If you are a beginner in swimming, an essential piece of information to know is how many laps in a pool are a mile. The knowledge of this little detail is vital in planning your training, development, and success.
The words "mile" and "lap" are often misunderstood by some individuals. Hence, such people may feel less satisfied or panic about their level of development. For aspiring professionals, you should understand these two terms.
After reading this article, you can answer the question regarding the number of laps in a mile. Before you wear your goggles, wetsuit, and swim cap, you will learn about laps, miles, and their relevance to swimming.
Are you in a rush? Click here to find the quick answer.
What Is a Mile in Swimming?
Most newbies tend to find the word "mile" confusing. Mile is related to distance or length. The widely accepted measure of a mile is 1760 yards, 5280 feet, 1.61 kilometers, or 1610 meters.
Therefore, to cover a mile, you need to swim up to these values. However, a mile can assume a different value when swimming. Technically, you can classify the "swimming mile" into three.
1. The meet mile
Almost every swimmer, including beginners, is used to the meet mile. It is the standard distance used in many competitions, including the popular international Olympics. In the meet mile, a mile is regarded as 1650 yards in a yard competition pool or 1500 meters in a meter pool.
In both instances, these pool types are lesser than the standard measurement of a mile. The yard pool is lesser by 90 yards while the meter pool has a deficit of 110 meters.
2. The Pool Training Mile
For the pool training mile, the case is not different from the meet mile. These pool types are what every swimmer will train with ahead of any competition. Hence, it can also be either 1650 yards or 1500 meters.
3. The Open Water Mile
This category of the swimming mile is distinct from the other two. It is the most accurate as it equates to the actual value of a mile, 1760 yards or 1610 meters.
If you are going for open water swimming, you can rest assured that a mile will be up to the standard value. To relate your swimming distance to your pool, divide the total distance you covered in open water by the length of the pool.
>> Read more: 10 Reasons Why Open Water Swimming Rocks
What Is the Length of a Pool?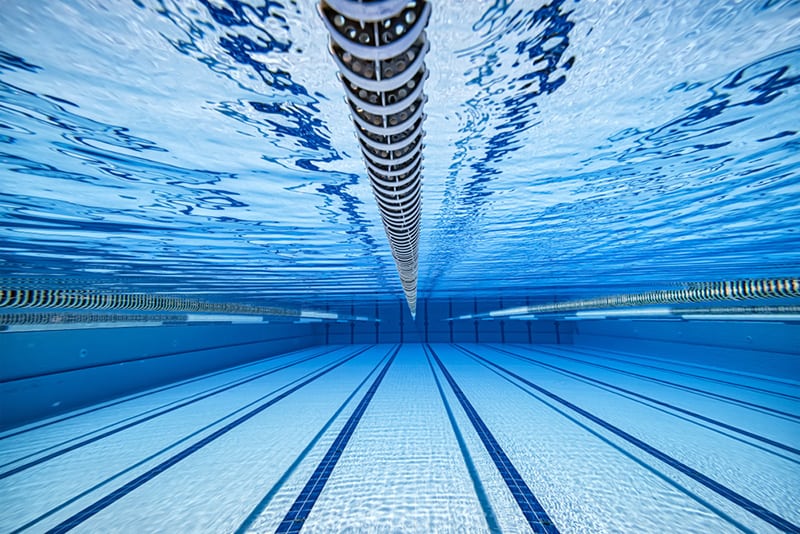 Before defining a swimming lap, it is essential to understand the length of a pool. Pool lengths may appear quite simple to explain, but one can easily get things wrong due to some little details.
A pool will either be a short-course or long-course type. Olympic-standard pools are measured in meters and are always 50 meters in length. Most countries also use meters (or kilometers) and will have a pool of 25 or 50 meters.
Meanwhile, things are different in US pools, where a yard is the unit of measurement. Therefore, a short-course pool in the US will measure around 25 yards, equivalent to 22 meters.
What Is a Lap in Swimming?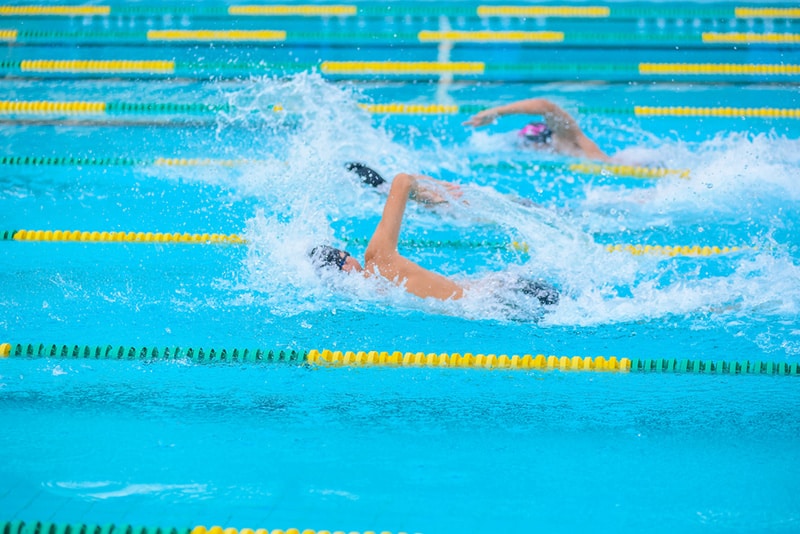 The definition of a lap is another confusing aspect when measuring swimming distance. There are different definitions of a lap, but the most legitimate one is that of the Olympics.
In the Olympics, a lap is regarded as 50 meters, precisely the pool length used in the competition. To others, a lap is when a swimmer covers the "back and forth" of a pool.
The latter definition makes sense in smaller recreational or training pools with a length of 25 yards or 25 meters. This way, a swimmer will have to swim the length of a pool (yard or meter) to achieve a lap.
Hence, going by the Olympics definition, a lap is synonymous with swimming a distance of 50 units (yards or meters).
Laps or Lengths – Is There Any Distinction?
Here is another common area of confusion I need to demystify to understand the main question. Some swimmers can't make a clear distinction between laps and lengths. But, in truth, there's no difference between both.
Some swimmers, especially beginners, regard a lap as swimming in the full length of the pool twice, i.e., swimming to and fro a particular poolside. In other words, they refer to a length and the distance from one end of the pool to another.
Both terms are the same and can be used interchangeably in the real sense. A length is a lap and vice versa. They are the same distance.
Swimming a lap means you moved from one end of the track (pool) to the other, implying that you completed a full length.
How Pool Size Determines the Number of Laps in a Mile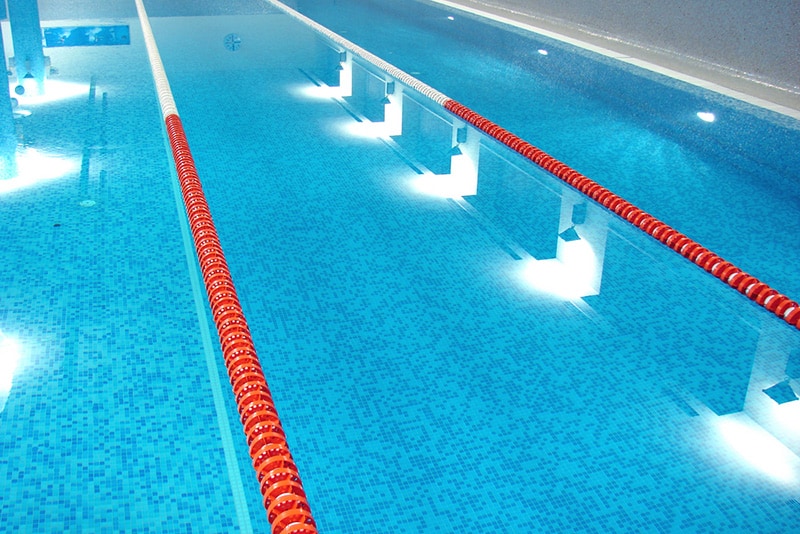 Now you know what a mile is and that there are no differences between a lap and a length. Also, you know that a lap is equivalent to the length of a pool.
However, pool size can determine the number of laps in a mile. There are three common pool lengths used for competitions and training in different parts of the world. Often, these lengths are a multiple of five; they are as follows.
The 25-meter pool: Pools that measure up to 25 meters are also used during the short course season, mostly outside the US. They are also used for international competitions, especially the swimming short-course meets.
The 50-meter pool: If you have ever watched Michael Phelps in the Olympics, then you must have seen this pool length. It is a common pool length for international completions. Some swimmers may utilize 50-meter pools before the competition to enhance acclimatization.
The 25-yard pool: These pools are shorter than the 25-meter pools and are quite common as a short course option for swimmers, especially in the US. They are also widely used for recreation; however, they are used in high schools and colleges.
Other pool lengths: You may come across pools with different lengths besides the three common pool sizes. Like I stated earlier, they are in a multiple of five, e.g., pools that measure up to 40 yards, 30 yards, and 20 yards. In most cases, these pools are used for training or recreation.
So how does your pool size determine the number of laps? Recall that a track is a pool length which is also the same as a lap. Swimming in a shorter pool means you will have more laps in a mile. Conversely, you will have a smaller lap count when swimming in a longer pool.
So, How Many Laps in a Pool Is a Mile?
Now, you understand the terms related to swimming, including mile, lap, and length. It is time to answer the question. Everything you need to know about laps in a mile swimming is discussed in this section.
If you compare your lap count with the actual mile (1760 yards or 1610 meters), below is the total number of laps based on a pool length. Recall that the actual mile is the standard in open water swimming.
| | |
| --- | --- |
| Pool Length | Actual Mile |
| 25 Yards | 70.4 Laps |
| 25 Meters | 64.4 Laps |
| 50 Meters | 32.2 Laps |
However, if you want to compare your lap count with the swimming mile (1650 yards or 1500 meters), the following table has your answers.
| | |
| --- | --- |
| Pool Length | Swimming Mile |
| 25 Yards | 66 Laps |
| 25 Meters | 60 Laps |
| 50 Meters | 30 Laps |
Determining the Number of Laps in a Mile for a Pool
Suppose you are swimming in an unusual or unconventional pool size. In that case, you need some basic mathematics to determine the number of laps in a mile. Use the formula below to calculate the lap count for your pool.
Always remember that the actual mile is 1760 yards or 1610 meters while the swimming mile is 1650 yards or 1500 meters.
Total lap count = Actual mile or swimming mile (yards or meters) ÷ Length of the pool (yards or meters)
Ensure that you use the same unit of distance all through. That is, if the length of the pool is in yards, the value of the actual or swimming mile must be in yards.
Let's have an example; if your pool has a length of 27 yards and you want to swim an actual full mile (i.e., 1760 yards). Therefore, the total lap count for your pool = 1760 yards ÷ 27 yards = 65.19 laps.
To determine your lap count in a swimming mile (i.e., 1500 meters) for a pool of 30 meters in length, follow the same procedure. Hence, your total lap count for that pool = 1500 meters ÷ 30 meters = 50 laps.
There are various things to note when calculating your total lap count in a mile swim – your preferred unit of distance and choice of comparison.
You can decide to calculate your laps based on the swimming mile or the actual one. If you are preparing or participating in a competition, you should train with the swimming mile.
However, the actual mile should be your point of reference if you go for open water swimming. Additionally, tech gadgets like fitness trackers and smartwatches can help you measure total distance (mile) effortlessly.
How to Count Your Laps While Swimming a Mile?
Counting your laps can be pretty advantageous if you are keen on developing as a swimmer. This way, you can set milestones and goals to attain during training and over your course of development.
However, counting it manually while swimming isn't easy, and mistakes are possible. It is very easy to lose count of your laps, especially in a long-distance swim. There are ways to count your laps while swimming a mile.
Waterproof smartwatch – Having a good waterproof smartwatch is a great idea, and it can be quite useful. Not only do they tolerate depths in water, but they can also help track your location via GPS. Some smartwatches are specifically customized for swimming, hence, coming with lap counting features.
Beyond these features, they are equipped with other fascinating specifications for your experience. Ideally, these smart devices should be among your list of open water swimming gear.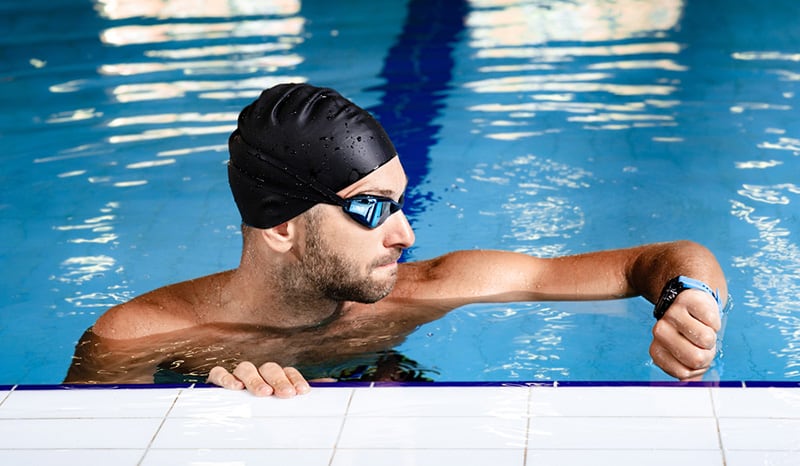 Dedicated lap counters – Counting your laps requires serious concentration, which might also be a distraction. Fortunately, there are wearable lap counters to assist you. With the toggling or pressing of a button, you can count your lap effortlessly. They may also come with a built-in timer feature for more utility.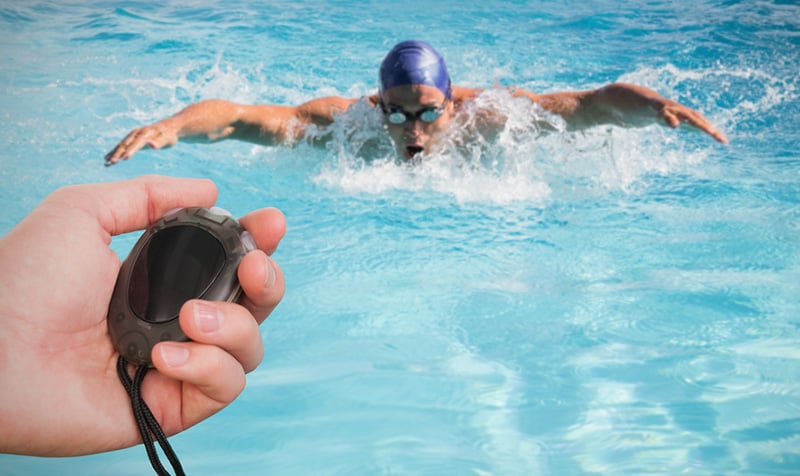 FAQs
You should read this section if you have questions about laps and miles. I have gathered and answered (briefly) some of the frequently asked questions on the internet.
How Long Does It Take to Swim a Mile?
It depends on your swimming pace. However, the average speed for professional swimmers using freestyle is two minutes for 100 meters. Therefore, if you maintain the same rate over a mile, you should finish a mile in around half an hour (33 minutes).
However, your stroke may also play a crucial role. Some swimmers move faster in freestyle than in breaststroke or butterfly.
How Many Laps in a Pool Is a Good Workout?
If you are a beginner, you can settle for 20 to 30 laps within thirty minutes. Intermediates can aim as high as 40 to 50 laps within the same time frame, while advanced swimmers should be able to achieve about 60 laps.
Conclusion
Now you know how many laps in a pool is a mile. If you are going for an open water swimming session, you may want to consider the actual mile. For training or competition, the swimming mile is more suitable.
Yet, it all boils down to your choice of measurement. Some individuals may still want to measure their open water swimming distance based on the swimming mile. Notwithstanding, always consider the unit of distance when determining your total lap count.
If you have any questions or comments, I would be happy if you send them to me via the comment section. Furthermore, you can help others know about laps and mile measurement by sharing this article. You just have to click any of the social media buttons on the page.