Every swimmer wants to be the best in freestyle swimming, winning the medals and breaking the records. Swimming, just like any other sport, requires practice. Of course, you need to devote your time to do a lot of that, even regularly and effectively.
Freestyle swimming gives swimmers fewer rules and restrictions. Despite this, it can be a little strenuous, especially in the aspect of technique and decision. Since you need to train effectively, I have made the best resource available to you on how to swim freestyle faster.
In this article, you get to know how to improve swimming technique in the aspect of freestyle. You should also know how to swim faster front crawl.
What is Freestyle swimming?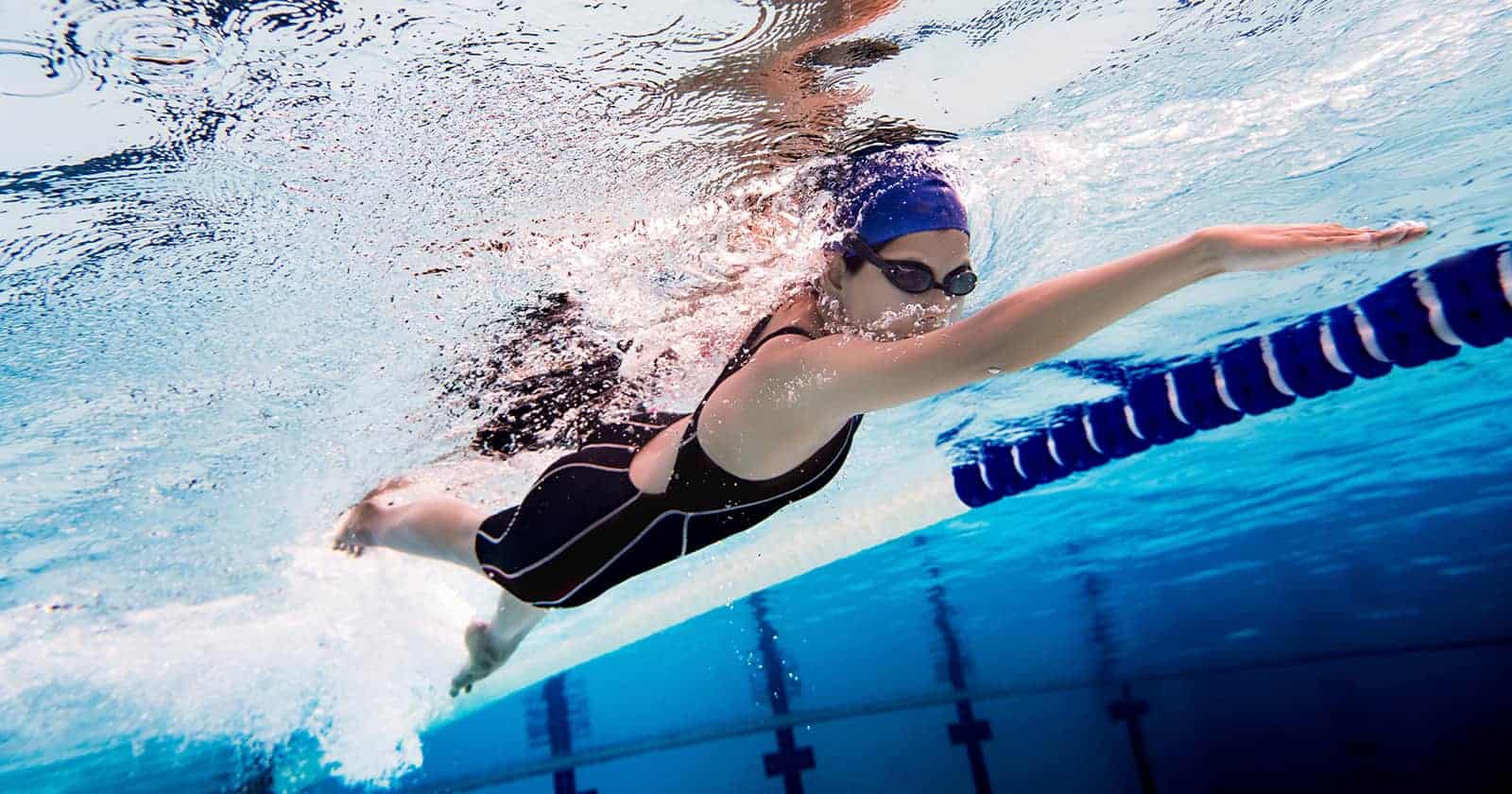 If you are a new swimmer, here is an opportunity to know what freestyle swimming is. Freestyle swimming can simply be referred to as "any style" swimming. This is because there are just a few rules guiding this type of swimming.
You can use any type of stroke during freestyle swimming. The only exception is during medley events where you are restricted to only four strokes – butterfly stroke, breaststroke, sidestroke, and front crawl. Most swimmers tend to use the front crawl swim, hence, it is often referred to as the freestyle or freestyle stroke.
This technique allows swimmers to reach their top speed effortlessly. You can use both your arms and legs. The arms move in alternate directions while the swimmer beats their legs for added thrust and balance. Whilst they swim, they also take breathes by turning their head to the sides.
Freestyle swimming competitions are either long or short course. The shortest course for freestyle swimming in the 50-meter race. Conversely, the longest happens to be the 1500-meter course. It may also be in the form of a relay race.
Children, particularly those younger than 8 years, are not left out from the adventure as they have the 25-meter course available for them.
Rules in Freestyle Swimming
Competitive swimming is regulated by a global body, the International Swimming Federation, which is commonly referred to as FINA. The organization was founded in 1908. The following are some of the rules set by the governing body:
When you start the race or turn, you are permitted to swim underwater for a maximum of 15 meters. After those 15 meters, you must put your head above the water.
You are allowed to use any stroke you like. The only exception is during medley events – individual and relay races – where you are only restricted in four strokes.
No swimmer is allowed to walk on their feet i.e. touch the floor with their feet. Furthermore, swimmers are not allowed to hold on to the lane lines.
Every swimmer should make contact with the wall at the end of each turn and the entire race.
Basic Components of Freestyle Swimming
Understanding the components of freestyle swimming is paramount to improving your speed when swimming. This is also synonymous to improving your swimming. The arms work alternate to each other while the legs kick to balance the swimmer's body.
The basic components are "catch", "pull" and "recovery". You need to work on doing these things right.
1. The Catch
This is the first component of freestyle swimming where your hand goes into the water. It involves stretching your hand to grab the water.
2. The Pull
The second component which is aimed at pulling your body forward. The arm, which was stretched, is moved along the length of the swimmer's body. It is also referred to as the swimming power stroke. Ideally, you should not spread your fingers too wide or close it too tight.
3. The Recovery
The is the final component of freestyle swimming. At this point, the force from the pull has been expended and the swimmer's hand breaks (leaves) the water.
Major Tips for Improving Your Speed During Freestyle Swimming
Looking for how to swim freestyle faster without getting tired? As much as the simplicity of swimming, it can be easy to exhaust yourself, especially for beginners. Improving your swimming technique will really help conserve energy and even keep you from injuring yourself.
With an accurate mindset and practice, you should be eyeing the gold medals soon. The following are the ways to improve your speed, as well as your endurance.
1. Eliminating Drag
In the process of trying to swim faster, body resistance to movement in the water. The amount of drag created is related to the level of the swimmer's hydrodynamics. Just like a fish will move swiftly in water, a swimmer should also improve their hydrodynamics.
Often times, this is caused by poor balancing in the water where a swimmer makes a large surface area of their body against their direction of movement. This can be done by swimming taller and also balancing yourself while swimming.
These are the most obvious ways to cut down drag. Balancing your body in water involves maintaining a flat and horizontal position in the water. This can cut down drag by up to 50 percent. Your body should be straightened and sinking a little lower than your head.
You need to keep your head down and avoid raising it up too often. A well-streamlined body will have less amount of water rushing against it when swimming. You should, as well, balance your legs such that they kick in the right way.
You can beat your legs such that it isn't too fast or too slow. You can use the two-beat count. Your legs should also not break the surface to avoid excessive accumulation of fatigue.
Swimming tall involves stretching your body, not crouching in the pool water. This allows your recovery arm to reach a large grab of water. However, you should not overstretch so as not to wear yourself out easily.
2. Boost Your Thrust
After you have practiced the previous tip, you can now focus on improving your thrust. In the case of freestyle swimming, you need to be at your top speed. The thrust determines your speed which is, in turn, brings out the much-desired success.
However, it is important to know that your strength is the last thing to work on. You do not want to expend much strength whilst not moving optimally. To increase your top speed, you should continually devote your time on various exercises to swim faster.
3. Doing the Proper Crawl Stroke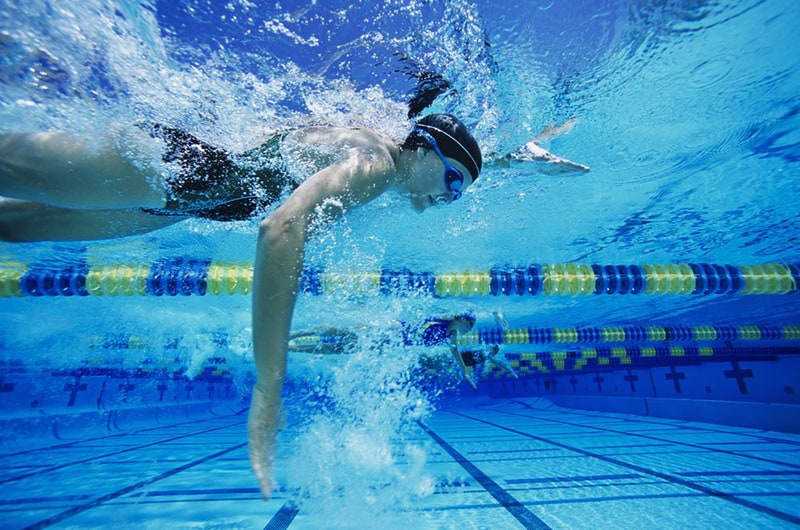 Your arms and legs perform the important part of the stroke. The arms and legs must be closely packed together to prevent drag. Before attempting to learn the stroke, you need to be relaxed and alert.
Getting a proper catch in freestyle swimming will positively impact other components in the cycle. When attempting the "catch", you are palm and fingers should be arranged such that they are ready to create a great force for a pull.
Your palm should be tilted downwards to about an angle of 45 and your elbow raise up, far above the wrist. This ensures that you get a good catch with less splashing and water resistance on your hand.
Now to get the catch, you should spread your hands a little in the water. The idea is to create a large surface area to grasp the water. Your fingers should be too close together or spread too wide. You should feel some force on your palm and fingers.
You should stroke the "power hand" till it reaches your hip and exits this water. To create a nice thrust, you should ensure that hand stays straight until the force is expended (or your hand reaches the hips).
While you use the "power hand" for thrust, you may discover that your body rolls sideways. Your body may roll towards the "power hand". Do not resist this as it helps to increase your stretch and reduce fatigue.
The hand should stay under you during the catch to help improve the thrust and also eliminate fatigue. As soon as the propulsion power is terminated, you should break the water with your elbow pointing out first. Ultimately, the rest of that hand should follow suit.
At this stage, the other hand is ready to start pulling and your body needs to tilt to increase the stretch.
See Also: 7 Simple and Effective Ways to Improve Distance per Stroke
4. Kicking
Kicking with your legs only contributes a little portion of the thrust. However, it is helpful in ensuring balance. Your legs should be streamlined with your body and should always stay under the water. Your legs and toes should be straightened all through.
The 2-beat kicking is nice for long-distance swimming where you need to conserve energy. For short distance swimming where speed is more important, you may go for the 6-beat kicking. The 4-beat kicking stands in-between.
In the 2-beat kicking, you need to make one kick per arm cycle. In the case of the 6-beat kicking, you need to make three kicks per arm cycle.
5. Breathing
Holding your breath while swimming can help create some form of anxiety. Furthermore, it keeps your attention away. Freestyle swimming has its own way of breathing. This, you can practice and understand easily.
Whilst you rotate your body to the sides, you can carefully poke your nose out of the water for breathing. Breathing a large volume of air especially when at the top of your speed may be difficult.
Hence, it is advisable to bubble out the air when your nose in underwater. However, this requires much practice.
6. Head Position
Your head can create much drag on its own, even more, when it is not positioned rightly. Your neck should be straight and relaxed.
Your head should be positioned such that your forehead stays just under the water, where the water line is between your eyes and hair. An angular position of 45 degrees such that you are not looking forward or down the pool.
To eliminate possible drag from your head, you should get a pair of swimming goggles and swimming caps. Not just some products but those made to enhance hydrodynamics.
Important Aspects of the Freestyle Swimming Breathing Technique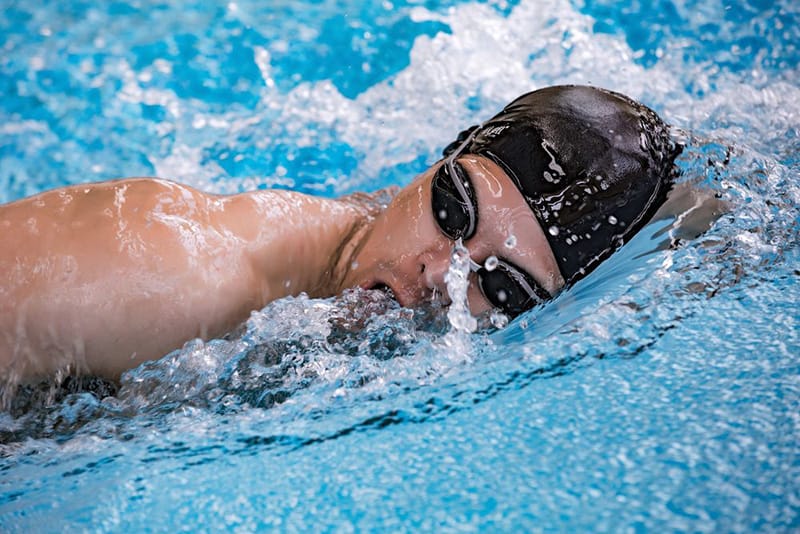 Of course, breathing is normal. Handling your breath while swimming is what seems challenging. Although it may be a little awkward at first, you should get better with time.
Oxygen is needed by every part of the body to function, including your arms and legs. Since it is important to us. One needs to understand the freestyle swimming breathing technique. The breathing technique come in two parts:
1. The Position of Your Face
For a perfect head position, you should not raise your head too much or look at the bottom of the pool. It must stay in between such that the water should stay on your forehead. If you attempt to raise up your head, your hips and legs will drop and you will lose balance.
2. Timing of Your Breath
The perfect breathing method is by exhaling in the water and inhaling when your head is out. Ideally, you will rotate your body while you swim along. While you do this, your face (nose and mouth) will get a clear opportunity to inhale as much air as possible.
When your head is in the water, bubble as much air out of your lungs till you are opportune (rotated) to inhale fresh air. About 80% of the air would have gone out. The remaining 20% can be exhaled quickly and fresh air is taken on time.
With much practice, you will get better and capable of synchronizing your breathing with your body movement. Simply relax and keep practicing, you will surely get it.
Some Exercises for Shoulder Pain Management
Nobody wants to be kept out their favorite sport for long. However, it can be inevitable most times, especially when you do not know what to do. Injuries are caused by poor technique and overuse of the body part.
Although, on your part, knowing how to improve swimming technique is the first way to go. Improving it can just not be overemphasized. However, you can also manage injuries (and pain) via some simple exercises.
Shoulder pain is quite often in freestyle swimming. Please note that in case of any serious injury, do not continue swimming, ensure you see a doctor.
1. Warming up with Bands
The bands are one of the simplest ways to manage injuries. The idea here is to warm up your shoulders and other muscles of your hand before stepping into the pool. The action is light on your shoulder muscles and yet effective.
2. Drop the Paddles
Paddles help to generate a larger surface area for a pull. While this may be beneficial in increasing your speed, it may also create so much strain on your arms.
Except if you really need to use a swim paddle, you may consider dropping the bigger ones for smaller ones. The bigger paddles with a larger surface area will create more strain than the smaller ones.
See Also: Top 17 Best Swimming Gloves
3. Try Another Stroke
Sometimes, it is advisable to take a break from freestyle swimming. This helps eliminate the possibility of overusing your shoulder.
You can try the backstroke which engages more muscles different from the freestyle stroke. You should not consider the butterfly stroke since it engages similar muscles just like that of the freestyle.
4. Watch How You Feel
Caring about yourself is really important too. Watch out for any injury or pain development. Do not continue if you feel the pain is escalating. Meet with a physio as soon as possible.
Frequently Asked Questions on Freestyle Swimming
You might have some areas you need to clarify. This section is for you as I have compiled some frequently asked questions. These questions have been researched and collated from popular searches made by people.
Is Freestyle Swimming Good for Weight Loss?
Yes. Freestyle swimming is very good for weight loss. In fact, swimming, itself, is a good way to lose weight. Swimming is a good exercise that involves many muscles in the body. It burns calories, improves the heart and enhances fitness.
Which Muscles Does Freestyle Swimming Work?
In general, swimming works a lot of muscles in the body. In the case of freestyle, the muscles of the abdomen, arms, hips, neck, and legs are impacted.
For the arm muscles, the biceps, triceps, shoulder muscle (Deltoids), and hand muscles (Thenars) are worked on. The neck muscle, sternocleidomastoid, is also being worked.
For the abdomen, side muscles (serratus anterior), the abs, spine muscles, groin, and the gluteus maximus are worked. In the legs, your quadriceps, calf muscles, shin muscles, hamstrings and foot muscles are worked.
Is Freestyle Swimming a Good Workout?
Yes! It is a quick-impact exercise to keep your body fit. It improves your cardiovascular system and, as well, burns calories.
How to Decrease Drag Freestyle Swimming?
In simple terms, drag is an unwanted braking in water. It can also be referred to as water friction. This occurs when your body is not streamlined enough. With good body movement, drag can be effectively reduced. Your swim gear can also constitute to drag. Hence, you should look for gears that offer better hydrodynamics.
What Causes Sinking Legs When Swimming Freestyle?
This happens when your body isn't horizontal enough or you do not kick your legs effectively. To avoid this, ensure you position your head appropriately. The water line should fall between your eyebrows and hairline.
How to Swim Faster Sprint Freestyle?
Knowing how to swim faster sprint freestyle keeps you ahead of your rivals. Two things contribute to a swimmer's speed during freestyle. They are your skill (technique) and strength (thrust).
There are no other means on how to swim faster front crawl than these two things. With an effective freestyle swimming tutorial, you can improve your thrust and technique.
How to Prevent Shoulder Pain When Swimming Freestyle?
Injuries are unwanted experiences that can keep you out of your favorite sport for long. Injuries on the shoulder and knee are most common, although the former is much more. Preventing shoulder injury while swimming is very important and, at the same time, simple.
Before swimming, ensure you warm up your shoulders by using stretch bands or performing bench push-ups. You may also take off the paddles. Your technique also matters.
During the catch phase, you should ensure that your arm doesn't crossover. Ensure you rotate your body properly. Your rotation should not be too small. Do not bend your elbow during the pull.
Lastly, do not continue swimming if you are feeling any pain.
Why Is Freestyle Swimming so Hard?
Freestyle swimming isn't really hard. With a good freestyle swimming tutorial, you will definitely realize it's simple.
This article contains an understandable compilation of swimming techniques for beginners. A little "going-over" will be just fine.
How to Prevent Knee Pain in Freestyle Swimming?
Ideally, there should be less work on your knee since your hip and thigh are also engaged during the stoke. You should improve your technique by not kicking too rapidly.
Similar to other injuries, ensure you report any development to your physio immediately.
Conclusion
By now, you should know how to swim freestyle faster without getting tired. Furthermore, you should also know how to improve swimming speed and endurance with good and regular swimming speed workouts. Freestyle swimming isn't hard. Knowing the techniques is very paramount.
To know how to swim faster front crawl, a proper understanding of the components of the freestyle will go a long way. With an above-average knowledge of the catch, pull and recovery, you are on to improve your swimming efficiency. Even more, with adequate knowledge, you will be able to manage any form of injury.
Always remember to exercise your body before moving to hop into the pool. Furthermore, never continue if you feel any pain or injury. Rather than escalating the issue, seeing a physio will be perfect.
Enlighten your friends about freestyle swimming by sharing this post with them on Facebook and Twitter. You can also make a comment on this post via the comment box below.