"I hope you love the products I recommend! When you buy through links on swimnetwork.com, I may earn an affiliate commission."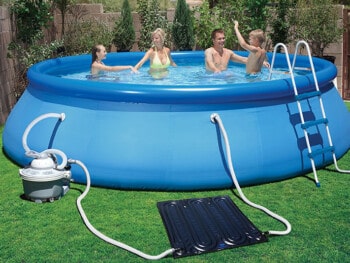 Swimming is quite enjoyable when the water is comfortable. Of course, the pool water may look swimmable after cleaning the pool with a pool filter or using a pool cover. But the temperature of the pool water is another important determinant of your overall swimming experience. Coldwater can be quite chilling.
One of the ways to regulate the temperature of your pool water is by purchasing a pool heater. These handy devices help to warm up your pool water, especially when temperatures drop in the night or winter season. This way, they help you increase your swimming time by creating a good swimming environment, hence, you need one.
If you are looking for the best pool heaters for your pool, this article contains the best ones to consider, a buying guide and other important tips.
See Also:
Types of Pool Heaters
Just like many products in the market, pool heaters also differ from each other. The difference may be based on capacity, design, color and more. However, the most important difference is in their power (or heat) source. Pool heaters may be powered by gas, electricity or solar, however, the end result is the warm water you desire.
If this is your first time getting one, this section will be beneficial to you. If you are looking for a replacement, you might want to see other options available for you. There are three common types of pool heaters.
Gas Pool Heaters
They are the fastest and most efficient in doing the job. Although these devices cost less, installation may require the help of a professional. They may be fueled either by natural gas or propane, hence, the cost incurred in the long run is dependent on gas prices which may be high. They are best for big commercial pools. They can last up to nine years.
Pros
They start up quickly.
They heat up water faster than other types.
They are affordable.
Cons
They produce emissions.
Gas pipes are needed.
Cost of maintenance may be high in the long run.
Solar Pool Heaters
From its name, you can deduce that this category of pool heater depends on the sun. They capture the radiant energy from the sun, converting it to heat energy. They are easy to install, requiring no gas pipes or power cables. Also, they do not need maintenance costs.
They are slow and are dependent on the weather. In colder climates, they may not be the best choice. They can last more than five years. However, they are good for backyard pools.
Pros
Needs no maintenance costs.
No fuel or electricity needed.
Easy to install.
Cons
Weather-dependent.
Slow heating time.
Electric Pool Heaters
This type of pool heaters depends on electricity. Electric-powered pool heaters are the most popular ones in the market. They are quite fast and they usually have a long life span. They are ideal for small to medium pool sizes.
Pros
Easy to install.
Long lifespan.
Low maintenance costs.
Cons
Slower than natural gas heaters.
May be slightly affected by the environment.
What Is the Best Pool Heater to Buy?
The best pool heater is one that can meet up with the needs of your pool without crumbling under pressure. Below are some of the best options based on the ideal needs of various users.
Where to Buy Pool Heaters Near Me?
If you are looking to buy a pool heater any time soon, there are some advantages you can enjoy if you buy from a nearby store. It is pretty easy for you to return defective products, utilize your warranty and enjoy fewer delivery costs. However, you must be sure that the shop is registered and reliable. Details like their opening duration should be noted.
It is totally fine if you want to visit an online store but ensure their delivery and customer services are reliable. You don't want to receive defective products or have issues getting across to the customer services. Do check customer reviews of any shop or product you want. For nearby shops, you can use my map below to find the closest to you.
Comparison of Top 13 Best Pool Heaters 2020
I have selected the 13 best pool heaters so as the cover the needs of almost every buyer. Hence, these products differ from each other in different basic criteria. To help spot the one you want quickly, the comparison table you give you some clue.
Best Pool Heaters Reviews 2020
Every pool heater has its own features and characteristics, as well as, pros and cons. All these are made available in the detailed reviews below. This way, you can catch up and what you work best for your pool.
Hayward H400FDN Pool Heater
(Best Overall - Editor's Choice)
This might be just what you need to extend your swimming season. If you possess a big pool and live in places with long winter periods, this might be best for you. The energy-efficient pool heater relies on natural gas for its function.
With a BTU of 400,000, it can warm up your water pretty fast. This together with the presence of its in-built Cupro-Nickel thermal exchanger, water is warmed up in a fast and efficient way. The Hayward H400FDN has a nice design and a dimension of 37.5 x 31.5 x 24 inches.
Furthermore, it is user-friendly, coming with a simple display and controls. It has a bypass valve and polymer header to improve hydro-mechanical efficiency and overall reliability of the device. The device poses less concern to the environment, producing small quantities of NOx (Nitrogen Oxide) emissions.
Pros
It starts up and heats water rapidly.
It comes with a control display.
It is easy to use.
It is environment-friendly.
It comes from a reputable brand.
Cons
May make noise.
Requires a professional for installation.
William's Take: Generally, gas heaters generate emissions. However, the Hayward H400FDN is designed to be more efficient combustion-wise to produce low NOx emissions.
Hayward HP21404T Electric Pool Heater
(Best Electric Pool Heater)
The Hayward product is a decent choice if you are considering a pool heater for your residential pool. The HP21404T is powered by electricity and can reach up to 140,000 BTU, hence, it should perform excellently for a 40,000-gallon pool.
Heat exchange is made efficient as it comes with a long-lasting, titanium-based heat exchanger. The portable, rounded pool heater operates quietly thanks to its noise-reduction technology.
It is easy to install since there are no gas pipes needed, however, clean electrical installation should be done to a 220Volt power source. It comes with a number of internal parts made of durable build materials to prevent rusting and corrosion.
For instance, the evaporator fin is made from gold and the hardware and connectors from stainless steel.
Pros
Noise-reduction technology.
Corrosion-resistant evaporator fin.
Efficient heat exchanger for high heat transfer.
Rust-proof exterior, UV-resistant panels, and steel hardware.
It is easy to install to maintain.
It doesn't take much space.
Cons
Heavy.
Warranty is only valid if installed by a HVAC-qualified technician.
William's Take: The HP21404T is a high-performance electric pool heater as a BTU of 140,000. Despite this, it comes with a noise-reduction technology to keep operations quiet. Furthermore, it is energy efficient with a titanium heat exchanger.
Hayward W3H400FDP Propane Pool Heater
(Best With User-Friendly Controls)
Many Hayward products have received several positive reviews, making the brand one of the most popular choices of pool heater. The Hayward W3H400FDP is another fantastic device from the brand but, this time, it is a propane-powered model.
The heater has 400,000BTU and delivers enough heat to raise your 40,000-gallon pool's temperature by 10 degrees in less than nine hours.
The pool heater depends on its Cupro-Nickel heat exchanger for heat transfer and it doesn't disappoint, minimizing energy loss and making it efficient.
The heat exchanger can handle various water conditions (e.g. chlorinated water) without getting corroded or failing. It has a thermal efficiency of 84 percent and also generates small NOx emissions.
The device uses a LED display and control panel for accurate controls whilst giving feedbacks on diagnostics, temperature and more
Pros
It produces small quantities of NOx emissions.
It comes with user-friendly digital controls and an LED display panel.
Durable and corrosion-resistant Cupro-Nickel heat exchanger.
Minimal NOx emissions.
Fast heating time.
William's Take: The device comes with a control unit that comprises a LED display and user-friendly buttons. With the control unit of this device, one can enjoy full control over its heat output and operation.
Sta-Rite SR400LP Propane Pool Heater
(Best for Inground Pools)
The Sta-Rite SR400LP is a decent pool heater for both outdoor or indoor installations on spas and pools. The propane-powered has a BTU of 400,000 and is known for its high energy efficiency of 85 percent, one of the best available. This implies fewer expenses on gas and efficient heat transfer.
The PreMixed Gas (PMG) technology doesn't need an outdoor draft hood and ensures even more efficiency.
The pool heater appears in a sleek design and matte black color and its patented Dura-Glas housing is durable and rust-proof. It is compact and lightweight, hence, you do not need a large space for installation.
It comes with an LED screen to display its temperature and comes with thermostat controls, safety lockout for temperature and a control panel.
Pros
Lightweight and compact design.
It has a rust-resistant housing made of the patented Sta-Rite Dura-Glas.
It has an 85-percent efficiency.
It heats up faster.
It comes with digital panel and controls, giving you absolute control over the device.
William's Take: – With BTU of 400,000, you can heat up your in-ground pool in a few hours. The pool heater offers more energy efficiency as it comes with the PreMixed Gas (PMG) technology.
Sta-Rite SR400HD Natural Gas Pool Heater
(Best for Salt Water)
Looking for a rugged pool heater for your large 40,000-gallon pool, then you should check this out. It runs on natural gas to attain a BTU of 400,000, quite large to handle big pools in cold climates. The SR400HD has an energy efficiency of 84 percent, hence, there are no wastages in terms of heat and gas.
With its durable rust-proof Dura-Glass casing, the pool heater can withstand harsh weather conditions. On the inside, the unit uses a reliable heat exchanger to deliver every amount of heat into the water.
The heat exchanger is made from copper and nickel, hence, it can withstand harsh water chemistries (e.g. low pH, hard water, etc.). You can control the device with the aid of the built-in LED display and the user-friendly control panel.
Pros
Durable and efficient heat exchanger.
Lightweight and compact design.
It comes with a corrosion-resistant housing made of the Sta-Rite's patented Dura-Glas.
High energy efficiency.
More control over the device via its LED display and control panel.
Cons
No defect has been recorded from the product so far.
William's Take: If you live in areas with salt water, you might want to consider the Sta-Rite SR400HD. It comes with a durable interior that can tolerate various water chemistries.
Ecosmart 27 Electric Pool Heater
(Best Value for the Money)
The Ecosmart 27 pool is an excellent, low-budget option for small to medium pool owners, preferably residential pools. The pool has a very small weight of 24.2 pounds and a compact design with a dimension of 17 x 14 x 5.5 inches.
It is an electric pool heater that can up the temperature of a 15,000-gallon pool by 5 degrees Fahrenheit in about 7 hours. However, it can also be used with another heater to make things faster.
In terms of installation, it is quite easy and can be used with new or existing pools. The pool heater is both eco-friendly and economical, coming with a flow sensor that helps to regulate power consumption and prolong its lifespan.
It comes with a display and a control knob to help regulate the temperature manually.
Pros
Budget-friendly and optimal choice for small pools.
It is compact and lightweight.
It can be used with another heater.
It comes with a flow sensor that makes it economical, eco-friendly and safe.
It comes with a digital control system.
Cons
Requires a technician for installation.
William's Take:
The Ecosmart 27 is a budget-friendly electric pool heater. It comes with features that keep it economical, ecofriendly and less liable to damage. It can be used as a support to another pool heater.
Pentair 460736 MasterTemp High Performance Pool Heater
(Best Gas Pool Heater)
The Pentair 460736 pool heater is another state-of-the-art device with a powerful heating ability and proven reliability. Just like you would desire, it does its heating job in a fast manner, thanks to impressive interior setup.
The device as a BTU of 400,000 and its enormous energy is quickly transferred to the flowing pool water via its copper-nickel heat exchanger.
Taking a look at the exterior, the entire pool heater is housed in a rust-resistant, non-metal material. It also flaunts a digital control panel to help you manage its operation.
The air-fuel mixture is optimally premixed and it has 84-percent energy efficiency. Also, it comes with safety features to prevent overheating and wearing whilst being certified for low NOx emissions. On the flip side, the device requires a professional to set up.
Pros
It warms up water fast.
It features an accurate, user-friendly digital control panel.
Lightweight.
It is certified for releasing small quantities of NOx emissions.
It has a rust-resistant, non-metal exterior.
It comes with safety features.
Cons
Operation may be noisy.
One needs to register within two months of installation to enjoy the warranty.
William's Take: This gas heater is a good choice if you want your water to heat up faster. It is portable and can be used with existing pools. The only downside is that you need to register within two months of installation to enjoy the warranty.
Raypak Natural Gas Pool Heater
(Best for Cold Climates)
Looking for pool heaters with high BTU, this Raypak pool heater should be on your list. Of course, it runs on natural gas to deliver a BTU-rating as high as 406,000.
The device is fitted with a durable heat exchanger than would crumble easily under heavy use or harsh water conditions. More importantly, this heat exchanger is made from a copper-nickel alloy, hence, it is able to achieve high heat transfer efficiency.
The pool heater is suitable for large indoor or outdoor pools. If used outdoor, it is fabricated to withstand harsh weather conditions, however, a little care will do.
It is also equipped with a smart-processor, and control and display units to help manage the heat and temperature settings. Thermal efficiency is high at about 84-percent, meaning there is minimal heat and gas wastage.
Pros
High BTU rating of 406,000.
High energy efficiency which is about 84 percent.
Efficient and corrosion-resistant copper-nickel heat exchanger.
It features a digital control and LED screen.
It starts and heats up water rapidly.
It can handle large pools.
William's Take: If you live in a cold climate and own a big pool, this massive Raypak heater will do the job for you. With a reliable heat exchanger and clean combustion, it delivers over 400,000 BTU at an efficiency of 84 percent.
FibroPool FH055 In Ground Pool Heater
(Best Energy Efficient Pool Heater)
Although the product possesses a smaller BTU of 55,000, the FibroPool FH055 will meet up to expectations with small to medium pools. The exterior, which is enamel-coated, is designed to cope with various weather conditions.
If you are worried about energy and cost efficiency, this should top your priority list. Yes, this electric pool heater is certified as energy-efficient by the Department of Energy, US, and estimated to consume 25 cents hourly.
With the Titanium heat exchanger, heat transfer is made efficient and heat loss is minimized. The heater is easy to install but a technician's help will be better. A power outlet of 17 Amps and 220 Volts is ideal for the heater to work effectively.
The pool heater has a digital display that allows you to control its temperature.
Pros
It is energy efficient.
It features a titanium heat exchanger which ensures efficiency.
It comes with a digital display.
Lightweight and portable.
Enamel-coated casing which is resistant to weather.
Cons
Works with a 220V power source.
There are no installation or user manual.
William's Take: This pool heater is quite efficient with a larger performance to the energy demand ratio. However, you need a 220V power source to get it functional.
FibroPool FH120 Above Ground Pool Heater
(Best for Above Ground Pools)
Here is an option for small inground pools with about 7,500-gallon capacity. The pool heater depends solely on electricity to deliver a BTU of 20,000. The installation is simple and it can be installed on a 120-Volt power source. The device comes with an eight-foot cable and a standard GFCI plug.
Thanks to its scroll compressor and Titanium heat exchanger, the pool heater has a coefficient of performance of 4.81. With the pool heater's digital screen and control panel, you can quickly access every control and feature.
Pros
It has an enamel-coated casing that can withstand various weather conditions.
Lightweight and sleek design.
It comes with a digital screen and a user-friendly control panel.
Ecofriendly.
Efficient Titanium heat exchanger.
William's Take: This pool heater is ideal for pools with about 7,500-gallon capacity. It is simple to install and can function with a 120-Volt power source. The heat exchanger is made from titanium to reduce heat loss and increase its efficiency.
See Also: 15 Best Above Ground Pools
SunQuest Solar Swimming Pool Heater
(Best Solar Pool Heater)
The SunQuest solar pool heater is an amazing device for almost any pool type – above-ground or in-ground. It is a budget-friendly, eco-friendly and low maintenance option.
Just like any other pool heater, it is weather-dependent, hence, it is ideal for areas with more sunlight duration. A single unit is 2ft by 12ft and is quite efficient in capturing the sun's heat energy.
The solar heater is very easy to install, and, it also comes with all the needed installation hardware so you can do it yourself. Furthermore, it comes with an installation manual and be used for an existing pool with an existing pump.
Even your pump is old, it doesn't put much back pressure on it due to its MAX-FLOW design featuring 2-inch OD headers.
Pros
Extremely easy to install.
It comes with all the installation hardware.
Inexpensive.
Ecofriendly and requires no maintenance cost.
It poses minimal back pressure on pumps.
Cons
It occupies a lot of space.
Weather-dependent.
William's Take: The SunQuest solar pool heater comes with the required installation hardware. It is sold in different sizes depending on your needs. It poses less threat to your pool pump causing minimal backpressure.
SPS Universal Solar Pool Heater
(Best With Eco-Friendly Function)
Looking for a pool heater with a very low maintenance cost, then a solar pool heater like this amazing SPS product will do. It is made from high-grade propylene copolymer and additives such as antioxidants and UV-screen. Hence, it is able to capture a large percentage of solar energy and also last more than five years without crumbling from the rigors of harsh weather.
Furthermore, it has a tube-and-web design that makes it able to adapt to everyday contraction and expansion. The product is subjected to several quality control units to catch defective products. However, if there is any, there is a 5-year full warranty to cover.
Pros
It comes with a 5-year warranty.
It is built to withstand any weather conditions.
Durable build material.
Easy to install.
Cons
Its efficiency is dependent on the environment.
Output temperature cannot be regulated.
William's Take: Warranties give you something to hold on to in case of any fault. In another perspective, a warranty of five years as in the SPS solar pool heater gives you an outlook of the durability of the product.
Smartpool Sunheater Solar Pool Heater
(Best Budget)
At a relatively cheap price, you can also purchase the Smartpool Sunheater is a solar pool heater for your above-ground pool. It is made from quality polypropylene and collects as much solar energy to keep your pool warm. Like many solar heaters, it is ecofriendly and requires a little cost of maintenance.
In an environment where the sun's duration lasts more than five hours, it can be enough to meet your needs. However, it may become less efficient when it is cloudy, raining, or the weather is cold. Installation is pretty straightforward but you need to purchase the hardware separately.
You may also need a powerful pool pump to ensure proper water circulation.
Pros
It is easy to operate and low maintenance needed.
It doesn't need fuel or electricity.
Inexpensive.
Durable polypropene construction.
Cons
It is weather-dependent.
It doesn't come with the user manual.
Installation hardware is sold separately.
William's Take: Continuous exposure to sunlight and other weather elements cause a decline in the functionality of a solar pool heater. With the Smartpool heater coming with a durable polypropene, you can expect your heater to stay effective for a long time.
Buying Guide
The best pool heater is not about the design, brand or numerous positive reviews but picking the most suitable for your pool. You are most likely to purchase the wrong pool heater except if your gamble was lucky. Pool heaters have various differences and not every product will work for your pool.
Apart from your budget, you need to consider some factors before settling for a pool heater. Here is my comprehensive buying guide to help you can determine which product is best for you.
Type of Pool Heater
As I stated earlier, there are three types of pool heaters – gas, electric and solar pool heaters. All these come with their own advantages and disadvantages. Generally, gas heaters are cheaper and faster, coming with large BTUs capable of handling big pools.
However, they have a smaller lifespan and their cost of operation may be higher than the other types depending on future gas prices. For propane-powered heaters, you need a gas tank.
The electric ones are more energy-efficient and require less maintenance but they are slower. The solar pool heaters are the eco-friendliest and require little maintenance but possess the lowest heating power and may occupy more space.
In a nutshell, the type of pool heater selected will influence your budget, long term expenses, heating power and space required.
Environment
Your environment has a direct impact on the efficiency of your pool heater. If you stay in a windy location, your pool will lose heat faster.
If you stay in a location with an abundance of sunlight, a solar pool heater might turn out to be the best for you. Therefore, when temperatures drop at night, you can always have warm pool water for yourself.
Conversely, in a location with a lesser amount of sunlight, you might want to pick between an electric or gas pool heater. Areas with long duration of winter will want to stick with gas pool heaters since their solar and electric counterparts are ineffective.
Pool Type, Shape, and Size
The shape, size, and type of your pool are very important in selecting a pool heater as it determines the amount of water your pool can hold. A large pool heater will not be ideal for a small pool and vice versa.
A pool with a large surface area will lose heat faster than a small one while those with a bigger cubic capacity will require something powerful to get heated.
Once you have determined the area and cubic capacity of your pool, then you can check for pool heaters that can produce enough heat. The heating power of pool heaters is measured in BTU (British Thermal Units). For gas and electric-powered pool heaters, here is a simple sizing table to guide you.
| | | |
| --- | --- | --- |
| Pool Size (Thousand BTU) | Pool Capacity (Gallons) | Surface Area (Sq. Ft.) |
| < 200 | 1000 – 10,000 | < 300 |
| 200 – 300 | 10,000 – 20,000 | 300 - 500 |
| 300 – 400 | 20,000 – 40,000 | 500 – 800 |
| 400 > | 40,000+ | 800 > |
For solar pool heaters, the larger the surface area, the larger the heating power. Hence, you might want to consider space and installation. Ideally, you should purchase a solar heater with an area of about 70 percent of your pool size or even more for more heating power.
Additional Features
One of the most important features of any product is the warranty. It gives you a clue of the projected lifespan of the product as well as the manufacturer's trust in its product. Most pool heaters have a warranty for two years but may last up to 5 years.
The only exception is the solar ones which can have a warranty for up to five years and can last more than five years.
However, the warranty of some products may come with some conditions which compulsory installation by a certified technician. Some manufacturers may not honor their warranty if the pool heater was damaged by bad water chemistry. Some heaters come with safety options too.
How Do Pool Heaters Work?
There are different types of pool heaters with different working principles. However, the main aim is to keep your pool water warm. Here is a brief explanation of how they function.
Solar Pool Heaters
This type of pool heater is weather-dependent as it harnesses the heat energy from the sun. It makes use of thermal panels that captures this energy. Each panel consists of tiny tubes with water passing through them. As water is pumped around, passing through the panel, the colder water gets warmed before exiting the panel.
Gas Pool Heaters
Either powered by natural gas or propane, the principle is the same. The gas is burnt in a combustion chamber in the presence of air. The combustion chamber has a piping (heat exchanger) inside it. As cold water is pumped and it runs through it, the heat in the combustion chamber is absorbed into the water and it gets heated.
Electric Pool Heaters
Electric pool heaters may employ a heating element or compressor system. In the case of the heating element, the heating element is placed in a chamber which possesses inlets and outlets for water. As water flows in, the heating element transfers heat into the water.
For a compressor system, ambient air is drawn in and passed through an evaporator coil. The refrigerant in the evaporator coil draws heat from the surroundings and converts the air into gas. The warmed up gas passes through a compressor and its heat is increased.
The heat is then transferred to the incoming cold water via the heat exchanger before flowing back to the pool.
Frequently Asked Questions (FAQs)
Did you miss any information? Perhaps you have some questions in mind, here are some frequently asked questions about pool heaters.
Swim Network Overview
You may think you have gotten your pool clean with a pool filter and a pool cover. But, if your pool is too cold, it won't have much swimming appeal. With a suitable pool heater, you can improve the overall fun derived from your pool by keeping your pool warm. Furthermore, it can help extend your swimming season.
However, it takes only a good, quality pool heater to achieve such. In fact, not just any pool heater but one that is suitable for the characteristics of your pool and your locality. To help you find the best pool heater to go for, I have prepared a simple buying guide. It contains all the important things you need to know prior to buying one.
I have also gotten some 13 best pool heaters, well-research, and well-reviewed, that you might want to consider. The Hayward H400FDN Pool Heater with its user-friendly control unit and low impact on the environment is the best overall. The low-maintenance Smartpool Sunheater Solar Pool Heater, despite its durable construction, is best for budget consumers.
Did this help you make your decision? Let me know in the comments and share with someone you know!