It would be best if you considered taking some drills for a faster freestyle kick. Although kicking doesn't provide most of the propulsion in swimming, it comes with several beneficial functions. It is a part of swimming that you must execute.
It is important to understand that swimming freestyle faster is a combination of the arm stroke and kicking. Even if you have perfected the arm stroke, you should work on your kicking to complement your arm stroke.
If you are keen on improving your freestyle kicking, there are many drills that you can include in your training routine. I have discussed some excellent options that you may consider in this article.
4 Important Functions of Kicking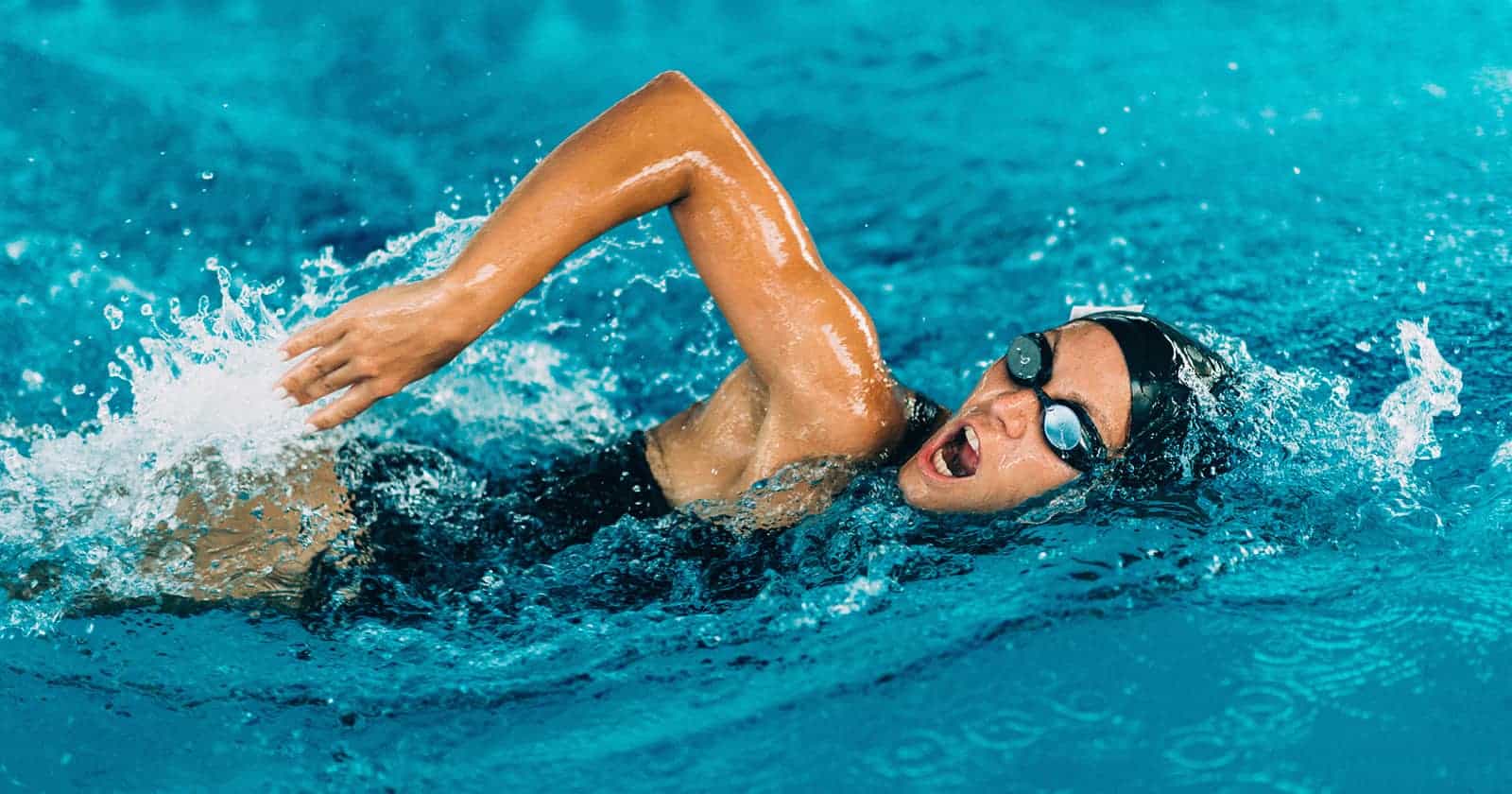 Kicking while swimming is quite easy and very beneficial. If you have not been developing your kicking, then you should set that as a priority now. I have discussed some of the important functions of kicking below.
1. Lift
Kicking involves beating your legs up and down. It creates a resistance that keeps the lower body in place. Regardless of your kick timing, kicking provides the lift that ensures a right body position in the water.
2. Propulsion
Although there is not much power generated from kicking, it can create an extra force to push you and complement your kicking. If you get the kick correctly, you are surely going to feel its impact. Please note that you need to improve ankle flexibility to perform kicking accurately.
3. Balance
Instead of letting your legs drag behind you, you should kick your legs. Balance is essential in swimming. To move at high speed and minimize drag, you need to get your balance right.
By kicking your legs smoothly and consistently, you can easily keep yourself stabilised, balanced, and in a good swimming posture. It will interest you to know that kicking also helps to enhance body rotation.
4. Consistency
Your kicking needs to follow a particular rhythm per arm stroke. However, what matters is your consistency. When your kicking is consistent, your lift, balance, and propulsion become perfect, and you move in water swiftly.
4 Important Things to Put Into Practice When Kicking
Before taking freestyle kicking drills, you need to understand and execute the technique correctly. Only then can your kicking be efficient. It would help if you considered putting the following things into practice.
1. Keep Your Toes Pointed Out
When kicking, always ensure that your toes are pointed out. Some swimmers, especially newbies, often make the mistake of leaving their toes tucked in. This can cause drag, slow you down, or even cause you to swim backward.
Ideally, it is best if you straighten your ankles such that it is almost flat out while keeping your toes pointed to the back of the pool. This is essentially why you need to ensure flexible ankles.
2. Always Kick From Your Hip
Several swimmers make the mistake of kicking from their knees, causing them to become exhausted quickly. You are expected to kick (beat) the water instead of "riding a bicycle." The work is for your hips (flexors and glutes) instead of the knees.
Before getting exhausted, you will swim slower and cause a lot of ripples in the water. Therefore, kicking with your hips helps you retain a streamlined position, keep balance and consistency, and facilitate smoother side-to-side rotations.
3. Kick Timing
There are three common kick timing (or rhythm) – 2-beat, 4-beat, and 6-beat. Your kicking should commence at the beginning of the catch phase. Having an evenly distributed and synchronized kicking per arm stroke allows you to maintain your consistency.
The 2-beat kicking is suitable for long-distance swimming or triathletes, and the 6-beat kicking for quick bursts in short distances. It would be best if you accurately time or count your kicks to ensure a uniform body rotation as a beginner.
4. Body Position
If you are executing the arm stroke and kicking correctly, you should have an almost parallel body position to the water surface. Else, you will experience too much drag or sink. The perfect body position includes a spread-out body, your legs close to the water surface, and your head facing down the pool.
Top 4 Drills for a Faster Freestyle Kick
Besides understanding the entire kicking technique, regular practice can help you develop a faster freestyle kick. Your goal should be efficient, powerful kicking. It would be best to take any of the following four drills.
1. Kickboard Drill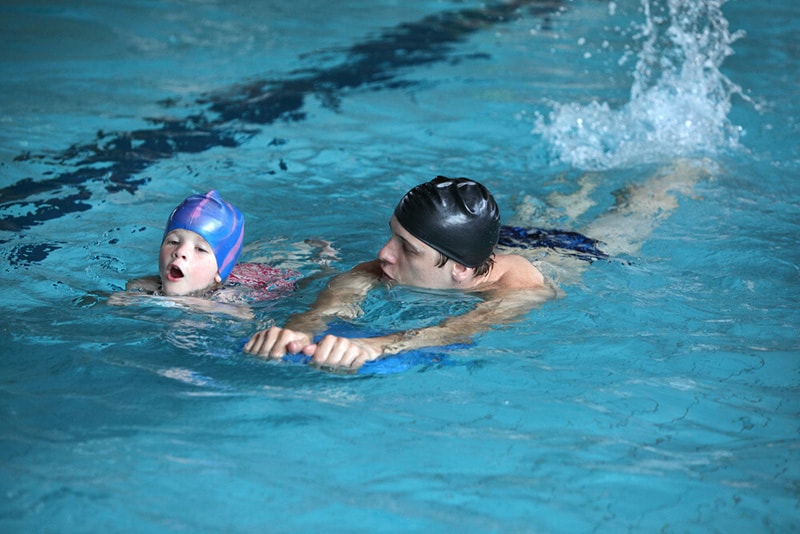 If you want to strengthen your hip muscles and develop your kick faster, the kickboard drill is an impressive option. It also helps to build your endurance while reducing the likelihood of fatigue. For this drill, you need a good kickboard.
Get into the swimming pool and lay flat in the water. Stretch your hands ahead of you while holding the kickboard directly in front of you using its handles. Keep your hands straight with your head slightly above the water surface.
Ensure you keep your hips close to the water surface and your legs well-aligned with your back. Never arc your lower back. For extra resistance, you may hold the kickboard in a vertical position in the water (partially immersed).
Remember to maintain a good breathing rhythm and kick from your hips.
2. Kicking on Your Back
It is easier to develop your kick by kicking on your back (backstroke). It offers a sure possible way of kicking directly from the hips – stretching your legs and kicking outwards.
Besides, it is easy to execute. Simply lie on your back, stretch your arms forwards and put your chin down. Maintain a streamlined position with your hips closer to the surface while kicking powerfully from your legs (hips).
It is also effective at increasing your strength and endurance for swimming as well as your speed.
3. Using Swim Fins
Swim fins can also enhance your freestyle kick. They create extra resistance to help you build your swim strength and endurance while increasing your swimming speed.
First, you must get a good, comfortable pair of swim fins. Get into the pool and lay flat as you would do in normal freestyle swimming. Kick directly from your hips while flexing the lower part of your legs (knees and ankles).
You should not attempt to start with a faster kicking; else, you can get exhausted quickly. Instead, use a shorter rhythm or execute short rapid kicks with breaks in-between for resting. Focus on tightening your core muscles and using the large muscles around your hip.
4. Kicking on Your Side
Another effective drill to try out is kicking on your side. Lay on your side while putting one arm (a convenient one) forward. Put your chin down – look downwards.
Kick powerfully as normal but from your hips. It may be a little difficult because you mustn't lose your balance. Also, you mustn't turn over to your back or stomach.
Stretch out your ankles with your toes pointing downwards. You may try any kick timing. The drill enhances your kick while you develop a better sense of rotation and a flexible spine.
FAQs
If you missed some key details or have questions, you can take a look at some of the frequently asked questions I've answered below.
How Can I Make My Flutters Kick Faster?
Every swimmer wants to achieve faster flutter kicks. However, this can only be achieved with excellent ankle flexibility, strong hips, and high kicking strength.
Why Is My Freestyle So Slow?
Your freestyle may be slow primarily because you do not understand the technique. Therefore, you may be unknowingly creating resistance (drag) that is more than your propulsion power.
You can increase your swimming power by enhancing your ankle flexibility, kicking from your hips (not your knees) and ensuring a good breathing pattern.
Also, your arm stroke should be top-notch, while ensuring a perfect swimming posture. There are many drills aimed at fine-tuning your swimming.
How Do You Increase Kick Power?
The basic way to increase your kick power is by mastering the technique. You must ensure a good balance and swimming posture. Also, you must strengthen your core muscles including your leg muscles, and there are several drills for such.
Conclusion
Some swimmers avoid kicking while swimming, probably because they haven't mastered it. Also, some swimmers that kick while swimming often do it at the detriment of their distance per stroke.
Taking a few drills for a faster freestyle kick can suffice, and that can prove the turning point for more effective swimming. I've listed and explained four effective drills that you can include in your training routine.
I hope you now have an idea of drills that can help improve your kicking speed and strength. Do you need to clarify some aspect of freestyle kicking? Do you have any comments or suggestions for this article? Please leave them in the comment section at the bottom of the page.
Help other swimmers improve their freestyle kick by sharing this article (and drills). Please share this article with them using any of the social media links on my page.