One of the basic important things to know as a swimmer is how to protect your hair and skin from Chlorine. Chlorine offers many benefits, especially in pool management, where it helps to keep microorganisms at bay.
However, when used in swimming pools, its effect on the hair and skin can be unpleasant. As a swimmer, you are likely to suffer these harsh effects. For regular swimmers, there is a higher chance of experiencing adverse effects.
In this article, I will be putting you through how you can protect your hair and skin from Chlorine. First, you need to understand how Chlorine affects the hair and skin, particularly if you are a new swimmer.
What Are the Effects of Chlorine on the Hair and Skin?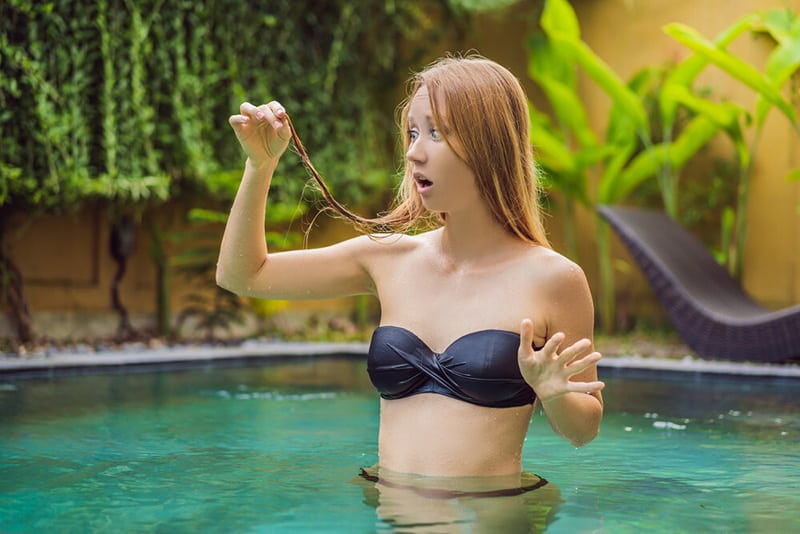 Despite using pool filters, pool cleaners, and pool covers, microorganisms can still enter the pool in several ways. To manage the microbial load in swimming pools, most pool owners use chlorine (e.g., pool chlorine tablets).
Chlorine can cause a lot of damage to the skin and hair. If care isn't taken, its effects become very noticeable in the long run. Even the finest and well-cared-for hair can exhibit signs of Chlorine damage.
A chlorine-damaged hair is popularly called swimmer's hair. So what are the effects of Chlorine on the hair and skin? Below are the most noticeable ones that indicate chlorine damage.
Hair dryness
This is the most apparent effect of Chlorine on the hair, and it happens almost every time after swimming. Some moments after swimming in chlorinated pool water, your previously shining hair can become dull.
Exposing your hair shaft to Chlorine will cause hair dryness. And, once your hair becomes dry and more sensitive, it becomes weaker and brittle. In fact, your hair will become unattractive, rough, and might break easily.
Hair weakness
Once your hair loses its strength, it also loses its structural integrity. You experience damaged strands and split ends. Then, brushing will do more harm. You can again lose your hair volume.
Dry and irritated skin
The skin will fare better in chlorinated pool water than the hair. However, it may become affected if you engage in a long swimming session. One may experience dry, irritated skin or develop some rashes. For those with sensitive skin, the effects may be pronounced.
Hair discoloration
Asides from weakening the hair, the hair may also suffer discoloration. If you dyed your hair, the chlorinated water could bleach your hair. Similarly, if you permed or chemically-treated your hair before swimming, you are more likely to experience discoloration.
Three Ways to Protect Your Hair and Skin From Chlorine Before Swimming
The best way to protect yourself from the effects of Chlorine is by keeping it out in the first place. Therefore, before you jump into the pool, you should consider taking a few steps.
Your skin is less prone to the effects of chlorine; however, it is best to take a cold shower before swimming. Some effective procedures have been highlighted below.
1. Wet Your Hair
Just like foam, dry hair is known to absorb more water than wet hair. Your hair will suck up more chlorinated water when dry. Hence, it is advisable to wet your hair before swimming or, better still, take a shower.
Also, you should avoid warm water since it will open up your hair cuticles and skin. Instead, wet your hair in cool water as it can also help maintain your hair color. Water sources (e.g., tap) with chlorinated water should be avoided as well.
2. Apply Protective Creams or Oils
You can create a protective layer between your hair and the pool water by applying protective creams before swimming. This can help prevent your hair strands from taking in chlorinated water.
You can make use of natural oils such as coconut oil. Silicone-based conditioners or hair serums may be used. For your skin, pre-swimming creams, oils, or lotions will do the trick.
You can use petroleum jelly. Besides being cheap, it is water-resistant and can form a barrier to keep out chlorine while retaining body moisture. A fantastic alternative to petroleum jelly is lard or goose fat.
3. Wear a Swim Cap
Swim caps are the most effective gear to protect your beautiful hair from chlorine. Swim caps are made with latex or silicone, and they can endure the chlorine better than your hair. Interestingly, they are comfy and not too expensive.
While you wet and apply protective creams to your hair, the swim cap adds another level of protection. There are many swim cap sizes available. For maximum protection, you should purchase the perfect size, bearing in mind your hair volume.
Nevertheless, you need to understand that swim caps may not be perfect in keeping out water. Some pool water may still seep one way or the other. But this is better than having your hair fully soaked in chlorinated water.
For your ears, you might need to use a pair of swimming earplugs. These tiny accessories can protect your ears from infections, e.g., gastroenteritis.
Six Ways to Protect Your Hair and Skin From Chlorine After Swimming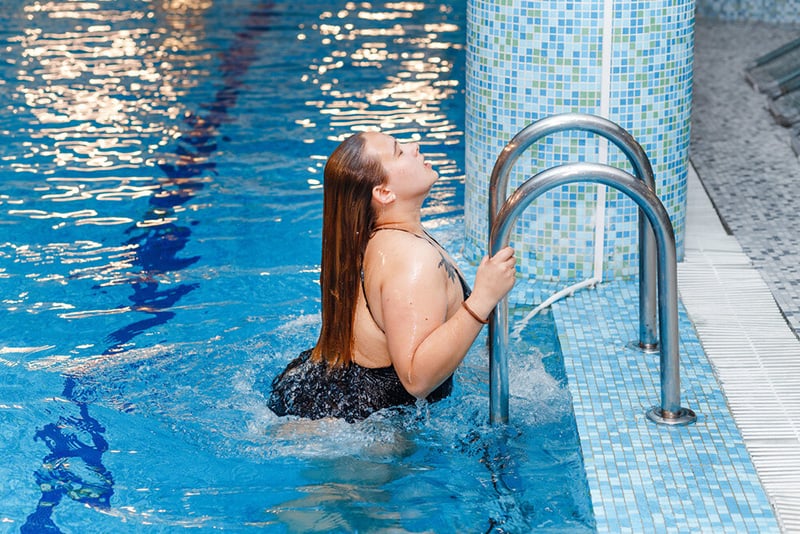 Your skin is exposed, and you didn't use a swim cap, or the pool water seeped into your swim cap. After using the previous prevention procedures, you need to also back it up with some hair and skin care. What do you do after swimming?
I have highlighted seven useful tips on post-swimming hair and skin care. It is recommended that you apply these tips after every swimming session.
1. Wash Your Hair
Immediately after swimming, you should ensure you wash your hair. Also, cold water should be used alongside a mild shampoo. Ideally, you should wash your hair gently for more than five minutes, depending on your hair volume.
It is best to purchase swimmer shampoos for chlorine removal. These shampoos can remove chlorine deposits and the hair protection creams (and oils) you added before swimming. Also, they can revitalize and return your natural hair moisture.
2. Take a Bath
Chlorine can cause dryness and irritation or rashes in sensitive skins. You should consider hitting the shower immediately after swimming. Though the skin is slightly porous, bathing will help to remove Chlorine from your skin and neutralize its effects to a large extent.
3. Dry Your Skin and Hair With a Soft Swim Towel
Most swimmers are fond of rubbing their skin and hair roughly to dry it faster. One can damage and cause more damage (breakage) to the hair with towels. Similarly, you don't want to constitute more problems on your skin.
Therefore, your choice of swim towel and manner of application is essential. It is best to purchase and include a soft, quick-absorbing swim towel in your swim bag. To dry your hair and skin, you should pat the swim towel gently on your hair and skin.
4. Moisturize Your Skin
Due to the bleaching properties of Chlorine, it removes all the natural oils. Since there's no natural oil to keep the skin glossy, skin dryness is unavoidable. Skin dryness is more likely if you have spent more time in the pool.
To prevent skin dryness, you should apply a good thick moisturizer, preferably after taking a shower. The ideal moisturizer should have a high level of antioxidants like Vitamin C. This way; you can reduce the risk of having irritated skin and rashes.
5. Apply Hair Conditioners
If you have washed your hair, you should apply protein-rich conditioners. Conditioners will help to replenish the lost natural oil and moisture while replacing the shine in your hair. They also help to heal your hair from any damage done and reduce itching or irritation.
6. Do Not Brush Your Hair
It is common to have your hair entangled, especially if you didn't use a swim cap. But why shouldn't you use a swim cap? Anyway, you should never attempt to brush your entangled hair with a brush since it is just healing.
Brushing will cause more breakage, weakness, or even worse. Instead of brushing, you should make use of a wide-toothed comb. You should allow some air drying before combing. Also, avoid using dryers or sun-drying.
Frequently Asked Questions (FAQs)
Do you have questions related to my article or missed some important parts? Let's see some of the most commonly asked questions to get some answers.
How to Fix Chlorine Hair?
Chlorine-damaged hair always appears dull, dry, bleached, tangles, and weak. No one wants to have terrible hair. Thankfully, you don't have to cut off your hair; you can fix your hair.
You should wash your hair with a chlorine removal shampoo. Afterward, you need to deep condition your hair. If it's so severe, you may need a weekly treatment. After each treatment session, applying protein treatments (and coconut oil) helps repair your hair.
How Should I Style My Hair Before Putting on a Swim Cap?
If you have long hair, it can be challenging to wear a swim cap. However, there are many swim caps designed for those with long hair. For your hair to fit into your swim cap, you should style your hair into a ponytail or bun.
What to Apply to Skin Before Swimming?
Petroleum jelly is a popular and cheap choice since most people are non-allergic to it. You may also use lard or goose fat. There are some pre-swimming lotions if you do not prefer these options.
How to Neutralize Chlorine on the Skin?
You can neutralize chlorine by bathing with soap immediately after swimming. The earlier you take your bath, the better. After bathing, applying creams with antioxidants (e.g., Vitamin C) will further neutralize chlorine.
Conclusion
Swimming is pleasurable and healthy. Chlorine is essential in pool management, particularly in eliminating microorganisms. However, chlorinated pool water can have adverse effects on your skin and hair. It can reduce your hair quality and cause irritated skin.
This article contains the tips you need to protect your hair and skin from chlorine – before and after all your swimming sessions. Even if you are swimming in the seas or lakes, you should consider following these tips.
Chlorine cannot be avoided in pool management. Therefore, one needs to ensure the optimum quantity is added with respect to water volume – not too much or less. This way, you can manage the effects of chlorine better.
I hope my article has been able to teach you how to protect your hair and skin from chlorine. If you have any questions, comments, and suggestions, kindly put them in the comment section below.