"I hope you love the products I recommend! When you buy through links on swimnetwork.com, I may earn an affiliate commission."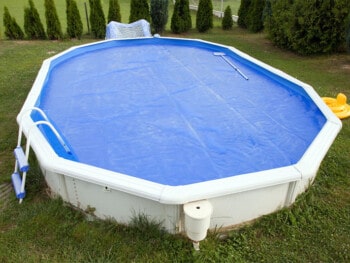 Apart from pool filters and chemicals, pool covers are another must-have accessory for your swimming pool. Nothing feels so frustrating than spending on energy and chemicals, and afterward, finding debris or dead objects in your pool. This increases the risk of infection and, in the case of commercial pools, causes low appeal to customers. There are several other benefits associated with using pool covers, hence, having one is the right way to go.
Interestingly, there are many pool covers available at affordable prices, so why shouldn't you get one? Well, you do not have to rush into buying one. Pool covers are made to suit different criteria that might be needed by various buyers. With the vast amount of products available, getting the best pool covers for your pool doesn't come easy except by luck.
This article will be covering everything about pool covers in a bid to get you prepared for your shopping. I have also sorted out the best pool covers to consider in 2020.
See Also:
Types of Pool Covers
Just before you head to the nearest store, you should know the types of pool covers available. Of course, the purpose is to cover the pool. However, pool covers come with different features and characteristics to suit various conditions and offering more than just covering pools.
By deciding the best type of pool cover for you, you can enjoy any product you purchase. The popular types of pool covers are the ones I will be discussing below.
Solar Pool Covers
They are widely known as bubble covers due to their distinct appearance. This type of pool cover is probably the most affordable you'd meet while shopping and are quite popular for being easy to use. You must be wondering why they called solar pool covers. If you cover up your pool (bubble side down) during the day, the sun's heat is trapped in the pool causing the water to remain warm all day.
If you are trying to reduce your heating cost, this will be best for you. In addition, they are lightweight and can efficiently help to reduce evaporation to about 99 percent. On the other hand, they cannot bear weights, therefore, keep your children and pets away. You may also need to get a small pump to remove water after rain. Their life span is about 3 years.
Automatic Pool Covers
The type of pool cover comes with some form of automation. They are pretty easy to install relative to the shape of the pool. Also, they are very easy to use and are rugged and safe for kids and pets. They are quite expensive with may require more maintenance, however, they help reduce heating costs and can last up to five years.
Thermal Pool Covers
Asides keeping the pool debris-free, the thermal pool covers are efficient from keeping the sun out of the pool. This way, they help to control the presence of algae in your pool. Among other pool covers, they trap heat better and can also help cut down on evaporation to a percentage of 99. Thermal pool covers are also referred to as swimming pool blankets.
Winter Pool Covers
Winter pool covers are ideal for those in cold climates, looking to cover their pool during winter. This type of pool cover is effective in keeping the sun from reaching the water whilst also preventing algae development.
Most winter covers are made from polyethylene fabrics, hence, they are lightweight and easy to install. They can help keep out precipitation, cold temperatures, and winds from causing frost but will only last about three seasons.
Mesh Covers
They are mostly for security purposes but they perform well in keeping debris out. The downside is that it allows water to leak in or evaporate. They can support weight and they do not retain rainwater. They can last up to 10 years.
This type of pool cover is known for its aesthetics as they blend perfectly to remain hidden. One advantage they have over other pool covers is their availability in manual, automatic and semi-automatic types.
What Is the Best Pool Cover to Buy?
If you care so much about your pool and its users, buying a pool cover should be among your priorities. Indeed, pool filters can offer you several benefits. But you will only enjoy these benefits to the maximum if only you buy the best pool covers.
Here are some of the best pool covers with impressive features and, more importantly, a good market reputation.
Where to Buy Pool Covers Near Me?
You can purchase pool covers from a nearby store or, even, utilize the internet to reach online shops. Regardless of whichever option is convenient for you, ensure you purchase from shops with a positive reputation and good customer services. This way, you can easily return, make complaints or utilize your warranty.
If you are going for online shops, ensure they have a reliable delivery service. Also, never forget to check out past customer reviews of any product of interest. For nearby shops, you can use my map below to find the closest to you.
Comparison of Top 15 Best Pool Covers 2020
Nobody wants to spend so much time shopping and eventually end up with a product not worthwhile. Except you have a product in mind, you should never be taking much time shopping. With adequate information about the market, you should be done in no time, even if you are a first-timer.
Having researched the market and sorted out 15 best pool covers, I present their basic features so you can examine the best for you.
Best Pool Covers Reviews 2020
Shopping isn't something you do unprepared as it might cost you. You will come across several products and you might difficult to settle for one. For the top 15 best pool coves I research, their detailed reviews are discussed below to help to get the best buy.
Sun2Solar Clear Rectangle Solar Pool Cover
(Best Overall - Editor's Choice)
Although it isn't rigid, the Sun2Solar Clear pool cover is a good way to cut down overall costs on a pool. Just like other solar pool covers, the product comes with a bubble design, bringing some intriguing benefits. Using the Sun2Solar pool cover will help you reduce water evaporation. Also, it increases heat retention whilst reducing heating costs.
This particular product has a dimension of 40 feet by 20 feet. Unlike most pool covers on this list, this pool cover can be trimmed to fit your pool size and shape. It is very easy to install as it does not require anchors.
Pros
It can be trimmed to fit.
Reduces water evaporation.
Heat retention and decreased heating costs.
It is easy to install.
Lightweight and easy to maintain.
Cons
It cannot support much weight.
William's Take: The Sun2Solar pool cover is a lightweight option to cut down on energy bills. It can help retention as much heat to keep the pool warm when temperatures drop. Interestingly, it can be trimmed to fit your pool size and shape. It is easy to set up, requiring no anchors.
Intex Solar Round Pool Cover
(Best Budget)
I am sure you must have heard about Intex. They are popular, having a lot of products with positive customer reviews. This Intex product is another fantastic product from the manufacturer designed for small round pools. It is the solar-type and can retain heat and reduce water evaporation.
The pool cover is lightweight, requires no anchor and is very easy to use and store. To solve the issue of water accumulation, the cover is designed to have central drainage grommets.
Pros
It is lightweight and needs no anchor.
Designed for small round pools.
Comes from a popular brand.
It retains heat and reduces evaporation.
It comes with drain holes to prevent water accumulation.
Cons
It cannot support weight.
William's Take: Water accumulation is a notable problem with waterproof pool covers and will often require the use of pumps. However, the Intex solar cover comes with central drainage grommets to prevent water accumulation. Hence, no pump or siphoning is needed.
Blue Wave Rectangular In Ground Pool Cover
(Best for Winter)
This Blue Wave pool cover is one of the strongest specifically created for rectangular, in-ground pools. They are constructed from durable, UV-resistant, two-layer, polyethylene mesh which makes it so strong. It can serve as a security cover since it is capable of withstanding heavy snow if installed correctly.
Everything you need to install the cover, such as anchors, springs, buckles and other things, is included. Impressively, they are made from rust-resistant materials. It is available in both blue and green colors, however, the former is more expensive.
Pros
Made from durable, UV-resistant mesh.
It comes with all the needed installation hardware.
Rust-resistant installation hardware.
It can withstand weight.
Reinforced to prevent abrasion and wear.
Cons
Allows water in.
The blue version is expensive than the green version.
William's Take: Depending on the amount of snowfall during the winter, this Blue Wave product can withstand the weight until you can clear them. The installation materials are rust-proof and the cover itself reinforced to be resistant to UV, wear and abrasion.
Water Warden Mesh Security Pool Cover
(Best for Safety)
The Water Warden pool cover is a safety option to guard in-ground pools from the reach of pets and children. It is a double-layer mesh made out of polyethylene. The cover is well stitched for additional reinforcement. It keeps leaves and other debris away from the pool, but rainwater or dissolved snow may still leak in.
The installation hardware, which comes with the cover, is made from materials that are less susceptible to rust. The D-springs are made to abolish the use of buckles. The cover is lightweight and easy to store.
Pros
Lightweight.
Easy to store and manage.
It comes with all the needed installation materials.
It works well as a security cover.
It doesn't accumulate water.
William's Take: Being able to bear weight is one of the characteristics of a security cover. The Water Warden cover, if properly installed, will keep children and pets from drowning even if they walk on it.
Robelle Pool Cover
(Best for Summer)
Regardless of your color preference and pool size, you should definitely find what you want in the Robelle pool cover for in-ground pools. It is available in seventeen different colors and thirteen distinct sizes. Apart from these, the pool cover is made from durable, waterproof polyethylene. The topside is made to be resistant to various elements and the underside inhibit algae growth.
It uses water tubes for anchorage and needs the pool water filled to avoid caving in. The edges are well-taped with durable stitches and it also possesses rip-resistant holes for firm anchorage. It also comes with a 10-year warranty.
Pros
It is available in several colors and sizes.
100-percent waterproof.
It is resistant to weather and inhibits algae growth.
Rip-resistant anchor holes
Excellent and robust stitches.
Cons
It requires a cover pump.
Not for security purposes.
William's Take: The Robelle pool cover is available in various preferences – size and colors, giving you many options. It is made to keep sunlight out and eliminate algae development. The cover boasts of excellent stitches that improve its strength and durability.
Blue Wave Solar Blanket Above-Ground Pool Cover
(Best for Heat Retention)
This product is for those looking for an easy-to-install pool cover. This Blue Wave pool cover is an above-ground option for round pool owners. The pool cover is a solar-type which is made obvious with its bubble design. The product is 18 feet in diameter and is available in eight more sizes.
Due to its design, it can help you maintain a warm temperature in your pool all day, cutting down your heating bills. It can also help reduce both water and chemical evaporation. It is budget-friendly and can be moved easily due to its lightweight.
Pros
Lightweight and budget-friendly.
3-year warranty.
It retains heat and warms the pool.
Reduces water and chemical evaporation.
Easy to install and doesn't require anchors.
Cons
It cannot be used as a security cover.
William's Take: This Blue Wave product is a solar blanket and can help retain heat in your pool. This translates to lowered heating costs and reduced water and chemical evaporation.
Buffalo Blizzard Supreme Pool Covers
(Best for Above Ground Pools)
The Buffalo Blizzard is an above-ground pool cover fabricated from thick, quality, UV-resistant, polyethylene threads, weaved into a waterproof cover. It comes with taped holes, ropes and hooks for anchorage. This product is available in only round shapes of varying sizes, freeing you from having to cut it out yourself. Based on your preference, you get to pick from the available four colors.
Apart from keeping out debris, it can be used during winter, as well as, during rainy periods without tearing under pressure. The product is lightweight, inexpensive and very easy to set up. It also comes with a 5-year warranty. However, you need a pump or siphon to remove accumulated snow or rainwater.
Pros
Available in four colors.
Available in different sizes.
Budget-friendly and easy to install.
5-year full warranty.
Waterproof and thick.
Cons
May accumulate snow and rainwater.
William's Take:
The Buffalo Blizzard pool cover is a thick, waterproof, UV-resistant pool cover for
above-ground pools
. It comes with all the needed installation materials and a 5-year warranty.
Happybuy Pool Safety Cover
(Best to Keep Leaves Out)
Do you have pets and kids in the neighborhood? If you are considering a robust option for security, then you should purchase the Happybuy Pool Safety cover. It is a rectangular pool cover built for in-ground pools. On purchase, you get the installation kit alongside the pool cover.
Every part, from the installation kit to the pool cover itself, is made to withstand harsh weather conditions. The environment-friendly pool cover blocks out sunlight to prevent algae development. It is easy to install and doesn't slack, thanks to the reliable stitches and springs.
Pros
It can be used as a security cover.
Durable, environment-friendly build material
Weather-resistant installation materials
Reliable edges and stitches.
It blocks sunlight.
William's Take: If all you need is a pool cover that keeps leaves out, this product is good for you. It can tolerate harsh conditions whilst serving as a security cover.
Intex Solar Rectangular Pool Cover
(Best to Prevent Evaporation)
Enjoy a longer swimming season with warmer water with this Intex product. It is a lightweight, rectangular pool cover with a small dimension of 18 feet by 9 feet. It is one of the solar pool covers on my list.
The pool cover is efficient in keeping your pool warm all day by retaining the sun's heat. It doesn't require any installation hardware, hence, easy to install. If installed properly, it can reduce evaporation by 99 percent. It comes with holes to eliminate water accumulation and a carrying bag for storage.
Pros
It can be trim-fit.
It keeps pool water warm.
It reduces water evaporation.
Lightweight.
It comes with a hole to prevent water accumulation.
Cons
Not ideal as a security cover.
William's Take: This Intex product is a nice solar pool cover. It is quite efficient and does well in keeping water and chemicals from evaporating. It comes with a carrying bag for storage and portability.
Loop-Loc Rectangle Safety Pool Cover
The Loop-Loc Rectangle pool cover is made from a thick weave of polypropylene for durability and strength. Being a mesh-type pool cover, it can help prevent debris from entering your pool but will allow water to leak in. It has the ability to block out about 90 percent of sunlight thus preventing the growth of algae.
The product is rugged and can be used as a security cover to prevent kids from drowning. Despite its durability, the manufacturer offers a warranty of 15 years on the product. In addition, installation hardware is included on purchase.
Pros
Made from thick polypropylene.
It can support weight.
It comes with a warranty of 15 years.
Installation hardware included.
Blocks out sunlight.
Cons
Allows water to leak in.
You can't cut into shapes.
William's Take: Massive product warranty will only mean that the manufacturer has so much confidence in its product. This Loop-Loc cover has a 15-year warranty. This should also foster some level of confidence in you, being fully aware you can return defective products.
Blue Wave Gold Rectangular In Ground Pool Cover
(Best for Ease of Installation)
One of the ways to prepare for winter is by purchasing the Blue Wave Gold Pool cover. It is rectangular with a dimension of 32 feet by 16 feet. However, it is available in the other nine sizes, giving a wide range of options.
Fabricated from woven polyethylene, the pool cover can withstand sun, ice, snow, and wind. For anchorage, it relies on the water tubes placed on the edges and also pool water so you do not have to drain. It comes with a warranty of three years.
Pros
It is available in ten different sizes.
Full warranty for three years.
It is lightweight.
It is easy to install.
Cons
Snow and rainwater may accumulate on it.
Relies on the pool water for support.
Requires water tubes for anchorage.
William's Take: This product is one of the easiest to install. It is lightweight to transport and can also float on water. It doesn't require anchors, bolts or springs but water tubes that you fill up and place on the extra edges.
Blue Wave Bronze Round Above Ground Pool Cover
(Best Lightweight)
Here is another lightweight and inexpensive pool cover from Blue Wave. This time, it is an above-ground, round pool cover made for pools lesser than 24 feet. It is a rugged polyethylene pool cover that is waterproof and UV-resistant. It can withstand almost any condition (e.g. wind, sun, ice or snow) without breaking apart.
You do not have to drain the pool as the cover relies on it for support. At the edges of the cover are quality tear-proof holes that allow you to fasten the cover to the pool. It comes with a quality cable and winch tightener.
Pros
It comes with quality cable, winch tightener and tear-proof metal holes.
Places less force on the pool walls.
Made from UV-resistant, rugged polyethylene.
Don't leak water.
Lightweight and inexpensive.
William's Take: The product is rugged with a polyethylene build. It comes with rip-resistant holes that help it last long regardless of any water buildup.
GLI Rectangle Safety Pool Cover
If you own a rectangular in-ground pool, you can have a look at the GLI rectangle pool cover. The maximum pool size it can accommodate is about a length of 32 inches by a breadth of 16 inches. It is from a two-layer polyethylene mesh that is resistant to sunlight, harsh weather, rot and mildew.
You do not have to purchase the installation kit separately as it comes with the pool cover. The installation hardware is made from quality anti-rust materials. The product also includes a storage bag and a 12-year warranty.
Pros
It comes with quality anti-rust installation hardware.
It can be used for security purposes.
It comes with a storage bag.
It doesn't accumulate water.
12-year warranty.
Cons
It can't accommodate step sections.
Available in one color.
William's Take: In need if a pool cover with durability and ability to tolerate various conditions? Try this product as it is made from quality 2-layer polyethylene mesh and also comes with rust-resistant installation materials. To cap it all, it comes with a massive 12-year warranty.
Intex Deluxe Round Pool Cover
(Best With Good Anchorage)
Made from polyethylene, the Intex deluxe is a round pool cover for above-ground pools. It can only be used by pools with a diameter of fewer than 18 feet. It is able to withstand various weather elements – sunlight, wind, and water.
The product comes with heavy-duty rope ties, rip-resistant anchor holes, and quick-release clamps to help it stay firm on the pool. Although it looks rugged, it is not advisable as a security cover.
Pros
It comes with quick-release clamps, heavy-duty rope ties, and rip-resistant anchor holes.
Wind-resistant and UV-resistant.
It has drain holes to avoid water accumulation.
Comes from a reputable brand.
Cons
Not ideal as a security cover.
It cannot be trim fit.
William's Take: Pool covers that don't seat well won't perform well. The Intex deluxe comes with tough ropes, heavy-duty quick-release clamps, and rip-resistant grommets to help you fasten it firmly.
Pool Mate In-Ground Pool Cover
(Best to Prevent Algae Buildup)
The Pool Mate pool cover is an in-ground pool which depends on tubes and the pool water for its functionality. It is made from heavy-duty polyethylene in a rectangle with a dimension of 32 feet by 16 feet. However, it is also available in other sizes.
The pool cover does well to prevent the growth of algae, blocking out sunlight completely. It comes with a huge level of its manufacturer's confidence which is made obvious by its ten-year warranty. On the flip side, the anchor water tubes are not included but bought separately.
Pros
Prevents algae growth.
10-year warranty.
Easy to install.
Heavy-duty build material.
Cons
The tubes are sold separately.
It cannot be used as a security cover.
Accumulates water.
William's Take: The Pool Mate cover is a heavy-duty product with quality build material. It is very easy to install, requiring water tubes to keep it in position. The downside is that the water tubes are sold separately.
Buying Guide
Pool covers come with different quality, features, type, and design which is completely natural as manufacturers want to thrive in the market. However, every end-user, first-timers, and veterans must be careful when settling for a product. Due to the many options available, decision-making in a bid to select the best pool covers can be difficult.
However, the major consideration should be one's pocket as it contributes so much to decision-making. Asides the "first sight impression" and your budget, there are some important things you need to consider and they will be duly discussed here. To have a good buy, here are the five things that you should consider when buying a pool cover.
Function
Why do you need a pool cover? Do you have a lot of trees in you? You might want to keep leaves from falling into your pool. If you have some construction site nearby, you might also want to get a pool cover. If you have kids and pets in the neighborhood, using a pool cover will be an effective way of preventing stories that touch.
Shape and Size of Pool
This criterion determines the amount you will spend per square meter on pool covers. Someone with a 6m by 4m will obviously be spending less than someone with a 10m by 8m. However, due to the rectangular shape of the pools, they may actually be spending lesser. Someone with a freeform-shaped pool will be spending more due to the curves or obstructions.
Type of Pool
Swimming pools are either above-ground or in-ground. The above-ground, due to its position, will rely on hooks affixed to its rim to hold the pool cover. The in-ground pool will also require anchors to hold your pool cover. Ideally, you should place the anchors on the poolside.
Location
Your location plays an important role in your choice-making. If you stay in colder climates, you might want to consider investing in solar pool covers. This way, you can keep your pool warm all day long. On the other hand, it will make no sense to invest in such type of pool cover in hotter climes, except you want your pool water boiling.
Additional Features
Apart from the previous criteria, you may want to look out for some other features such as the color and weight. Although the most common color is blue, there are some other colors available such as green which can match your lawn. If you will be taking off the cover frequently, you may want something lightweight so as to make transportability easier.
The product warranty is another feature you want to consider. A product with a warranty implies that the manufacturer is confident of its product. With the warranty scheme running, you can replace defective products with ease.
Top 5 Major Benefits of Pool Covers
Of course, you won't be motivated to by a product if you do not know its benefits. Pool covers offer a lot of benefits which include improved swimming experience and reduce management costs. Below are some of the major benefits of using pool covers.
To Keep Your Pool Clean
The risk of infection, besides obvious reasons, is one reason why you need to keep your pool clean. Pool covers are primarily used to keep the pool clean. Regular use of pool covers which involves covering the pool after every use will help keep debris out. For instance, pools with close proximity to trees will definitely appreciate them, keeping leaves from entering.
Regardless of the price of the pool cover, it benefits you in the long-run. You do not need to spend a lot of time and money cleaning up your pool. Your pool filter will also be happy with such a decision.
Reduce Evaporation
Pool covers are often made from non-porous materials such as polyethylene and PVC. If your pool is properly covered, they can help reduce evaporation up to a percentage of 95. In the end, it saves you time and money.
Reduce Heating Bills
With the right pool cover, you can cut down on your heating bills. Pool covers such as the solar pool cover can help keep heat trapped in the pool for a long time, thus heating the water. Also, since evaporation is also reduced, heat is further conserved in your pool.
Improve Swimming Experience
Since heat is conserved in the pool, your overall swimming experience is increased. The pool temperature doesn't get too cold. As a result of this, your swimming session is significantly extended.
Prevent Accidents
Children can be playful and curious sometimes. Some pool covers have the strength to withstand the weight of children and pets, preventing them from drowning.
Frequently Asked Questions (FAQs)
In case you came here to find answers to your questions or skipped some cogent points in the article. To help you clear your mind, I've compiled some frequently asked questions al in this section to help out.
Swim Network Overview
Pool covers are not just for covering your pool but they also offer security, health, and aesthetic benefits. Everybody wishes to use the best and effective product and pool covers are no exception. Purchasing a new pool cover or finding a replacement can be stressful, especially without a guide. If you do not make the right decision, you might eventually purchase something unsatisfactory.
No one likes to keep spending on a product and getting something satisfactory is fifty-fifty. To help you invest in the best product, I have collated the top 15 best pool covers you should consider. Although all the products rank as the best the Sun2Solar Clear Rectangle Solar Pool Cover is the best overall. Low budget buyers can settle for the Intex Solar Round Pool Cover.
Have you purchased any of the pool covers on my list and you have remarks or comments to make? Kindly drop them in the comments section below. You can also share this article with friends and family on Facebook, Twitter, and other social platforms by clicking on any of the buttons below.