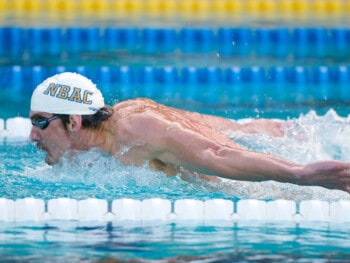 Besides setting outstanding records, Michael Phelps' Diet has been in the news for some recent controversies. There is a widespread belief that the former competitive swimmer has a crazy diet – eating a massive 12,000 calories per day.
Undoubtedly, Michael Phelps is the most successful Olympian ever, winning 23 gold medals (Olympics) in his career. He also has 27 gold medals in World Championships and 16 from Pan Pacific Championships.
Food is essential for every human, and, for swimmers, a sufficient diet influences performance. An average human consumes about 2,500 calories in a day. While fans often mystify their icons, don't you think 12,000 calories is outrageous?
What's in This Controversial Massive Diet Plan?
Consuming a 12000-calorie diet in a day is massive. Suppose he takes three meals per day (breakfast, lunch, and dinner), that will be about 4000 calories each. When compared to the recommended calorie intake per day, that is about five times.
The American swimmer is 6 feet and 4 inches, and he maintains a weight of 194lbs and a lean stature. One will wonder where this outrageous diet plan goes. With his swimming sessions (including training), you may think it's fair. But is it really true?
"Eat, sleep and swim, that's all I can do," Phelps told NBC after winning his eleventh Olympic gold medal. Let's take a look at the controversial massive diet according to Men's health and New York Post.
Breakfast
Lunch
Dinner
· Three fried egg sandwiches with cheese, tomatoes, lettuce, fried onions, and mayonnaise.

· Three chocolate-chip pancakes.

· One five-egg omelet.

· A bowl of porridge.

· Three slices of sugar-coated French toast

· Two cups of coffee.

· Half a kilogram of pasta.

· Two large ham and cheese sandwiches on white bread with mayonnaise.

· Energy drinks for extra 1000 calories.

· Half a kilogram of pasta.

· A large pizza.

· Additional energy drinks.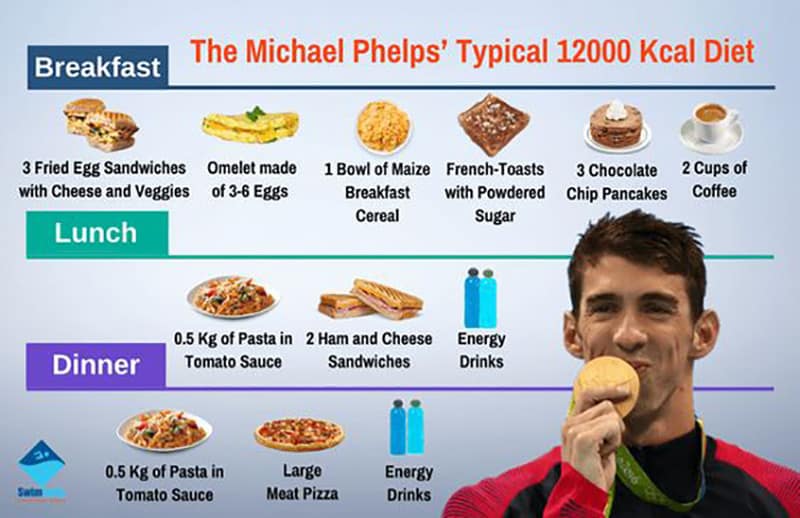 If you would like to break Michael Phelps' records, perhaps you'll have to start with this diet plan. It's a large diet that can feed about four men in a day.
Is It Possible That He Consumed Such an Amount of Food Daily?
In addition to swimming competitions, the popular Olympic gold medal winner engaged in a lot of training sessions. It was reported that he swam up to 80,000 meters every week during training at the peak of his career.
This implies that he swam about 50 miles weekly. He does weight-lift for 4 hours while also running two hours every day. These heavy training sessions must take a toll on his body and subsequently increase his calorie demands.
Perhaps the 12000-calorie is justified by his peculiar training sessions. For Phelps, who has just 8-percent body fat and a weight of 194lbs, he burns about 2000 calories daily. He had to stop alcohol, although it still helped in cleaning his diet.
For many people, eating alone is tiring, not to mention that he has to munch all these food items daily. A mere 2000-calorie diet will send an average man to bed in no time. Besides, without rigorous activities to burn such calories like Phelps, obesity becomes unavoidable.
Does Michael Phelps Eat 12000 Calories?
Swimmers (professionals) often look for quick meals to get into their systems and replace used up calories. "The challenge was to keep weight on. For so long, eating really became a job." Phelps told Food & Wine.
"We have to eat something within 30 minutes to replenish what we lost," the 23 times gold medalist said further. Many swimmers have to battle with recovery and fitness, especially during competitions. Hence, there is a need to buff up their diet.
Does he genuinely eat 12000 calories daily? Well, it is impossible. "To consume 10,000 calories a day, he would need to be eating all day long." Says Dr. Leslie Bonci., the Sports Nutrition Director at the University of Pittsburgh.
Except if he's drinking specially-made energy fluids, he can't consume such a large diet considering his lengthy training regimen. However, in a Facebook session with Men's Health, he debunked the rumor, claiming a lesser figure.
"There's so many stories that are written about that. One random paper picked it up over in London and made this fabricated lie. Twelve thousand is not real. It's impossible. You can't eat that much." he said.
Phelps went further, saying, "During my prime, I was probably really eating eight to ten [thousand calories per day]. But that was the most, and that was when I was in high school and still growing."
While this new figure seems more realistic, the US swimmer even claimed that it wasn't consistent to match different challenges. "Throughout my career, my diet's always changed, just depending on what I need and what I'm trying to accomplish," he said.
In truth, his high rate of metabolism cannot be disputed, and such an unusual diet is reluctantly necessary. This might have helped him manage those heated moments and, ultimately, a glittering career. An 8000-cal diet is reasonable, but a 12000?
He had retired back in 2012; however, he came back for the 2016 Olympics. After competing in five Olympics, Michael Phelps eventually retired in 2016. He's retired, now a father and a husband. He no longer eats such much as he claims his diet is more selective and cleaner.
The decrease in his calorie intake can be undeniably linked to his reduced activities and metabolism. His new diet contains fruits, veggies, and lean grilled meat but snacking sometimes. Else it might not take him long to become obese.
Conclusion
Swimming is an intense sport that utilizes a large portion of the body. If you are looking to lose some calories, you are on the right track. However, professional swimmers do want to lose weight but win medals.
Swimmers burn a lot of calories. While regular (or recreational) swimmers may head to their bed, professional swimmers need to get fit in no time, particularly during competitions. Swimmers like Michael Phelps rely on a heavy carbs diet for faster recovery.
The widely-circulated 12000-Calorie Michael Phelps' Diet isn't realistic, and it's been debunked by Phelps himself. However, he had heavy carb diets depending on his schedules to match his training and activities and cater to his huge body's calorie demands.