Do you need ten reasons why open water swimming rocks? Then you are at the right place. Open water swimming is becoming more popular with many people getting involved. People enjoy open water swimming outdoors in lakes, oceans, seas, and larger water bodies around the world.
Excitingly, more and more people will get involved. From health to social benefits, open water swimming offers so many benefits. So do you want to know what makes open water swimming enjoyable? Let's get started.
10 Incredible Reasons Why Open Water Swimming Rocks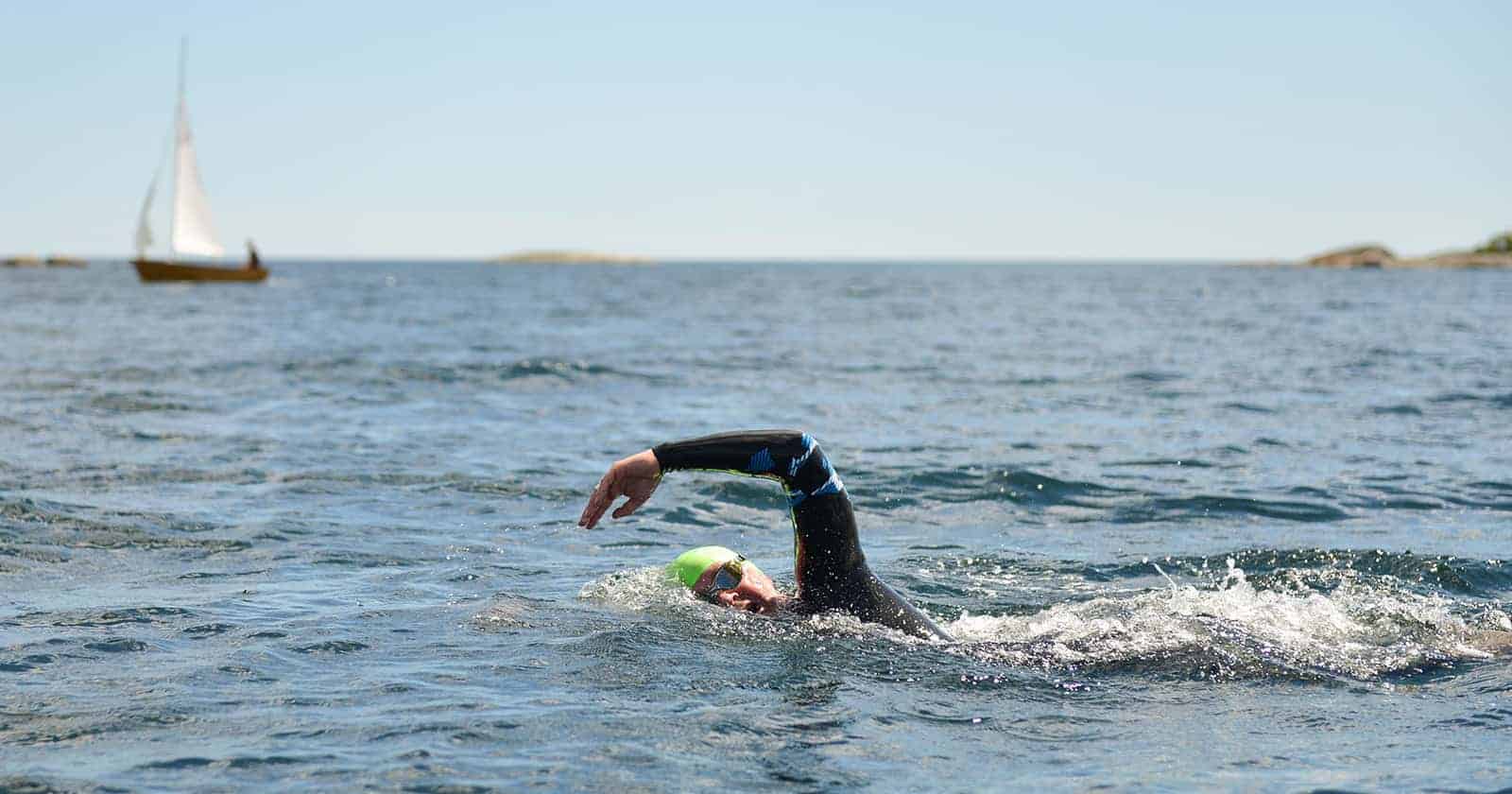 Do you need some sort of motivation to start open water swimming? Are you looking to try out something new during the holidays or summer?
At least, you should go for open water swimming once in your lifetime. Although there are many reasons why open water rocks, I will only be discussing ten important reasons.
1. Improved sleep quality
Swimming in open waters positively affects your sleep. Open waters are generally cold and even colder during the winter periods. The feeling of cold water on the skin invigorates the parasympathetic nervous system or PNS.
Once the PNS is invigorated, your body switches automatically to a calmer and tranquil state. Your body stops overworking itself and increases the relaxation mood. You develop a feeling of contentment, and that translates to improved sleeping quality.
2. Enhanced blood circulation and better skin
When swimming in open (cold) water, you become cold. Your body responds by increasing blood flow to all your organs through all blood vessels. The essence is to increase body warmth and oxygen supply, but it positively affects your circulation.
By increasing blood flow, your heart works harder, and the brain enjoys more oxygen supply. The increased activeness also reduces the chances of heart diseases, diabetes (type 2), and stroke.
Your skin also enjoys some benefits during open water swimming. The water helps to exfoliate your skin, remove dead skin and, subsequently, make your skin cleaner and fresher. Also, your skin gets to utilize a whole lot of useful minerals in the water.
3. Enhances immunity
Your immunity level determines your body's defense against diseases. With your blood circulation now enhanced while swimming, your body becomes more charged up to fight infections. This is due to the production of more antioxidants and white blood cells.
4. Increased metabolism
It is a true and general belief that open waters are cold. Swimming in open waters stimulates the increase in blood circulation, which boosts the body's metabolism rate.
Just like cold baths send shocks down the spine, it's the same with open water. Your body attempts to shield the cold; hence, it burns more calories to warm your body. More cold means more calories burnt.
5. Open space
The most apparent reason why open water swimming rocks is the vast space available to do whatever you desire. There are no lanes or pool walls. You do not have to worry about bumping into someone or someone hitting you.
You can express yourself better and perform different styles. Swimmers can decide to swim long distances for fun or competition without having to repeat the tracks.
There is less chance of experiencing some annoying behaviors from people at regular swimming pools. You also get to train – improve your freestyle kicks and attempt to swim freestyle faster – without disturbance.
6. Physical and mental challenge
It is easier to swim in a regular (enclosed) swimming pool compared to open water. It can be more of a physical and mental challenge for you. The temperature in open water fluctuates, and the flow of the water may rise and fall.
When compared to an enclosed pool, there is more challenge in open water swimming. Starting from the cold temperatures that test your endurance to the waves that torment your resilience. You have to put up to these challenges to enjoy open water swimming.
7. Weight loss
Swimming in open water exposes you to more cold, and your body reacts by eating up more calories. In the process of burning calories, more heat is generated to counter the cold, and the metabolism rate is increased.
Now, the duration of your swimming also matters as well as the temperature. If you are swimming for an extended period, your body will burn more calories. In very cold water as well, more calories will be used up.
If you are looking to burn calories (lose weight), you should consider having some quality open water swimming sessions.
8. Minimize pains and relieves injuries
Like cold water is used in injury and pain management, open water swimming can equally do the same. Once you immerse yourself in open water, the peculiar cold temperature regulates your blood circulation and, more importantly, your nervous system.
9. Fun and nature
Open water swimming is fun and interesting. There is no restriction; you can express yourself as it helps to stimulate some feeling of contentment. You get a chance at nature's healing effect.
The cold water and breeze "enter" your mood and relieve some pain. It is an excellent way to improve your fitness, manage injuries and recover from injuries.
10. Expands social circle
More than you can at your regular enclosed pools, you can socialize even more. Lakes, seas, and other open water attract many people from around the world, unlike your local swimming pool.
You get to meet many people and make a lot of new friends. Competitions and challenges can be set-up, and there's even fun in racing against other people or watching people swim. This alone can impact your social and mental wellbeing.
3 Things to Consider Concerning Open Water Swimming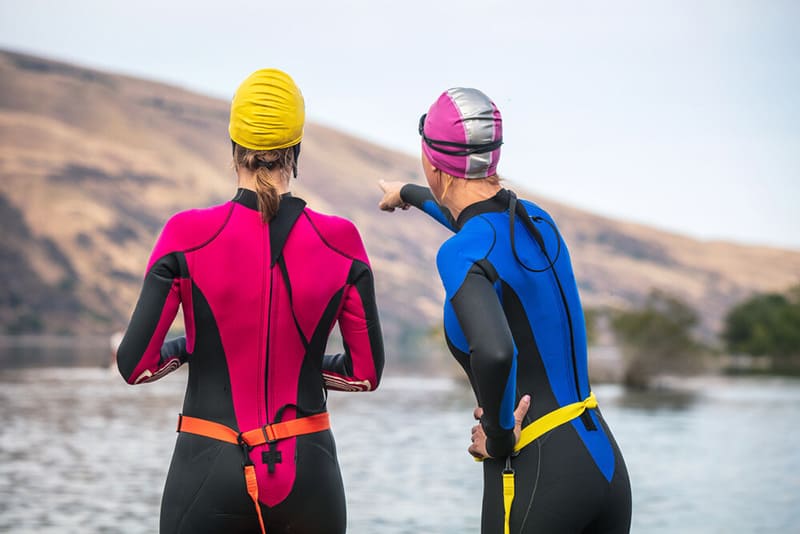 Open water swimming is fun and rocking with many benefits that may get you "addicted." But you need to take a few things into consideration if you are going for open water swimming. I have four essential tips here.
1. Start slowly
You should consider entering the water slowly to acclimatize or know if the temperature is tolerable. Jumping into open (cold) water can send cold shocks into your body. This can cause a muscle spasm, breathing difficulties, or drowning.
As a beginner, or if it is your first visit, you should consider swimming in the shallow part of the water at first.
2. Play safe and follow the rules
As much as open water rocks, it can be dangerous as well. It would be best if you only swam in open waters that are certified safe. You never can tell if there are dangerous animals in the water, especially if it's your first time in that location.
Do not jump into the water if you have no idea about the water. You don't want to risk smashing your head on rocks in the water. Make sure you follow all the rules of such a location. As an amateur swimmer, do not swim alone but have a friend or guard nearby.
3. Wear safety kits
Your priority should be your safety even beyond open water swimming. You can wear an open water buoy, swimming wetsuit, neoprene swim cap, and swimming gloves to conserve body heat.
Some people prefer swim shorts or swim trunks anyway but ensure that you have a rash guard. You can also protect your feet with water socks or try out swim fins.
Since open waters are less treated, you can protect your nose with a nose clip, your ears with swimming earplugs and your eyes with swimming goggles. After swimming, a towel, earmuffs, and wooly hats will do to prevent chills.
FAQs
Any questions related to open water swimming? I have answered some useful frequently asked questions below for more understanding.
Is open water swimming dangerous?
Yes. However, if you take into account the rules of such locations. When swimming, take things slowly to make you safer. You should enter the water gently to allow your body to adapt. Wear safety gadgets. Do not swim alone but have a friend or guard close by. Your friend(s) should be able to swim or reach out to a guard too.
Can you swim in open water alone?
No. For safety reasons, you should have a friend, coach, family, or guard around.
Is open water swimming easier than pool swimming?
Yes. It is much easier since there is more space for swimming while there are no tracks and walls. You can exercise and perform numerous skills with relative ease. However, it would be best if you started in the shallow areas.
Conclusion
Now you have many reasons to agree that open water swimming rocks. Besides, you now have a full understanding of how it impacts your health, social life, fun, and swimming experience.
Despite the many benefits you can enjoy, you need to consider your safety as well. Safety first! You should purchase all the necessary safety gear and swimming accessories. Follow all the rules in your swim location.
Do you have an interest in open water swimming, but you have questions? Of course, you should now be interested in open water swimming. I entertain questions, comments, and suggestions – you can leave them in the form below.
Do you have friends or relatives that need the motivation to start open water swimming? You can share this simple article with them using any of the social buttons on this page.
Happy open water swimming!