Quality breaststroke drills are the only way to develop a good breaststroke technique. Many swimmers, including experienced ones, will agree that breaststroke is the most difficult swimming technique.
It's not uncommon to make mistakes at any point in time. Being the slowest technique doesn't make it easy. It requires you to get a lot of things right ranging from balance to body movement.
Regular practicing facilitates perfection, and you can achieve that by taking effective breaststroke drills. Like you would practice to swim freestyle faster, some drills are also targeted at helping swimmers' breaststroke technique.
You will be doing yourself much good by going through this article for full, free information on these drills. Let's get started.
Why Should You Take Breaststroke Drills Seriously?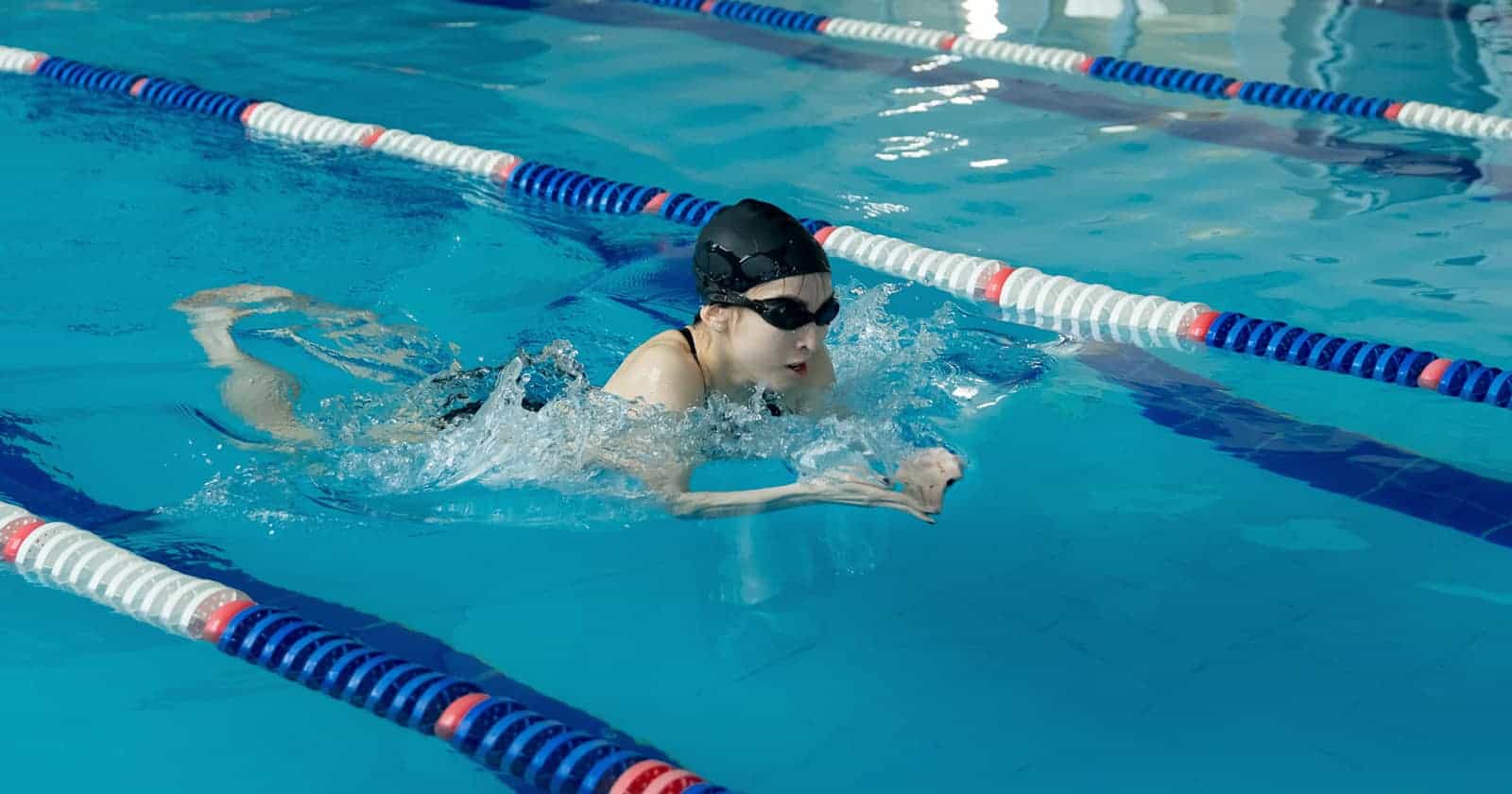 As I stated earlier, breaststroke isn't an easy technique, and you would only be near perfection with enough practice. Incorporating good breaststroke drills with core exercises for swimmers will go a long way to hasten your development.
There are different breaststroke drills to improve specific aspects of your technique. If you combine effective breaststroke drills with serious commitment, you should be benefitting the following.
1. Improved Swimming Posture
Unlike the freestyle technique where both arms alternate, breaststroke feels complicated. The stroke has a different body movement, and you can run off the balance quickly. But you are expected to maintain a good posture for high hydrodynamics.
Taking the right drill can help you identify the best posture for your breaststroke technique. This way, you can minimize back injuries and fatigue. You might have to learn how to float in water to improve your technique.
2. Better Arm Movements
Breaststroke requires you to synchronize both arms for maximum propulsion. Since there isn't any competition, you can learn to position your arms correctly while swimming. Also, you can develop a good feel of the water and a stronger "pull."
3. Enhanced Kicking
Taking breaststroke drills seriously can aid your kicking significantly. Rather than improving their propulsion, some swimmers slow themselves down with their legs or kicking. Some drills can specifically enhance your kicking and synchronize smoothly with your arms.
4. Better Breathing Technique
Another source of concern for some swimmers is their breathing while executing the breaststroke. Drills can help you learn when to breathe and how to do it easily with your breaststroke.
9 Breaststroke Drills for Faster Development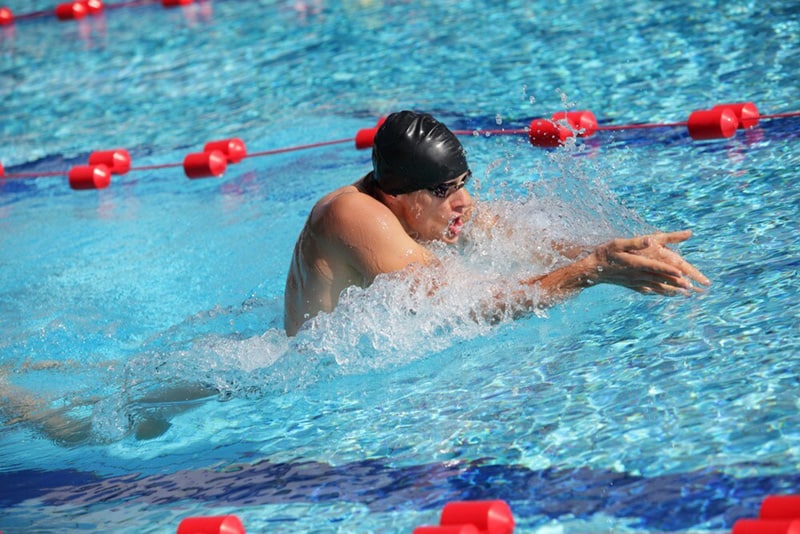 Becoming a pro in breaststroke requires more time. In most cases, swimmers have issues with drag, and they aren't impressed by their speed level. Everything needs to be perfect, from timing, body posture, arm movements, and leg control.
Doing a combination of breaststroke drills regularly and properly can help you develop your entire breaststroke technique. Are you looking for effective ones? Don't panic; I've got nine breaststroke drills here for you.
1. Clenched Fist Drill
As the name suggests, this drill requires you to clench your fists while swimming the breaststroke. This drill allows you to improve your propulsion via your arms. By clenching your fist, there is a little surface area from your hands.
Hence, you learn to catch a feel of the water. You experience the difference and simultaneously improve your swimming speed. Here's a short video illustrating this drill below.
2. Butterfly Legs Drill
You will develop excellent balance with the butterfly legs drill, but it may seem challenging. The butterfly legs drill requires you to put both legs together and push them downwards using your upper body.
While doing that, you should perform the regular breaststroke arms movement. With your legs kept together, you must push downwards powerfully to keep your upper body (head) underwater. Interestingly, it will benefit your core muscles.
See the video below for practical illustration.
3. Freestyle Legs Drill
The freestyle legs drill is quite similar to the previous drill. Rather than bring both legs together, you will execute the freestyle (flutter) kicking while continuing the breaststroke arms. It allows you to focus your arms and balance.
As expected, you should kick from your hips and not your knees. This drill focuses on the speed of your arm recovery and catch. Therefore, your top priority should be to ensure smooth movement in the water.
The video below explains the freestyle legs drill more practically.
4. Head Above the Water
Many swimmers often suffer lowered hydrodynamics when performing the breaststroke, hence reduced speed. Of course, you have to put your head above the water while swimming breaststroke with your arms.
It lets you build powerful arms swimming in this less streamlined position. Your legs will stay deeper in the water, and you can breathe easily. To achieve the desired results, you must put up a fast breaststroke arm rate.
However, it would be best to only do this drill for a few minutes to avoid straining your lower back and neck. The video below teaches how to execute this drill correctly.
5. One Arm Drill
This drill is pretty advanced, and it is aimed at improving your endurance and speed. Experienced swimmers will find this drill useful to help them perfect their performance.
Start with the regular breaststroke arm and leg movement. After gaining some momentum, continue by extending one arm ahead of you. Rather than using both arms, you sweep with one arm only, as shown in the video below.
For more intensity, you can sweep with one arm and kick with an alternate leg. Take a look at the video below for more details. Ensure you take breaks in-between to avoid strains.
6. Elbow Close Together
This drill is also aimed at improving a swimmer's catch while swimming the breaststroke. All you've got to do is ensure that your elbows touch each other after the push phase. It isn't really difficult, and the video below should explain further.
7. Sculling
This drill is specifically to develop your pull movement and catch. It is straightforward and less taxing than other drills. It would help if you had a swim buoy to perform this drill. You may also use swim gloves to improve your feel.
Procedure
Place the buoy in-between both legs.
Stretch your hands ahead of you and keep your head up (mouth above the water).
Simulate the hands in an oscillating motion, using them to swim in the pool.
See the following video for a practical explanation.
8. In-Sweep Drill
This drill is similar to the sculling drill, and it focuses on the smoothness of your transitions and timing. It helps to reduce lags and facilitate a quicker recovery. Beginners will appreciate this more, but experts can still find it useful.
In simple terms, the in-sweep is the transition from your scull (outward) and push. Interestingly, many beginners may be finding it difficult to master their scull. This can also help with that.
Procedure
Start with your hands (wrists) close to each other, resembling a "Y."
Rather than execute all the "pull," you will only be doing just the catch phase. Your elbows must be kept up like in the usual breaststroke pull motion.
Slide both hands back out and then to the front.
Execute the sculling motion three times before attempting the complete stroke cycle.
9. Windshield Wiper Drill
Unlike the in-sweep drill, this drill is aimed at improving the out-sweep part of the pull movement. If you want to develop a faster breaststroke, it should be among your top priority. It works the core muscles as well.
Procedure
Basically, you work your out-sweep before bringing both arms together.
You need to keep your elbows high and also do the flutter kicks.
Keep a good body position – straight spine and high hips – for desired results and less fatigue.
See the following video for a practical explanation.
FAQs
If you have some questions related to breaststroke drills, this section will be beneficial to you. I have taken the time to collect some of the frequently asked questions here. Kindly read carefully for more information.
Why Is Breaststroke the Hardest Stroke?
Many swimmers claim the breaststroke as the hardest stroke in competitive swimming. Truly, it can be tiring, and some professional swimmers will have a lot to say. The breaststroke is hard primarily because it needs a near-perfect arm-leg synchronization. Without that, you will experience serious drag, resulting in unimpressive swimming speeds.
How Can I Improve My Breaststroke Time?
In several cases, the cause of drag during the breaststroke can be attributed to a less developed individual aspect of the stroke. Therefore, breaststroke drills are important. Once you can master every part of the breaststroke, you are good to go.
What Part Of the Body Does Breaststroke Tone?
Breaststroke is an excellent exercise, particularly as a cardiovascular workout – good for the heart and lungs. Also, it strengthens the core muscles, thigh muscles, arms, upper back, and even the lower legs.
Conclusion
Breaststroke is an interesting but complicated swimming technique. Therefore, if you want to become a better professional swimmer, you need to include some breaststroke drills in your routine.
The most efficient way to develop faster is to work on every aspect of the breaststroke individually. Hence, each of the ten drills discussed here targets individual elements of the swimming technique, i.e., kicking, body movement, etc.
If you have some comments or questions, I'll appreciate it if you forward them to me using the comment section. Furthermore, you can enlighten other swimmers on effective breaststroke drills by sharing my article. Kindly click any of the social media buttons on the page.