Many things go into pool management, and knowing how to balance pool chemicals is one of them. When you consider the leftovers (e.g., body oils, dead skin, etc.) of humans in the water, you'll realize there's plenty to do.
Pool filters or vacuum cleaners may take care of the physical characteristics of your pool water. Pool covers may prevent debris, animals, animal droppings, and insects from going in. Despite this pool equipment, your pool may turn dirty, smelly, and unsafe to swim.
Why do you need pool chemicals in the first place? Pool chemicals help to keep pools safe, ensuring a healthy environment for swimming. Without pool chemicals, the chemical safety of the pool water won't be taken care of.
If you have no prior idea about how to balance pool chemicals, this article is recommended for you. Even if you are knowledgeable about this subject, you shouldn't leave yet as you may likely gain something. Let's start learning!
Why You Should Balance Your Pool Chemicals: 4 Important Reasons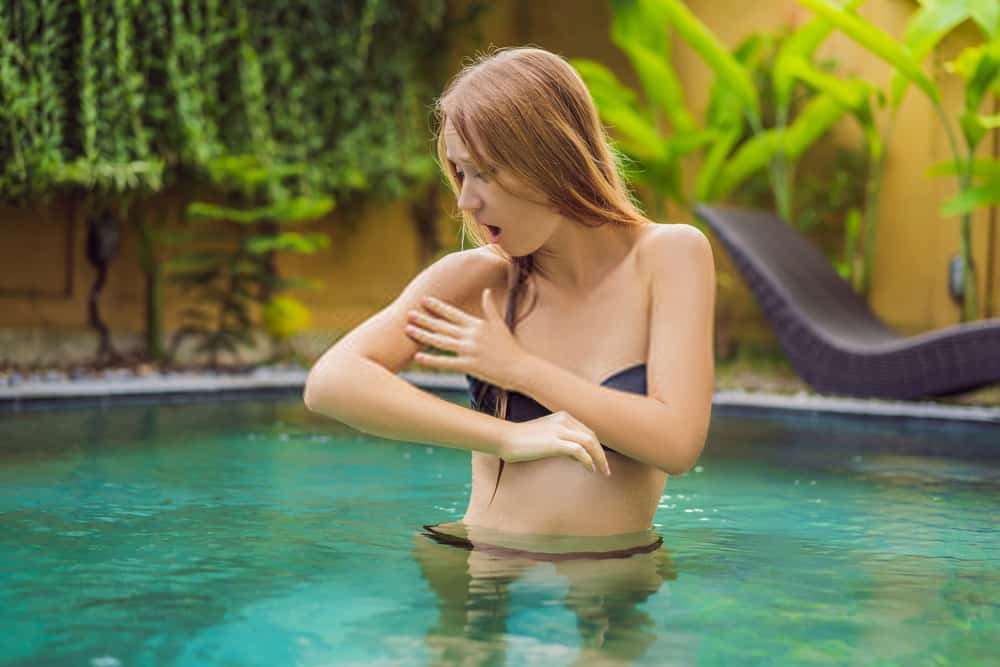 You cannot keep draining your pool every time, and this is where pool chemicals come to help. Therefore, your priority as a pool owner/manager should be having balanced pool water. Here are some reasons why you should balance your pool chemicals.
1. Protects Users From Infections
The essence of using chemicals to manage a pool is to keep the microorganisms at the barest minimum. If it isn't balanced, microbes will buildup. Several organisms (e.g., bacteria) are deposited every day into pools, even if it's an indoor type.
The buildup of these microorganisms can cause a lot of infections to swimmers. Balancing pool chemicals help to eliminate these disease-causing organisms. Once that's settled, you can rest assured that your pool users are safe.
See Also: How to Protect Your Hair From Chlorine
2. No Harsh Chemical Effects on Users
When pool chemicals are excessive in your pool water, it may cause adverse effects on users. Your pool users may experience dry skin, eye irritation, hair damage, and itching.
Those with sensitive skin may experience severe skin irritation or rashes. When your pool chemicals are balanced, the odds of these undesired experiences happening are diminished.
3. Excellent Pool Visibility
Algae are known for terribly disrupting pool water. Courtesy of algae, you might wake up one day and discover a nasty coloration of your pool water.
Apart from algae, your pool can become turbid due to the excessive concentration of some minerals. Balanced pool chemicals help to ensure maximum pool visibility.
4. Your Pool and Its Equipment Are Safe
Pool pumps and filters are often affected by unbalanced pool water. When particles and microorganisms are excessive in the pool, they accumulate in the pipe systems, filters, and pumps. It can create pressure on them and possibly damage the equipment.
The walls of the pool can become stained therefore reducing the aesthetics of the pool. It might also take a serious cleaning session to remove those stains. When your pool chemicals are balanced, you should not experience these issues.
What You Need to Check in Your Pool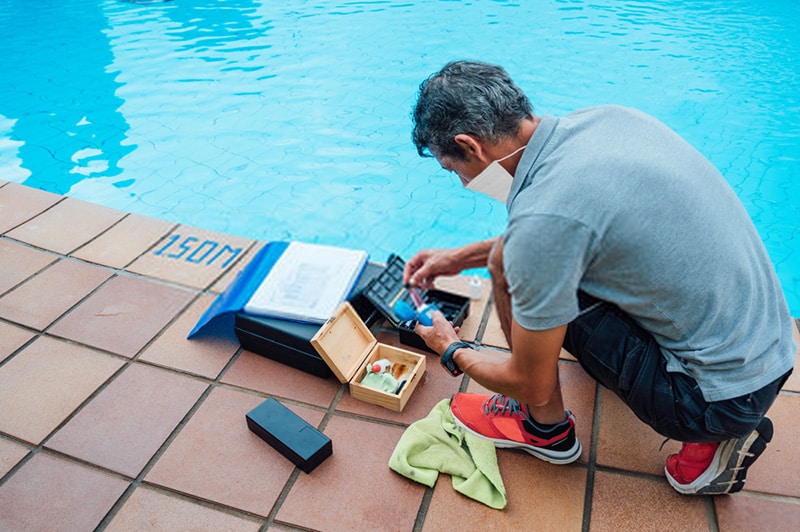 Knowing what to check in your pool is the primary thing to do, especially if it's your first time. This will help you gather the necessary pool chemical test kits, monitor the changes in your pool water, and identify the next line of action.
For this reason, we have compiled the critical factors that affect pool water balance. I explained them carefully for your understanding.
1. Total Alkalinity (TA)
The total alkalinity of your pool is the most crucial factor to balance. The TA of your pool is the total amount of alkaline substance in your pool water. You should test for alkalinity before you do any other test.
Your pool's total alkalinity will impact the pH balance of your pool. Hence, once your pool's TA is kept in check, pH will be easier to control. The ideal TA range is 80 to 120ppm.
2. pH
The pH of your pool water refers to its level of acidity or basicity. Generally, pH ranges from 1.0 to 14.0, where 7.0 is considered the neutral point. Any reading below 7.0 is said to be acidic, and values above 7.0 are basic.
Leaves, dirt, animal droppings, or rain can affect the pH balance of your pool. Therefore, it is compulsory to maintain a balanced pH level to avoid damaging your pool or hurting swimmers. The ideal pH range for your pool is between 7.4 and 7.6.
3. Calcium Hardness
Calcium often builds up in pools as well. It determines the level of hardness in the pool water. When calcium is too low, water hardness becomes excessive. Consequently, you may discover scaling or corrosion on the pool wall or equipment.
Conversely, if it is too high, your pool may become cloudy or turbid. The optimum range of calcium hardness starts from 175 to 300 parts per million. It is important to know that high pH can cause too much calcium hardness.
4. Microbial Load
The microbial load of your pool refers to the number of microorganisms in your pool. Several microorganisms can invade your pool. Microorganisms such as Salmonella, E. coli., and Campylobacter can enter your pool water.
There are several kits that can test for the presence of microbes. However, microorganisms will remain in check if sanitizers (such as Chlorine) are used. Blackish colors in the pool water can signify the presence of algae.
5. Cyanuric Acid (CYA) Content
Chlorine is very reactive, and it burns away rapidly, especially under sunlight. To avoid such, Cyanuric acid (CYA) is often added to Chlorine to protect it.
However, when CYA is too much, the effectiveness of Chlorine is reduced. Chlorine may disappear faster if CYA is too low, and you will have to spend more on Chlorine. The ideal range for CYA is between 30 and 50 parts per million.
6. Total Dissolved Solids
The total dissolved solids (TDS) in pool water is the amount of substance dissolved in it. Several things can dissolve in your pool water, and this may include salts, chemicals, dirt, contaminates, etc. The recommended level of TDS ranges from 1000 to 2000.
Common Pool Chemicals Used in Pool Management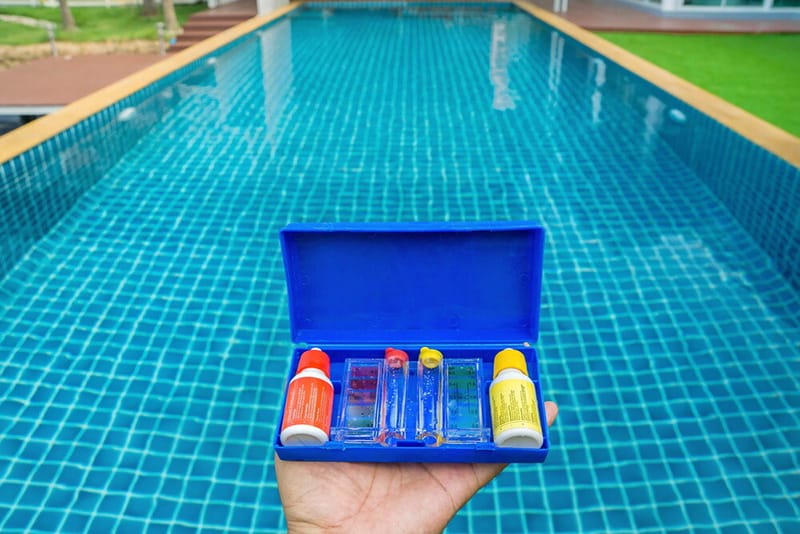 There are many pool chemicals used in pool management, all of which come with different brand names. I will be discussing a few important ones.
1. Chlorine
The most used pool chemical is Chlorine. Many pool owners use Chlorine as a sanitizer, and it may be due to its effectiveness. Chlorine sanitizes pool water by oxidizing the molecules of contaminants. It can eliminate viruses, bacteria, and algae.
The ideal level of Chlorine in pools should be 3ppm. Chlorine comes in different forms for practical application.
Granules – They are applied into the pool directly. They dissolve faster, and their effect is almost instant. However, it may not be distributed evenly in water, and it may affect your pool liner. The way around this is to circulate your pool water.
Tablets – They are applied through chlorine dispensers, automated chlorinators, or skimmer baskets. There are two standard sizes – 1-inch and 3-inch.
See Also: Top 10 Best Pool Chlorine Tablets
2. Bromine
Bromine is similar to Chlorine, but its odor is less offensive. It is milder on the skin and hair. If you have a small pool, this is ideal. However, it is more expensive. The recommended level of Bromine in a pool is 3 to 5 parts per million.
3. Algaecide
Algae can be so stubborn, and it requires proper attention. When your pool water is balanced, you should not have issues with algae. Nevertheless, you can use an algaecide to prevent algae from occupying your pool.
4. Minerals or Metal Sequestrant
Some minerals are also used to sanitize pool water. The common ones are silver and copper. Silver helps to inhibit bacterial growth, while copper reduces the presence of algae.
Balancing Your Pool Chemicals: 9 Important Steps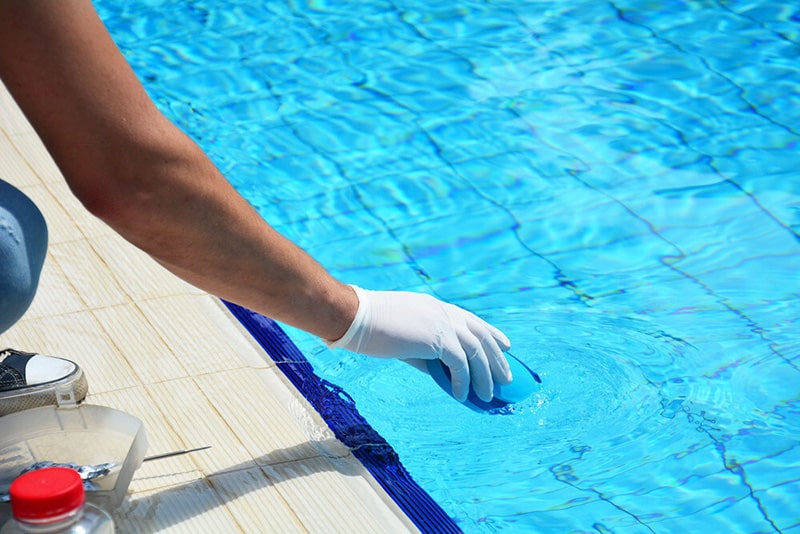 Now you know the things to check in your pool water and how they affect chemical balance. The next step is learning how to balance pool chemicals.
Before adding any chemicals to your pool water, make sure the pool pump is switched on so the chemicals will circulate in the pool. Below are the seven important steps.
1. Gathering Your Supplies
To balance your pool chemicals, you need to acquire the best supplies available. The primary things you need are the test kits, test strips, and chemicals to adjust your pool water.
There are many pool water test kits available, with the Poolmaster 22260 5-way Kit and the Taylor K-1776 Kit being the best ones. For electronic test kits, you may consider the LaMotte ColorQ Pro 11 Digital Kit.
All these kits have different application and reagent methods, but their usage principles are closely related. For accurate results, ensure that you take water samples about 15 inches below the water surface.
Whatever corrections you need to make, start with lower quantities/concentrations. It is also essential to know that temperature affects pool chemicals' efficiency, and you might need more at lower temperatures.
For better understanding, it is best to refer to the user guide or instruction manual. However, I have included video links to the three kits I mentioned above.
2. Adjusting Chlorine Levels
Testing the Chlorine levels first can help you achieve good testing results. You need to determine the quantity of free and residual Chlorine. Free Chlorine is the amount of unused Chlorine in the water, while residual Chlorine is the unused Chlorine in water.
Most test kits come with procedures to test free and residual Chlorine. The recommended level of free Chlorine is 2 to 3ppm. For residual Chlorine, the recommended value is between 7.3 to 7.5ppm.
3. Correcting Your Pool's Alkalinity
You can test your pool's total alkalinity (TA) using a test strip or chemical test kit. To use the test strip, you need to partially open your pool and dip the strip halfway with a clean, dry hand for 15 seconds. The color change should be noted and compared with the color codes.
The TA chemical test kits are more reliable but expensive. For effectiveness, you need to collect the pool water sample. All you need to do is mix the reagents thoroughly and according to the manufacturer's guidelines.
In the end, it all comes down to the number of drops of the acid reagent added. The number of drops added multiplied by 10 is your pool's TA in parts per million (ppm). The recommended TA range starts from 80 to 120 ppm.
Adjusting your pool to the recommended range depends on pH and cyanuric acid (CYA) levels. To increase TA, you need to add more alkaline materials. If CYA is low, add more, but you can add soda ash if pH is low.
To raise TA without disturbing the pH and CYA levels, baking solder should do. If you want to reduce TA, add sodium bisulfate or muriatic acid. You can recheck some minutes after the application to confirm any changes. Once TA is set, you can now correct the pH level.
4. Balancing Your Pool's pH
To determine your pool's pH, you can use a pH test strip. Partially submerge the test strip for about 30 seconds. Note the color change and compare it with the color chart. Newer test strips are more efficient.
You may also use electronic pH testers. Chemical test kits are reliable if done according to the manufacturer's instructions. By following the color chart, you can determine if your pool is acidic or basic.
To raise the pH level, add sodium carbonate (soda ash). If the pH levels are high, you can use sodium bisulfate or muriatic acid instead.
5. Adjusting Calcium Hardness
When you notice the presence of scales and stains, the calcium content is low. Conversely, if the water appears turbid, the calcium content is high. It is easier to adjust the calcium hardness of your pool water.
To adjust your pool's calcium hardness, add some quantity of calcium chloride. Be careful to follow all the instructions on its label. To decrease calcium hardness, you might need to drain your pool partially and add fresh water.
Another option is to use flocculants to coagulate the excess calcium. Afterward, you can collect this extra calcium using a pool vacuum.
6. Eliminating Microorganisms
Microorganisms can alter the balance of your pool; therefore, sanitizers are essential. Chlorine is a common and useful option. Nevertheless, you can use Bromine, especially if you have a small pool or spa.
Naturally, Chlorine (or Bromine) can help you keep algae in check using an algaecide. You may also shock your pool water once in a while to control microorganisms.
7. Balancing Cyanuric Acid
The cyanuric acid level is generally stable. However, some factors (e.g., rain) can disrupt the balance. Test strips are sufficient to check CYA levels in your pool water.
If CYA is lower than the recommended minimum (30ppm), you only need to add more via pool shocks. However, the only way to reduce its quantity is by diluting the pool water with fresh water. In extreme cases, you may have to empty the pool.
8. Correcting Total Dissolved Solids and Excessive Metals
The total dissolved solids can contribute to the cloudiness of your pool. You can use a clarifier or flocculant. Unlike flocculants, which have long-lasting effects, clarifiers are faster but temporal. If you are looking to clear your pool for unexpected guests, clarifiers are suitable.
Some metals such as copper and iron can also affect your pool water. You can identify them when you notice rust color or green stains in your pool. A good metal sequestrant can manage the situation for you.
9. Shocking Your Pool Water
Shocking is a fast way to refresh your pool water but ensure that the pH levels are balanced before application. To shock your pool, fill up a 5-gallon bucket with water (warm) and pour in a pound of pool shock while mixing slowly. Stir till it dissolves entirely, then pour it around the pool.
Keep Reading: How Long After Shocking Your Pool Can You Swim
FAQs
Do you need clarifications on some subjects? Let's take a look at a few frequently asked questions I answered below for more knowledge.
Are Pool Chemicals Necessary?
Yes! Pool chemicals are there to keep your pool healthy and safe. You don't want to swim and catch terrible infections.
How Often Should You Check for Pool Balance?
Ideally, chlorine levels and pH tests should be done at least twice every week. You can check for calcium hardness, total dissolved solids, and cyanuric acid every month. Some factors may change this routine anyway, such as rain, having pool parties, etc.
Does Temperature Affect the Balance of Pool Chemicals?
Yes, it does! In chemistry, temperature affects chemical reactions. Higher temperatures make chemicals more effective, and you might need to apply fewer quantities. At lower temperatures, chemicals are less active. Also, microorganisms love warm water, and this can diminish the amount of Chlorine quickly.
Conclusion
As a pool owner or manager, you also need to focus on your pool balance. Knowing how to balance pool chemicals will go a long way in ensuring your pool users' safety. Also, it can protect your pool and related equipment.
Balancing your pool water chemically goes beyond just pouring in pool chemicals. A little too much might be harsh on users, while less may turn your pool into a terrible sight. Everything just needs to be balanced.
Now you know how to balance pool chemicals and other vital tips when it comes to pool chemicals. You need to develop a good routine and take proper records for better results.
Do you find any aspect confusing or have other questions related to pool chemicals and management? Do you have comments or suggestions as well? I will appreciate it if you leave them in the comment section for me.
You can help a friend, family, or pool manager learn how to balance pool chemicals. All you have to do is share this article with them by clicking on the social buttons on my page.
Swim Safe!