Are you looking for compelling reasons why you should wear a swim cap? Then you are just at the right place. Swim caps are an essential accessory to have in your swim bag as a swimmer, especially if you have long hair.
If you've ever heard of the swimmer's hair, your perception about swim caps may probably change. Beyond aesthetics, swim caps offer protection to your hair and influence your performance.
In this article, you will learn why you should wear a swim cap and the benefits associated with it. For a start, you should know what a swim cap is and the different types available.
What Is a Swim Cap?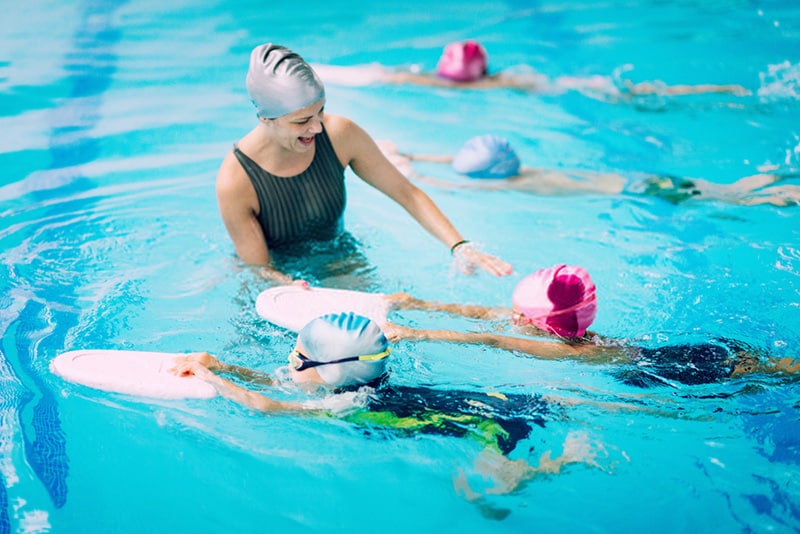 A swim cap is a swimming accessory worn on a swimmer's head, particularly when they have hair. They are made from different materials, but, in most cases, they are non-absorbent and elastic.
What Are the Different Types of Swim Caps?
Are you confused about what type of swim cap to go for? Not many differences between swim caps save for the colors, size, and build materials. While you may have a favorite color option, you might seem unsure of which build material to consider.
The only significant distinction between swim caps that is mostly discussed is their build material. Therefore, if you want a particular function or performance from a swim cap, you mustn't neglect its build material.
There are five different types of swim caps available, and they are listed and discussed below. Their pros and cons are discussed as well, with a likely price range to expect. This way, you can make the right choice and save time.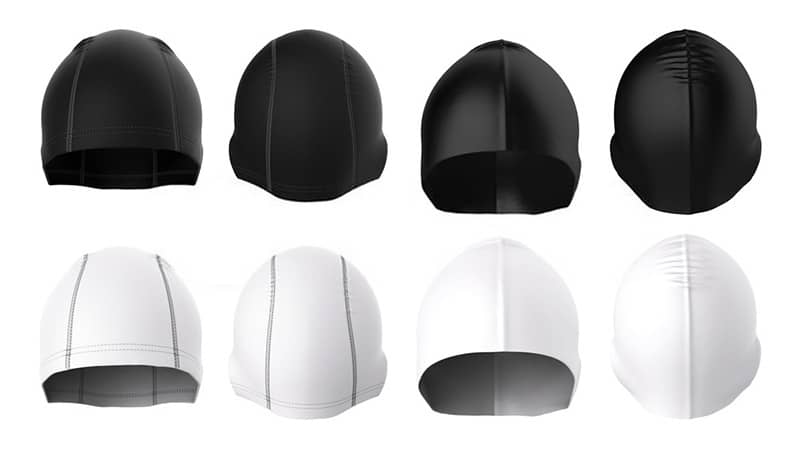 1. Silicone
They are the most popular type of swim caps available in the market. They are easily identified by their bright, attractive colors (available in many options). Of course, they are made from silicone.
Due to their build material, they are durable, lasting longer than other types. They have even edges, gentle on the hair, and easy to wear or take off. Also, they are smooth in texture hence exhibit minimal drag in the water.
Most swimmers desire it for competition and training, with its price ranging from 5 to 8 dollars. They are ideal for those allergic to latex. However, these caps may come off anytime due to their smooth texture.
2. Lycra
These swim caps are made from Lycra fabric; hence they offer the best comfort than any other type. It can feel so comfy, like your swimsuit. They won't pull your hair or scalp and can be easy to wear and remove.
I do not advise these caps for competitive swimming since they can cause drag and reduce your speed. They also don't offer enough protection like other types of swim caps due to their pores.
Aesthetically, they are impressive, and their price ranges averagely between five and ten dollars.
3. Latex
These swim caps, made from latex/rubber, are another fantastic choice for competitions and training or fitness sessions. They are thinner, snug-fitting, and more breathable than silicone swim caps.
They are durable, though not as much as silicone options, and creases are less existent. However, they may be challenging to wear or take off. They may rip under intense use after a few months.
While wearing them, they may irritate your hairline, pulling hairs on your neck and forehead. You shouldn't consider them if you are allergic to latex. They are cheap and mostly priced between one and five dollars.
4. Neoprene
This type of swim cap is made from material used for wetsuits; somehow, you must be familiar with it. Just like wetsuits, they are made for swimming in cold water. It is also ideal for open water swimming.
They are more expensive than the previously discussed swim caps, selling between 20 and 50 dollars. Neoprene swim caps are thick and also come with seams. It would help if you dried properly after swimming to prevent foul smells.
5. Fun
Fun swim caps are not based on the build materials per se. I've included them here due to their difference from other swim caps. They are known for their unusual designs, which include bubbles, fins, flowers, and more.
The manufacturers are focused on aesthetics and fun; therefore, you should consider them for recreational purposes. They are poorly hydrodynamic and may not last long due to pool chemicals. They are averagely priced between five and twenty dollars.
Why You Should Wear a Swim Cap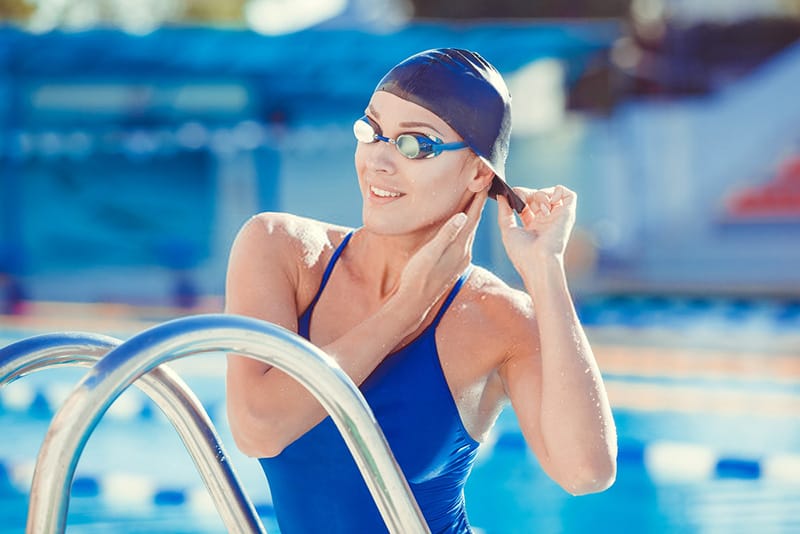 Swim caps are quite an essential swimming gear to have in your swim bag. Although swim caps may look aesthetically pleasing, they are not just for fashion alone. In fact, their primary function isn't for fashion at all.
Like other swimming accessories, swim caps are designed to perform some functions. And it's not bad if you don't know them all. Therefore, if you need why you should wear a swim cap, you should see some important reasons below.
1. Protects Your Hair From Pool Chlorine
Pool chemicals help to eliminate microorganisms and algae from the pool water, making it safe to use. While pool managers appreciate the benefits of these chemicals, their side effects are felt by the pool users.
Even when applied in the right proportions, these chemicals are known for damaging hair quality. Within a short time without using a swim cap, your healthy, lustrous hair can become dull and unattractive.
Some swimmers even end up with thick, tough, and greenish hair, which can be quite frustrating. This circumstance is called the swimmer's hair. In addition to using swimmers' shampoos, a good swim cap can prevent such awkward scenarios.
Please note that swim caps won't absolutely keep your hair dry, but it is far better than not having one. Although most swim caps offer protection from the sun, latex and silicone caps provide the best protection.
See Also: How to Protect Your Hair From Chlorine?
2. Keeps Your Hair Out of the Pool Water
Public pools with many users can be fun and sometimes frustrating. It can be more unpleasant if you have to catch someone's hair on your face, your swimming goggles, or other gear. Also, it means more tasks for pool filters.
In fact, hair can build up and form a hairball in the pool water, moving around in the pool. Just like you don't like such situations, it is best to use a swim cap.
To avoid this, all you have to do is pack your hair and wear a swim cap. Hence, you must know how to wear a swim cap properly.
3. Keeps Your Hair From Distracting You
Also, swim caps are beneficial if you have long hair. You'll agree with me that wet hair tends to hang down on the face. When in the water as well, your hair can move randomly and enter your face.
It can be frustrating when your hair enters your face, trickles your ears, and blocks your vision. It can also disturb your strokes and movement. Packing your hair properly and wearing a swim cap can save you this avoidable stress.
4. Makes It Easy to Spot You
When swimming with swim caps during competitions, you get the same support you get before hopping into the pool. Swim caps come in bright colors that make it easy to spot you in water by fans and friends.
If you are using a crowded pool, swim caps will help them see you properly. Also, if you are a fan of open water, I recommend that you go for bright-colored swim caps.
Your best bet is the red, green, or brown ones which are quite distinct from the background. It will help fans, other swimmers, lifeguards, and boats sight you from a distance. Also, in case of emergencies, you can get help quickly.
5. Helps You Swim Faster
Besides protecting your hair, a swim cap can help you swim faster. You do not have to be distracted by hair blocking your vision. Also, you are not worried that the pool chemicals will damage your hair.
Every swimming perfect stroke requires a streamlined body position regardless of whether you are turning your neck. Hydrodynamics is an essential factor to consider when swimming, particularly if you have long hair.
Apart from distracting you, your hair can constitute drag to slow you down while swimming. Swim caps commonly come in a dome shape that increases your hydrodynamics.
They are more effective if there are no wrinkles or protruding features. It is important to ensure that you are wearing the right size to keep it from sliding off.
6. Keeps You Warm in Open Water
Regardless of whether you have long hair, swim caps are mandatory if you want to swim in cold water. They increase the insulative properties of your swimsuit by preventing heat loss through the head.
Therefore, when focusing on getting a quality swimsuit or wetsuit, you should devote the same attention to swim caps. For insulative functions, neoprene swim caps are the best, available in various thicknesses for different temperatures.
See Also: Open Water Swimming Gear
7. Offers Ear Protection
Swim caps can offer ear protection since they also cover your ears while packing in your hair. This can also be advantageous if you are using earplugs and waterproof headsets, keeping them in place.
FAQs
Do you have any questions about swim caps, particularly why you should wear a swim cap? If yes, I have researched and compiled some questions regarding the subject below from the internet. All questions have been briefly answered below.
Is It Bad to Swim Without a Cap?
While it is not very important to swim without a cap, I still recommend it for swimmers. You should not be found without one if you have long hair. Notwithstanding, it is your choice to decide if you want one.
The advantages of using a swim cap, as discussed above, should prompt you into buying one. However, it would be best if you considered your preferences. Silicone caps will be good for competitive swimming, latex caps for budget swimmers.
Neoprene caps are suitable for open water swimming to keep you warm. Children and teenagers will appreciate colorful fun caps.
Why Do Swimmers Wear Two Caps?
Yes, it is true that swimmers wear two swim caps. This is quite common with Olympic swimmers, and there is a specific reason. Everybody wants to win a medal, and speed is an essential criterion.
Therefore, wearing two caps helps the swimmer increase their speed by eliminating drag. It helps cover the straps of their swimming goggles (to reduce resistance) while keeping them as hydrodynamic as possible.
Can Swim Caps Cause Hair Loss?
Hmm. This is quite tricky. Recall that swim caps help to keep the hair from chemical damage. It is also known that these chemicals cause extensive drying, causing the hair to look dull.
However, swim caps may also cause hair loss, particularly to the extremes of the hair. This happens if the cap is too tight. It may also occur in the process of wearing or taking off your swim cap.
Conclusion
If you came here seeking answers to why you should wear a swim cap, you should have some by now. Swim caps play an important role in protecting your hair and enhancing your performance as a swimmer.
Furthermore, they offer insulative functions in cold conditions and may also serve aesthetic purposes. There are many swim caps available on the market. Therefore, your preferences, when laid out, will shape the type of swim cap to go for.
It will be best to help other swimmers learn why they should wear a swim cap. This you can do by sharing this informative article with your friends and family. Kindly use the social media links on the page.
It's okay if you have some comments, suggestions, or questions to share. They are welcomed, and I will appreciate it if you forward them to me through the comment section on this page.