Every swimmer, particularly those with long hair, is expected to know how to put on a swim cap perfectly. The reasons you need to wear swim caps are many, which include hair protection and aiding your performance.
You'll only enjoy the perks associated with your swim caps if you wear them correctly. If your cap makes no difference, it's mostly due to how you wore it. Furthermore, it may slip off or leak badly.
Swimming accessories are geared to provide comfort, aid performance, enhance your swimming experience, or all. So, you're at the right place to learn how to put on a swim cap.
5 Things to Consider When Getting a Suitable Swim Cap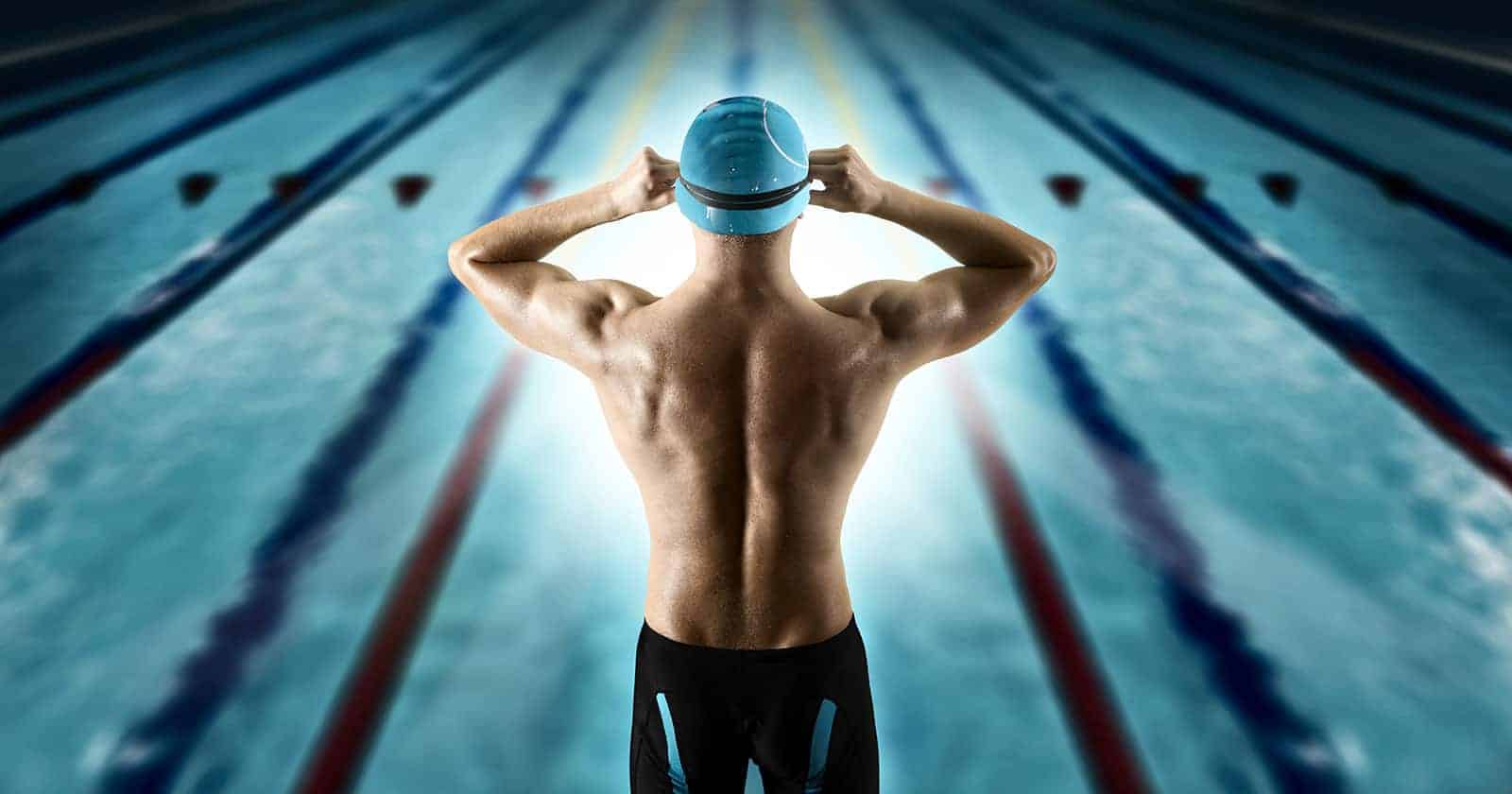 Your priority is getting a suitable swim cap; else, you won't be satisfied at all. There are several swim caps in the market with different designs, sizes, and build materials. Below are some key things to consider when purchasing your swim cap.
1. Function
Before making a decision, you are expected to decide what you intend to use the swim cap for. If you are going for open water swimming, you should consider swim caps with high insulation, e.g., neoprene caps.
If you are racing, your priority is speed; therefore, you might want to consider a latex or silicone swim cap. You may also use them for practice. For recreation, less elastic caps like the neoprene and Lycra swim caps are ideal.
2. Hair Length
Before buying a swim cap, you need to consider the length of your hair. You may not worry yourself if you are bald or have short hair. For those with long hair, this criterion is very important.
A big swim cap that can cover the ears is suitable for swimmers with long hair. This way, you can tuck your hair in properly to protect it. It also ensures that it stays without slipping off your head.
3. Swimming Environment
Your swimming environment can determine the type of swim cap to go for. The essential attribute to check in such an environment is the temperature. You want to remain as warm as possible.
Although silicone swim caps are thick, neoprene swim caps offer the best possible insulation in cold conditions. You may worry less if the condition is warm or tolerable.
4. Aesthetics
There's nothing as pleasing as wearing a comfy and attractive swim cap. There are several colors available; bright colors that are easy to spot from a reasonable distance. You can decide to match with your swimsuit.
It's not bad to choose your favorite colors. Some swim caps even come with bubbles, fins, and other similar features. Notwithstanding, this isn't a really serious criterion, and it should not supersede other criteria.
5. Allergies
Some swimmers are allergic to some materials used in manufacturing swim caps, e.g., latex. Thankfully, swim caps are available in different build materials. If you are allergic to latex, it is advisable to buy silicone swim caps.
See Also: Why You Should Wear a Swim Cap
6 Easy Steps to Take When Putting on a Swim Cap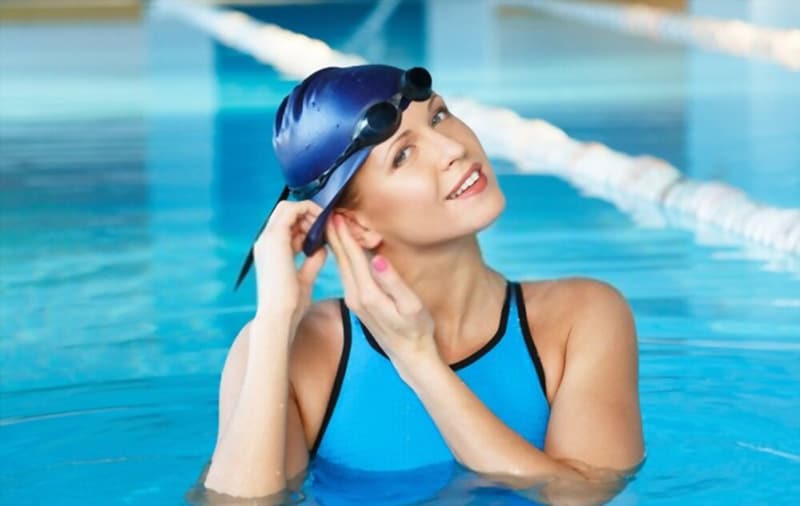 Putting on swim caps isn't complicated, but you can do it incorrectly such that it leaks terribly or slips off easily. In more annoying circumstances, you may rip it apart or ruffle your hair to get it on.
I recommend the following steps if you are finding it difficult to put on your swim cap. If you are scared, these steps will help you understand better without damaging the swim cap.
1. Tie Back or Pack Your Hair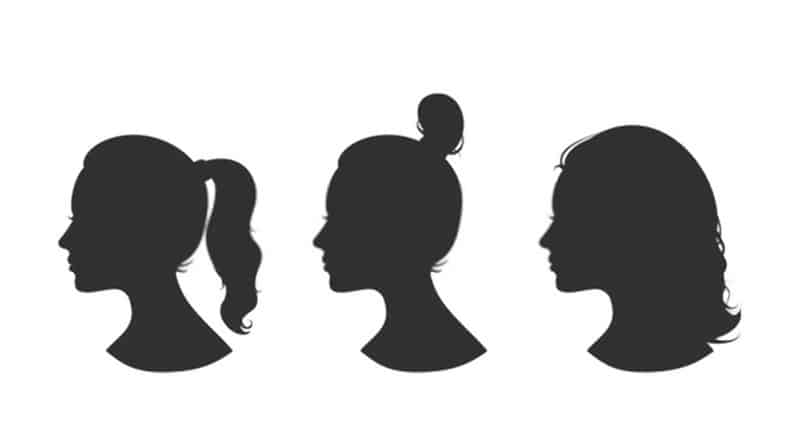 Swim caps are mostly elastic hence they often come in a universal shape. The elasticity helps to hold the cap in place, and the function is performed by bands/seams in non-elastic caps.
There's less space in the swim cap and, if your hair is long, you need to keep your hair packed to fit into it. Packing it wrongly can make it difficult to stay in place or fit in.
Also, you need to pack your hair securely. The bun and ponytail styles are recommended as it keeps your hair neat and allows the cap to hold firm. Tying your hair higher can complement when the cap pulls it down.
2. Wet Your Hair Before Wearing the Cap
Wetting your hair prior to wearing the swim cap has some benefits. You need to know that swim caps may not provide 100% protection from pool water. But it can significantly lower leak and, ultimately, the effect of pool chemicals.
Remember how glossy the hair looks after a shower or how easy it is to comb wet hair? For this reason, it is easy to wear swim caps over damp hair. There is enough moisture to make it slide quickly.
Additionally, you can also apply a leave-in conditioner instead to facilitate easy slip on. Interestingly, that will help you maintain your hair's shine and protect it from pool chemicals.
3. Gently Open Your Swim Cap
Carefully open the cap with both hands. Position the cap correctly in your hands like it should be worn. Identify the front and the back either by checking the logo or shape of the swim cap.
You may wet the inside of the cap to make it easier to wear. However, you should be careful, or you may find it difficult to wear especially elastic caps.
4. Putting the Swimming Cap on Your Head
Now you have packed your hair, carefully expand the swim cap to accommodate your head. Bend your neck to push your head forward and pull the cap over your head.
The front tip of the cap should stay in the middle of your forehead. If you are using a pair of swimming goggles, there should be enough space to place them. Then pull the other end of the cap downwards to cover your head.
5. Adjust and Reposition the Swim Cap
Once the swim cap stays on your head, the next thing is to position it correctly. Look for stray hairs and carefully tuck them into the swim cap. Ensure that the swim cap sits between your eyebrows and hairline, i.e., your forehead.
The swim cap should allow you to put on your swimming goggles comfortably and without leaking. You can reposition your swim cap to cover your ears and earplugs if you want.
However, covering your ears allows better hydrodynamics but more discomfort after prolonged swimming. Also, smoothen out creases to the barest minimum.
6. Seek Someone's Help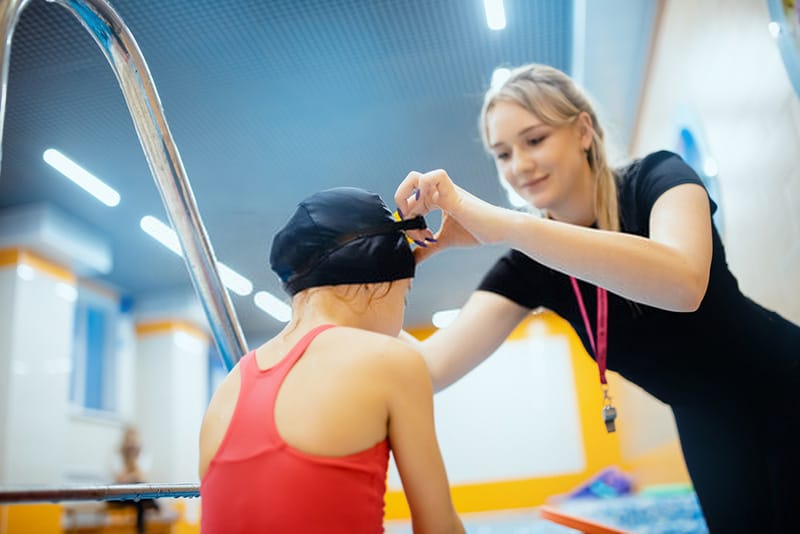 It is possible to have issues putting your swim cap on. In the meantime, you can seek someone's assistance. You just have them read the previous steps while you learn along the line.
For more understanding of how to put on a swim cap, kindly see the video below.
5 Tips to Consider When Wearing a Swim Cap
Swim caps work best when you wear them correctly. However, you also need to note some tips when wearing them. Below are some important ones.
Do not plunge your fingernails into your swim cap to stretch it. You should never do this, particularly to elastic swim caps. You could mistakenly create a hole in it, which can damage it eventually.
Latex is known to cause allergic reactions in some individuals. Therefore, if you have such allergies, you should avoid latex swim caps. Also, be careful to inspect every cap before wearing them.
You should not attempt to wear punctured caps even with tiny holes. Except you have no other choice, such swim caps should be worn with care. That little hole you see can cause the cap to rip apart.
You can extend the useful life of your swim cap by washing, rinsing, and airdrying properly after use. It inhibits the growth of mold and bacteria. Alternatively, you can use baby powder to keep it dry and also benefit from the pleasant fragrance.
You need to be aware that silicone caps are much stronger and thicker than latex caps. Therefore, you want to take proper care of your latex swim caps to extend their lifetime.
FAQs
Do you have any questions on how to put on a swim cap correctly and effortlessly? If yes, I have explored and gathered some common questions related to this subject from around the internet. I have duly and briefly answered them below; take a look.
Do I Put My Goggles on Before or After I Put On the Swim Cap?
Well, there are different answers to this, indicating that it may be based on personal choice. Some swimmers love to put on their swimming goggles first, which may seem awkward to other people.
Putting your swimming goggles first can damage the swim cap, especially if it is an elastic swim cap. However, when you wear your swim cap first (quite common), it is easy to take off your swimming goggles. Also, adjusting your goggles becomes easier.
Interestingly, some swimmers even use two swim caps during the Olympics. They wear their swimming goggles over the base cap. That is done in a bid to ensure optimum hydrodynamics.
How Do I Take a Swim Cap off Without Messing up My Hair?
There isn't a sure way to take off your swim cap without messing your hair up. However, you can reduce the chances of such happening. You can do this by keeping your hair tidy and packing it before wearing the swim cap.
The bun and ponytail styles are the most recommended. Carefully tie your hair up and pull on the cap. After swimming, rinsing/washing your hair is advisable to eliminate effects of leaked-in pool water.
Should I Cover My Ears?
The choice is yours to make, but you should consider some factors. In competitions, you need to stay as hydrodynamic as possible.
Therefore, covering your ears will reduce drag caused by your ears, but comfort levels may be lower. But if you are practicing or exercising, you may decide to keep them out.
Conclusion
Swim caps are beyond aesthetics, protecting your hair and allowing concentration. Wearing a swim cap can be challenging, especially to you as a beginner. With further practice using the steps discussed above, you should be able to catch up quickly.
Your priority should be getting your most desired swim cap in order to build satisfaction. Wetting your hair or applying put-in hair conditioners can save you time as well. Also, be careful not to poke your fingernails.
It will be a nice gesture to help other swimmers learn how to put on their swim caps. You can do this by sharing this informative write-up with your friends and family. Kindly click on the corresponding social media link on the page.
Your comments and suggestions can go a long way to help other swimmers. Similarly, your questions are welcomed. All you have to do is send them to me via the comment section below.