How many calories does swimming burn? This question is not out of place for someone looking to cut down body calories, especially when deciding which activity to go for.
Swimming is not only an excellent activity for recreation and competition. It is one of the best workouts for those looking to shed excess body weight and tone muscles. You can go swimming instead of cycling or jogging.
However, knowing how many calories can be burned while swimming per time is critical. This article aims to convince you to opt for swimming by discussing the metabolic rate of swimming. Let's proceed.
Things to Note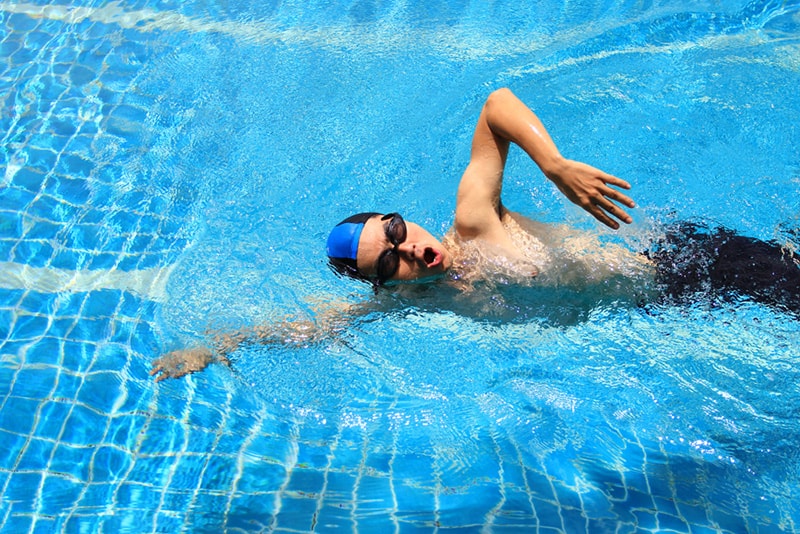 The metabolic equivalent of task (MET) is a measure of expended energy to the mass of an individual during physical activity. MET is the unit for calculating the rough number of calories burned or the rate of metabolism.
The body burns one MET while at rest. This is approximately one calorie per kilogram of your body weight in an hour.
While swimming, your body burns roughly 3.5 MET (about 223 calories per hour) with less intensity. About 8.3 MET (528 calories per hour) can be lost at moderate intensity. The body can burn 13.8 MET (878 calories per hour) under vigorous swimming.
Relating the values with other activities, jogging will consume about 7 MET (477 calories per hour). In comparison, cycling will burn roughly 7.5 MET (477 calories per hour).
Although these seem like actual values, the metabolic rate (calorie consumption) can vary based on different factors. As you read through the article, you will understand these factors and some essential tips to fashion your swimming regimen.
4 Key Factors That Influence Your Rate of Metabolism While Swimming
If you are trying to figure out how to shed weight, you need to be aware of some factors that can affect your rate of metabolism. These factors are discussed below.
1. Your Body Weight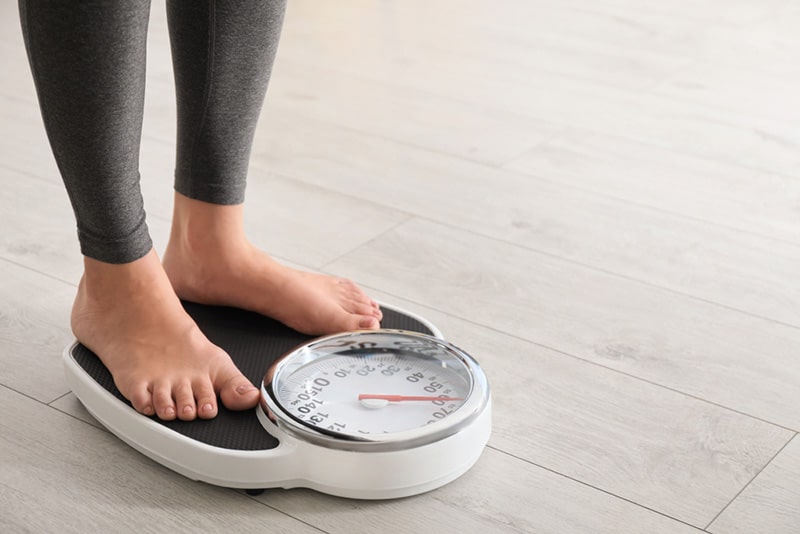 Your body weight determines how many calories you will burn before the end of your workout session. A swimmer who weighs more will definitely burn more calories than a swimmer who has less weight.
The heavier your body weight, the larger your surface area in the water. Hence, more energy will be expended to swim through the resistance of water. As you continuously swim in the water, you burn more calories.
2. Your Strokes
There are four different swimming strokes. Except you are merely lying on the water, your preferred stroke is another contributing factor that affects the number of calories burned while swimming.
Each stroke engages different muscles that expended energy. Due to the nature of the stroke, they burn different amounts of calories per interval. Therefore, you may burn more calories with one stroke than another.
Trying out different strokes will add up to a significant loss of calories. The following is a list of the approximate amount of calories burned by a 140-pound swimmer with each swimming stroke.
Butterfly stroke: The butterfly stroke seems to be the most complex stroke among other strokes. Therefore, it ranks high as the best stroke for burning more calories. You can burn up to 13.8 MET (approximately 878 calories) in an hour.
Front crawl or freestyle stroke: A swimmer can burn as high as 5.8 MET (369 calories) to 9.8 (623 calories) in one hour. Most swimmers, especially beginners, prefer this stroke because of its simplicity.
Breaststroke: This stroke burns off 5.3 MET (337 calories) in an hour.
Backstroke will burn 4.8 MET (305 calories) in one hour.
Treading water with light effort will burn 3.5 MET in an hour (approximately 223 calories).
You can also use this tool to calculate the calories burned while swimming.
3. Your Speed and Intensity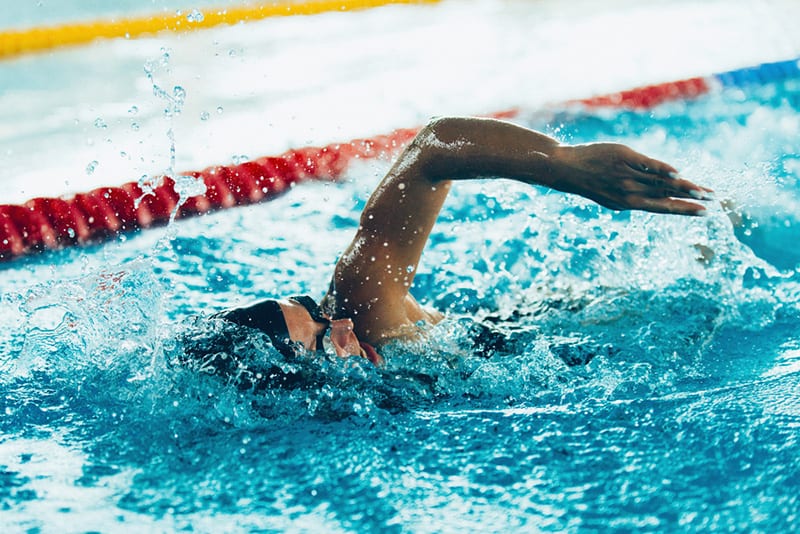 Your speed and intensity also determine how many calories your body will burn while swimming. Generally, the higher your speed and intensity, the higher the calories your body will burn off.
For instance, a recreational swimmer who swims for fun may burn about 272 calories per hour as less intensity is needed. On the other hand, a competitive swimmer will burn roughly 680 calories per hour.
You can increase your drag in the water by incorporating some swimming accessories such as swim chutes, paddles, and kickboards. This way, you can boost your metabolic rate while swimming to burn even more calories.
4. Your Laps and Duration
Another critical determinant of the total number of calories burned while swimming is your total lap count and duration. You are likely to burn many calories if you spend more time swimming and covering more laps.
A swimmer who weighs 120 pounds will burn 218 calories over a distance of 4500 feet. With the same distance, another swimmer of 150 pounds will expend about 272 calories.
This shows how calories can be quickly burned in the early stage of your workouts which is quite promising. It doesn't mean you should relent or stop swimming afterward. Hence, it would be best to encourage yourself to reach your weight loss goal.
5 Essential Tips for Any Individual Interested in Swimming for Weight Loss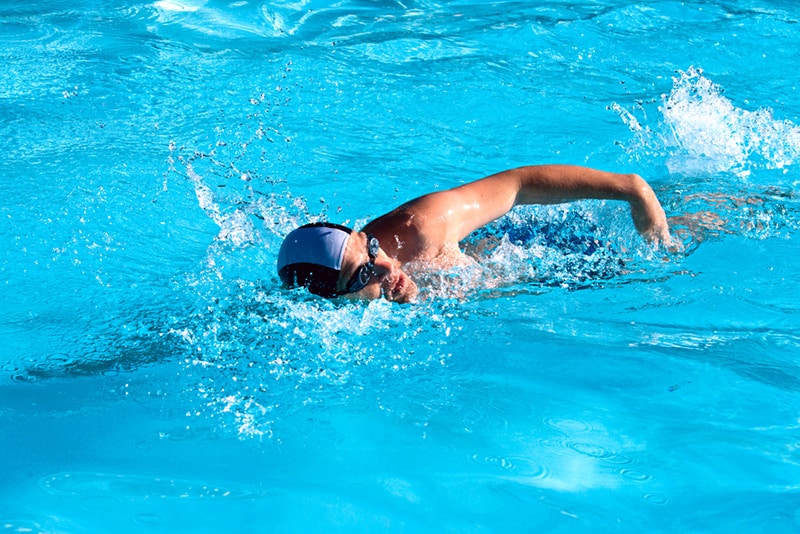 Swimming is known to be a full-body workout. Since water is denser than air, swimming against its resistance requires more energy. Consequently, it means a significant number of calories are burned while swimming.
If you are interested in swimming for weight loss, you should consider the following five tips.
Start your workout gradually. You can begin with one to three days weekly for about 10 to 15 minutes each. Keep adding five minutes anytime you feel comfortable with the current intensity. Always ensure breaks between laps.
Beginners should start their weight loss journey with a simple stroke before advancing to the complex ones. This way, you can avoid injuries and strains.
Take a calorie-deficit diet before or after a swimming workout to lose calories faster. Consume a diet containing carbohydrates about 30 minutes before the workout, and a lean protein with fewer carbohydrates after the session is advisable.
Frequently engaging yourself in swimming will help burn more calories. As you advance in your weight loss journey, consider intensifying your activities.
Keeping track of how many calories have been consumed will help you know how close you are to your goal. Technology has advanced. Waterproof swimming fitness trackers and smartwatches can inform you about how many calories you burn and other related information. Using this gadget will improve your workout experience significantly.
Conclusion
How many calories does swimming burn? You now know how many calories your body burns when you swim. More importantly, you are now aware of the critical factors that can influence your rate of metabolism.
Often, swimmers focus on the swimming intensity and speed alone. However, combining the proper strokes, routine, and diet can help you achieve the desired results. Happy swimming!
If you have some questions or comments, I would appreciate it if you send them to me via the comment section. Additionally, sharing this article can help people learn about how many calories swimming burns. Kindly click any of the social media buttons on the page.