How long after shocking your pool can you swim? This question often plagues the minds of most less experienced pool owners that can't wait to start swimming again. It can be a very scary situation considering the effect of these pool chemicals.
Basically, pool shocks are chemicals, and it is important to be extra cautious when dealing with them. They can have adverse effects on unsuspecting swimmers both in the long and short run. As chemicals, you must handle them as such.
If you find yourself in this confusing situation, this article might be the right one for you. Again, the question is, how long after shocking your pool can you swim, so let's get started.
What Is Pool Shock?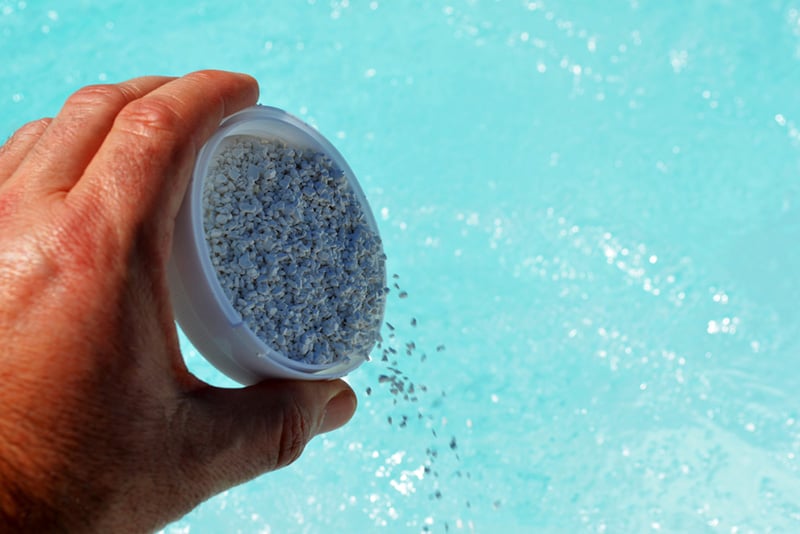 To understand how to handle pool shocks, you really need to know what they are. As stated earlier, pool shocks are chemical mixtures used for treating and cleaning pools. They are applied routinely.
These pool chemicals are dangerous to bacteria and algae, the two main culprits when your pool becomes gross. They are added to the pools, together or separately, in various quantities, depending on pool size, and their toxicity varies.
Two Types of Pool Shock
If your pool becomes extremely unpleasant, pool shocks can make the desired changes. Besides the manufacturer differences, there are different types of pool shock. They can be classified into two broad categories –
Those with Chlorine.
Those without Chlorine.
1. Pool Shock With Chlorine
This category includes Calcium Hypochlorite, Dichlor, Trichlor, and liquid Chlorine. Generally, liquid chlorine is very effective, but it can raise your pool's pH extremely high. It can also bleach painted surfaces and liners.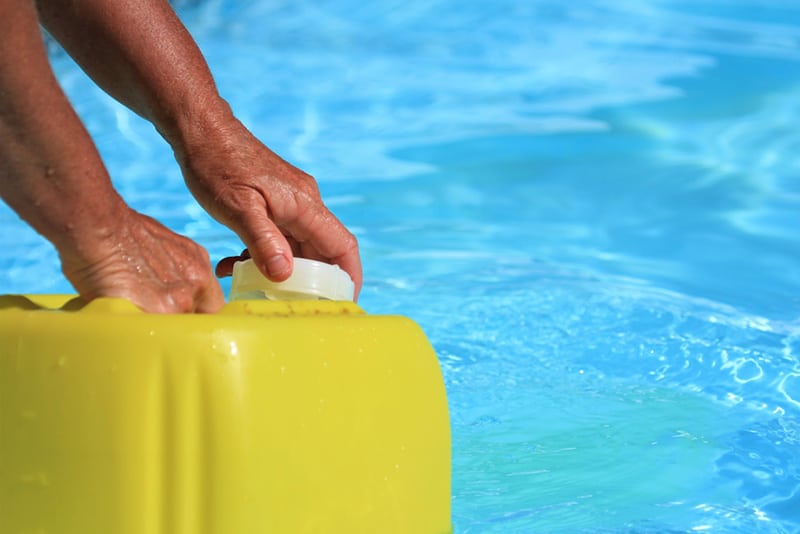 Calcium Hypochlorite is more economical, but it has a high pH. Like the liquid chlorine, it is sensitive to sunlight, and you might need to balance the pH with muriatic acid. Dichlor and Trichlor are less sensitive, don't bleach, and are costly.
2. Pool Shock Without Chlorine
This category comprises chemicals that oxidize chloramines and organic matter from your pool. They effectively get rid of dead skin cells, sweat, dirt, sunscreen, leaves, and other unwanted materials.
Oxone, Potassium Peroxymonosulfate are common options in this category. They are less likely to disrupt your pool's pH, maintaining a neutral level; hence, they won't bleach liners and paints.
They don't really kill algae and bacteria. However, they are used when the water is cloudy, and chlorine levels are high. It also makes life easier for pool filters and even your pool pump.
How Long After Shocking a Pool Before Swimming?
Usually, the effects of pool shocks with chlorine take longer to wear off than those without chlorine. The water's pH must go down to neutrality around 7.4. Provided you use the recommended amount per pool size, you will get the desired results.
Some factors can influence your waiting time. For instance, a pool that is very dirty or abandoned for a long time will take a while. The presence of algae blooms and the intensity of the odor also play a role.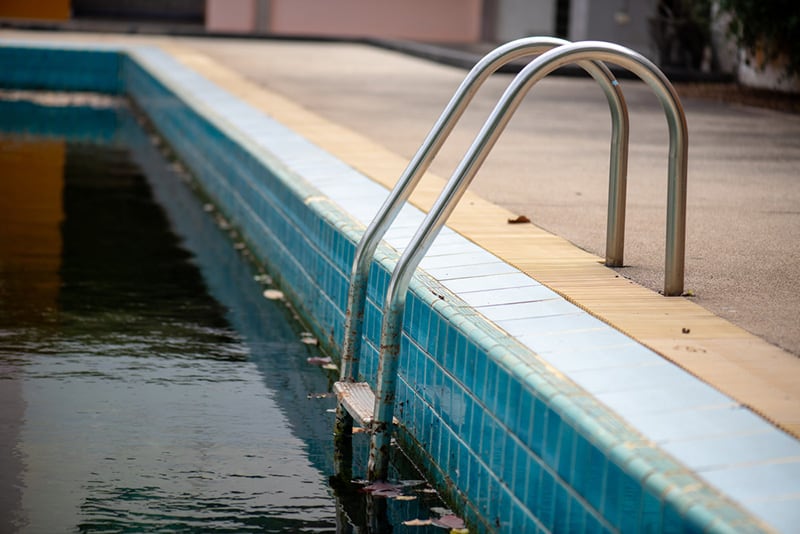 This is because you might have to reapply the treatment multiple times to get your desired results. Pools with serious algal blooms will require multiple treatment schedules to clear them up.
If the pool is quite large, it can take more time or even weeks. If you are unsure about what quantity to apply, I will advise that you follow the manufacturer's recommendation.
Nevertheless, there is a recommended set of values that you can use to judge your pool's fitness for use. You need a good set of pool water test kits and some pool test strips to carry out the necessary checks.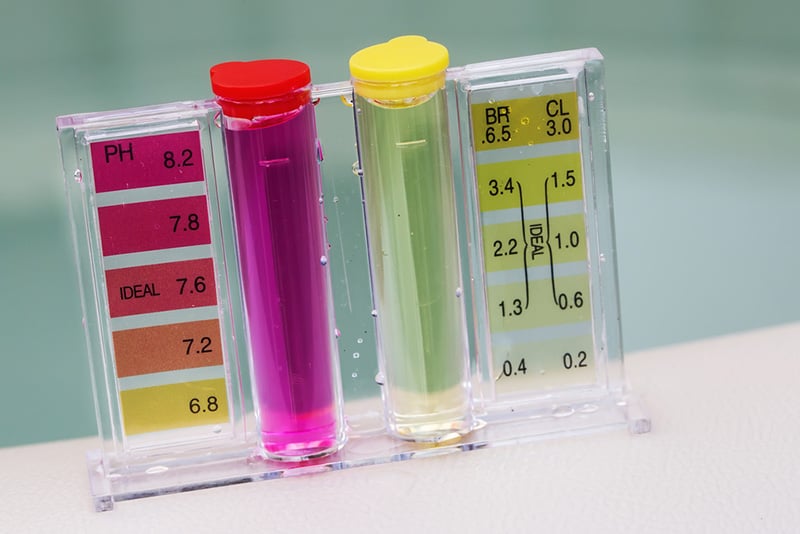 A pool with good quality water for swimming should have the following values:
pH: 7.4 – 7.6
Chlorine level: 1 – 4 PPM
Total Alkalinity: 80 – 140 PPM
Calcium level or Hardness: 200 – 400
Cyanuric Acid: 25 – 50 PPM
Total Dissolved Solids (TDS): 500 – 5000 PPM
There isn't an exact waiting time due to some of the factors discussed above. You can only start swimming again if your pool parameters meet the values listed above. Hence, you need a test kit and strips.
You can still check for readiness after some period. If you applied liquid chlorine or any other chlorine pool shocks, you should check for the chlorine level after five hours.
Pool chlorine tablets will take more time to dissolve. They are even slower in floating pool chlorine dispensers. Hence wait and test 4 hours after it has been removed or fully dissolved.
If you've added Muriatic Acid, you should wait for more than 45 minutes. For algaecides, it's best to stay away from the pool for at least 30 minutes. In case you added calcium chloride, wait for 4 hours too.
FAQs
I collated some frequently asked questions on pool shocks I found on the internet below. Check out my answers, as you might find them quite useful. Have a look.
How Often Should You Shock Your Pool?
Well, shocking your pool depends on many factors, particularly the ones discussed above. The amount of dirt and debris, pool size, and pool shock type are major determinants.
Ideally, it would be best if you did it fortnightly or every three weeks during the swim season and depending on its usage frequency. Ensure you always check the water parameters before application.
What time of day should I shock my pool?
Shocking your pool in the evenings is better for effectiveness. You won't have to worry about the effect of sunlight on the pool chlorine.
What Happens if You Swim in a Shocked Pool?
Swimming in a shocked pool is dangerous and should be avoided. When exposed to such conditions, you can experience the following:
Damaged hair.
Irritated eyes.
Skin problems.
Lung irritation.
Dry nails.
Burns.
Chlorine poisoning.
Damaged swimming accessories.
Conclusion
How long after shocking your pool can you swim? – a good question it is. As discussed in the article, pool chemicals are not kind and can cause terrible harm to swimmers. When applied to the pool, there is a need to wait.
Now you understand major factors that contribute to your waiting time. Also, you have an idea of the recommended values of various parameters related to pool water. Ensure you purchase the best test kits and strips. Stay safe.
Do you have some suggestions, comments, or questions related to pool shocks? Kindly get them to me through the comments section below.
Sharing this article can also help other pool owners and swimmers to keep them informed on the ideal waiting time. Please use the corresponding social media buttons below to do that.